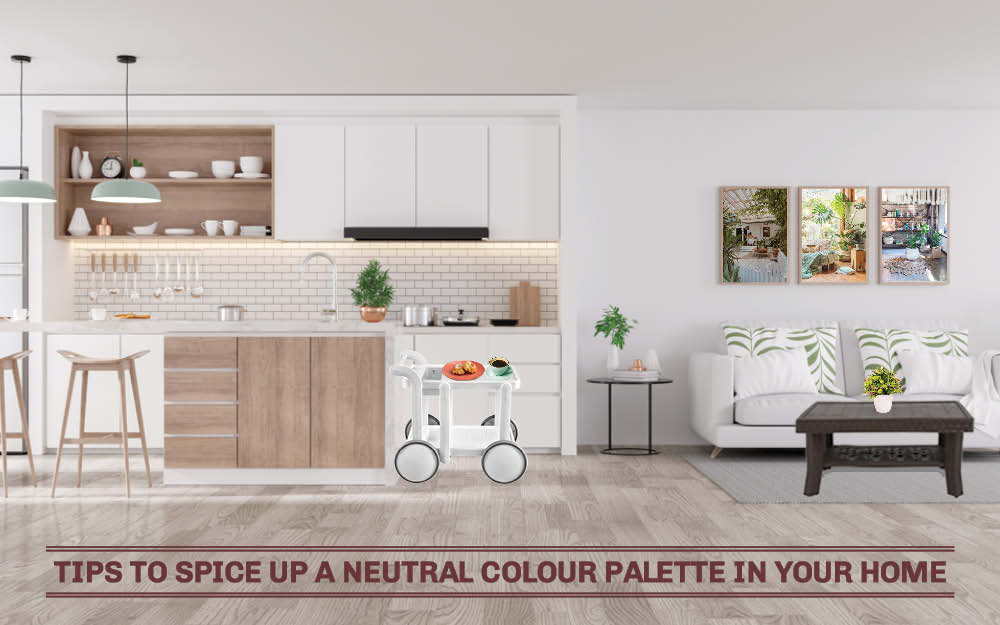 Tips to Spice up a Neutral Colour Palette in Your Home
Choosing the right color palette for your house is much more important than you may realize, as it has different psychological effects on you. Have you ever tried a beige color palette for your room but ended up feeling drab and unexciting?  That's precisely what we are talking about.
Well, this is the perfect opportunity for you to be creative with your home decor! In this blog, let us take you through tips on how you can spice up neutral colors in interior design!
Try Multiple Neutral Shades that Complement Each Other
Pick a neutral shade of your choice, and make sure you add different items in various shades of that color. Whether it is cream, grey, beige, or taupe, adding multiple shades will add layers to the room. For example, you can use four or five different neutral shades. You can use one shade for curtains and upholstery, another for the wall, one for the floors, and another for the furniture. Neutral furniture helps your home to get closer to a minimalist aesthetic. 
Include multiple textures and materials
If all the textures in the room are the same or similar, your room might appear drab. Make sure you use a proper permutation and combination of textures to elevate the look of your room. 
If your sofa is made of faux leather, you can use the same material for your chairs. However, it would be interesting to use silk for your drapes to create a slight contrast.
You can do the same for furniture by alternating them between furnishings with a glossy and matte finish. It is always advisable to invest in high-quality textures. They add a vibrant look to your room, and they last longer too.
Add a Pop of Colour
After you have fixated upon a neutral palette, you should consider adding a pop of color to your room. This pop of color adds a fun element to the aesthetic. It would also help in breaking the monotony of the neutral textures. You can use a variety of items to bring in the pop of color. A few bright colored furniture pieces can do the trick! It can also be an art piece or a decorative item for your mantelpiece!
Add Black
People are often skeptical about adding black to their interiors. However, if you use it in the right amount, it can make your home look elegant and classy. It adds punctuation and accent to your home. You can add a piece of black furniture or paint one of your walls back and top it off with a nice painting. Black lamps, decorative figurines, and other decor pieces also add a subtle elegance to the decor!
Mix Your Neutrals
It is a risky option, but you can also try mixing your neutral color palettes for home. You can attempt to combine beiges with browns or greys with taupe or whites. For this, you need a little bit of creativity and a good internet connection! Try to envision the colors together, look at samples available online, and create a pinteresty mood board. Find the right neutrals that complement each other, and it will make your home look stunning! For instance, add beige upholstery to brown-framed sofas. Or add grey curtains with an off-white rug!
Use Beautiful and Unique Shapes
You can employ elements other than color to break the flatness of a neutral palette. One of these elements is 'shape.' Have you ever seen those homes on Instagram which have unembellished white interiors but still look classy and extravagant due to modernist forms? While you don't need to follow that exact aesthetic, you can draw inspiration from the idea. You can add some uniquely shaped furniture or build fittings that have distinctive shapes. These decor pieces will enhance your home aesthetic and help you to level up your home.
Use Different Patterns 
Many people believe that pattern mixing can clash with their overall decor and appear disruptive. However, if you pair up with the right patterns together, it can give your home an elevated appearance! You can stick to a neutral palette yet still use different patterns within that palette. 
You can add a bold design to your rugs or throws. It is not advisable to use large block patterns for your sofas or curtains. This is because bold patterns can take away from the rest of the room. Softer and muted patterns can work better for that purpose.
Add Artistic Pieces
If you wonder how to use neutral color palette and add just a little bit of glam, investing in art or other items purely for decorative purposes can be a good idea! It's never advisable to go overboard, but a few pieces can elevate your space. Consider adding an accent piece to your room. It may be a piece of art or an accent chair. It will also help you to position your furniture better. Accent pieces can be the room's focus, and you can arrange the rest of the furniture centered around it.
Use Plants
Adding plants, big or small, is always right for your home! It makes your house look fresh and adds a calming vibe to it. Plants are known to purify the air of your home and make your place look beautiful! Plants add that green pop, which is soothing for your eyes. The colors also give a break from the neutral palette. Plants are also known to enhance your mood and mental state, which is a bonus! You can use different colored plants that complement your existing palette.
That's everything you need to know about spicing up the Neutral colors in interior design. If you found these tips useful, use them in your home and see how your house brightens up immediately! Let us know in the comment section below if you have any other tips you would like to share!