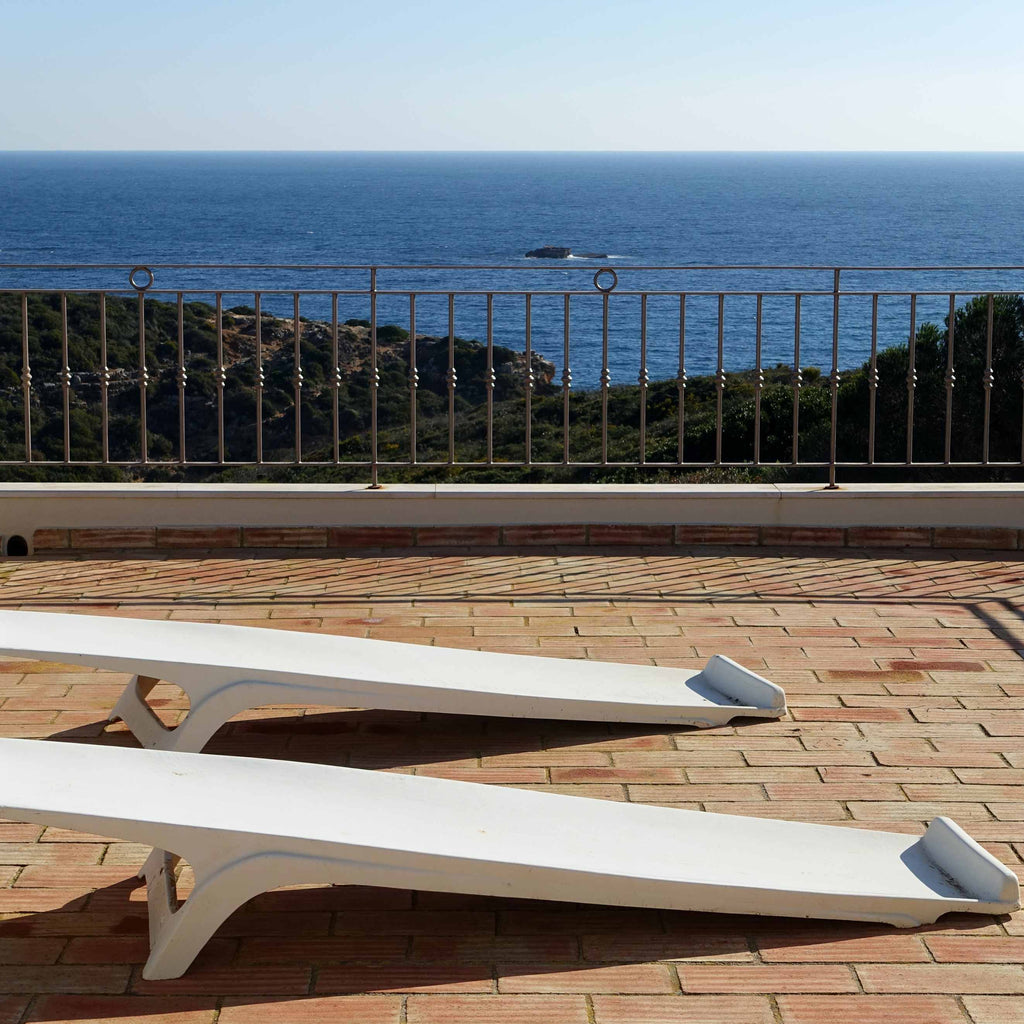 Relax in Style: Discover the Versatility and Comfort of Plastic Sunloungers
When the sun is shining, and the weather is warm, there's no better place to be than lounging by the pool or on your patio, basking in the sun's rays. To truly enjoy those blissful moments of relaxation, a comfortable and versatile sunlounger is a must-have. Plastic sunloungers are a popular choice due to their durability, affordability, and range of designs. In this blog, we will explore the versatility and comfort of plastic sunloungers, and how they can elevate your outdoor relaxation experience.
Durability for Outdoor Use: 
One of the main advantages of plastic sunloungers is their durability. Designed to withstand outdoor conditions, plastic sunloungers are resistant to moisture, fading, and damage from the sun's UV rays. Unlike wooden or metal alternatives, plastic sunloungers require minimal maintenance and are less prone to rust or rot. This makes them an excellent investment for long-term outdoor use, ensuring that you can enjoy relaxing in style for years to come.
Lightweight and Portable: 
Plastic sunloungers are lightweight and easy to move around, allowing you to find the perfect spot for soaking up the sun. Whether you want to catch the morning rays on the patio or follow the shade as the day progresses, plastic sunloungers provide the flexibility to adjust your seating position effortlessly. Their portability also makes them ideal for taking to the beach or picnics, ensuring you can relax comfortably wherever you go.
Also Read - How to Fix a Broken Plastic Chair: A Comprehensive Guide
Adjustable Positions: 
Versatility is a key feature of plastic sunloungers. Most models are designed with adjustable backrests, allowing you to find your desired lounging position. Whether you prefer a fully reclined position for sunbathing or a slightly inclined angle for reading, plastic sunloungers provide multiple options to suit your comfort. Some models even offer adjustable footrests, providing support and added relaxation for your legs. The ability to customize your seating position ensures optimal comfort during your outdoor relaxation time.
Comfortable Ergonomic Design: 
Plastic sunloungers are designed with comfort in mind. They often feature ergonomic contours that mold to the natural curves of your body, providing support and enhancing relaxation. The backrests are typically designed to provide adequate lumbar support, reducing strain on your lower back. Additionally, some models come with cushioned or padded surfaces for added comfort. Plastic sunloungers offer a comfortable seating option that allows you to unwind and enjoy the outdoors in style.
Range of Designs and Colors: 
Plastic sunloungers come in a wide range of designs and colors, allowing you to choose a style that suits your outdoor aesthetic. Whether you prefer a sleek and modern design or a more traditional look, there is a plastic sunlounger to match your taste. From minimalist white designs to vibrant and bold colors, you can find a sunlounger that complements your outdoor decor and adds a touch of personality to your space.
Easy Maintenance: 
Keeping your plastic sunloungers in top condition requires minimal effort. Plastic is easy to clean and resistant to stains, making maintenance a breeze. Simply wipe down the surface with a damp cloth or hose off any dirt or debris. Plastic sunloungers do not require staining, painting, or regular maintenance like other materials. This easy upkeep ensures that your sunloungers always look clean and inviting, ready for your next moment of relaxation.
Affordability: 
Plastic sunloungers offer an affordable option for outdoor seating. Compared to other materials such as wood or metal, plastic sunloungers are generally more budget-friendly. This affordability allows you to invest in multiple sunloungers to accommodate family and friends or create a stylish seating area in your outdoor space. With plastic sunloungers, you can relax and unwind without breaking the bank.
Weather-Resistant: 
Plastic sunloungers are designed to withstand various weather conditions. They are resistant to moisture, which means they won't warp or deteriorate when exposed to rain or poolside splashes. Additionally, plastic sunloungers are UV-resistant, preventing fading or discoloration when exposed to the sun's rays. This weather-resistant feature ensures that your sunloungers remain in excellent condition, allowing you to enjoy outdoor relaxation without worrying about damage caused by the elements.
Also Read - The Top 4 Kids Plastic Chairs to Gift Your Child for Maximum Comfort and Style
In conclusion, plastic sunloungers offer versatility, comfort, and style for your outdoor relaxation needs. With their durability, lightweight design, adjustable positions, ergonomic comfort, range of designs and colors, easy maintenance, affordability, and weather-resistant properties, plastic sunloungers are an excellent choice for creating a stylish and comfortable outdoor oasis. Whether you're soaking up the sun by the pool or enjoying a leisurely afternoon on your patio, plastic sunloungers provide the perfect seating option to relax and unwind in style. Embrace the versatility and comfort of plastic sunloungers and enhance your outdoor relaxation experience.