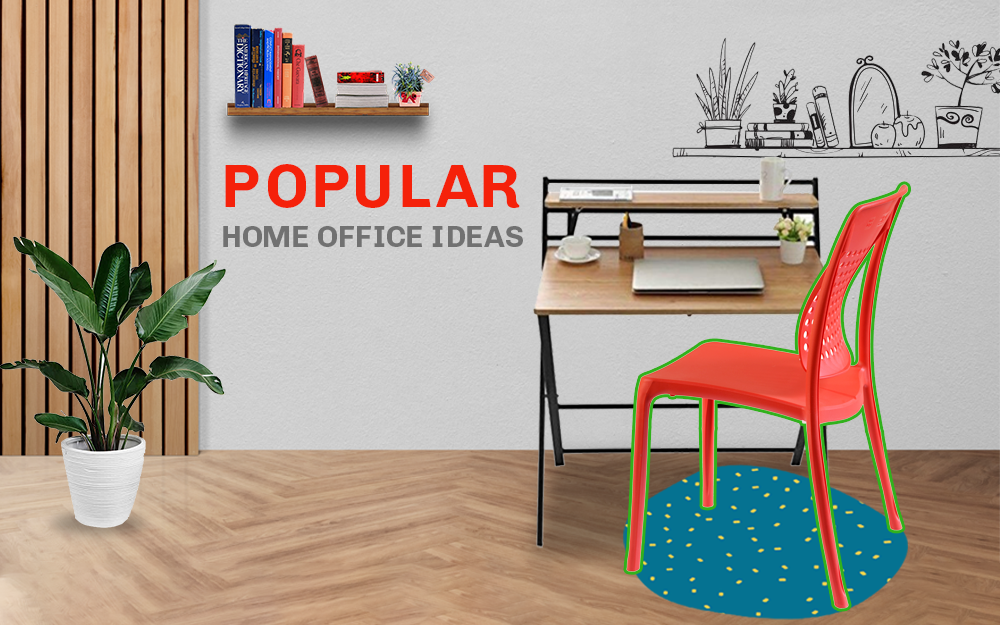 Popular Home Office Ideas
Looking for ways to liven up your typical home office set-up? Well, then read on. 
With the pandemic forcing us to set shop at home, it is very important to create your ideal workspace to keep those creative juices flowing! It's time to say bye to your cluttered and stuffy workspaces that are killing your productivity and inspiration! Home offices are the spaces we remain confined to the most and hence giving thought to make it inspiring and aesthetic is so important to our well being. The right balance of seating, style and function in your office design can shape your mood and work attitude.
Decluttered and well-designed spaces are a rage in today's world when it comes to home offices. Stripping décor to the minimum and including elements that foster a calming and visually appealing vibe helps create that much needed negative space that brings a positive feeling. After all, less visual clutter leads to less mental clutter, accelerating your productivity and enabling you to find your needed files and equipment a whole lot faster too.  
Here are 10 home office ideas to help you create the perfect home office set-up. From minimalism to various accents and styles, we've covered the most popular variety of aesthetics for all tastes to help give your workspace a completely overhaul 
1. The Vintage Home Office Set-Up 

Credits: Houzz
Love the simplicity of vintage decor? Keep your workspace simple with this simple vintage aesthetic with a long sturdy work desk with vintage elements. Compliment the desk with a sturdy high back plush wooden chair set against a retro-themed backdrop and your workspace is bound to reflect the retro vibe. This workstation can be set against dull blue and pastel walls to bring alive that authentic vintage vibe.
(Pro tip- If you are on a tight budget and yet love the vintage classic feel, source second-hand vintage chairs from local furniture dealers and get them refurbished from your local carpenter/ expert. You can also add vintage details like drawer knobs/ rustic looking items like a pen holder, trays/ desk organiser/ wooden bookshelf, etc., and get a setup made within a set budget.)
2. The Minimalist Home Office Set-Up 
Minimalist interior design doesn't always have to be cold. Warm it up with some wood to add that natural vibe! Wood is strong and durable, as well as has a strong aesthetic appeal. Set up your minimalist home office idea by painting the walls in earthy tones. The beauty of deep earth tones always tends to stand out. Add some wooden panelling, use wooden flooring or a textured rug to lay the basics. While wood is a good option for desks and flooring, when it comes to your work chair, it's a good idea to opt for a lightweight and ergonomic chair that can support your back and body efficiently while seamlessly blending in with the decor. Throw in some pastel paintings to complete the look.
3. The All White Home Office Set-Up 
Love clean visual lines? Then creating an all-white home work station office could be the ideal set-up for you.  Follow a white central theme to set the design flow. White instantly adds a  light and breezy aesthetic to any space and tends to open out the space and give it a larger appearance. White on white furniture can instantly notch up your aesthetic, giving your space a dreamy feel. Opt for a sleek white sturdy desk in any material and coupled with a lightweight and durable, ergonomic chair ideally in crisp white finish. Choosing the right chair plays an integral role in determining how comfortable and productive you will be when using the space.  Paint the walls of the space white and add sheer curtains to complete the look. To subtly create a beautiful contrast and add some zest for a colourful detour, you can choose a couple of elements in pop or pastel shades to place on the table.
4. The Modern Home Office Set-Up 
Like keeping it simple?
Then setting up a modern workspace is your best bet. A trending element for modern workspaces today are standing desks. These desks are great for your health, helping you break free from those endless seated hours while ensuring your productivity is intact. Your modern home office set-up can also sport modern furniture pieces like this sturdy and sleek S-shaped chair from Italica, which is lightweight and has a broad unified base instead of traditional legs. This will add a futuristic space-age look to your decor. Further, enhance this set-up with a clean and open metal shelf stand in black or white to add that extra edge.
5. The Contemporary Home Office Set-Up
High on organic vibes, contemporary minimalism is all about minimal furniture, fabric and bohemian elements and has been emerging as a popular preferred design vibe for home office spaces for a while. A mix of boho and minimalism, this vibe ensures your space is spread out and the furniture doesn't overpower the space keeping your work set up chic, concise and compact. To achieve this look, use compact and lightweight furniture that's high in utility and style. You can slide a couple of fabric baskets underneath the desk to add to the visual appeal and easily store some important files and office documents in them. Notch up the decor appeal with bohemian elements like a  textured poof and a woven rug to add that contemporary feel.
6. The Pop Home Office Set-Up
Doesn't this set-up remind you of the recent hit show –  The Squid Games? Minimalism coupled with tons of pop and quirk. Set your workstation apart by opting for contrast shades of pop colours like neon green, fluorescent orange, and white against a strong blue backdrop. Add symmetrical lines of shelves on different sections of the wall. Pick a vibrant coloured desk and complement it with this unique star-shaped plastic chair of high-grade virgin plastic to add that fun element. The multicoloured furniture elements add a ton of variety and visual appeal to the otherwise minimalist set-up.
7. The Modern Industrialist Home Office Set-Up
Give your home office a modern industrialist vibe by using a palette of metallic silver, grey, black and white. Opt for white furniture with metal elements like metal chairs, metal shelves, metal lamps and more to add to the rustic appeal. Attach some bare metal shelves over your workstation and line it with fabric boxes for storage. You can use fabric or textured wallpaper in shades of grey to nail that look.   Add some wooden stump stools and green creepers to add on to this palette.
8. The Natural Home Office Set-Up
To give your home office a craftier aesthetic, opt for handmade furniture in your home office. Whether a  customised piece or a DIY selection assembled by you, this style of furniture lends your workspace a clean and refreshing appearance. Go for light-coloured wood as it helps to open up and brighten the space, leaving you with the ideal airy office. You could also add some plants and creepers to add that soothing green touch to the space.
9. The Whimsical Home Office Set-Up
Don't you love the whimsical and dreamy charm of a laid back workspace? Now you can create an inspirational workspace in just a few easy steps. First, choose a spot at home with lots of natural light to let you enjoy a sunny work area all day. Next, infuse the dreamy feel into the space with boho elements like woven storage baskets, throw rugs and macrame wall hangings. Finally, paint the space in a neutral pastel colour palette to amp up the look. 
You can add a quirky and fun element like a hanging seat and some throw cushions, instantly making the space stand out. Use sleek furniture and a sturdy ergonomic chair in a crisp white to help it blend with the soft, earthy palette. Place a signature hanging light over the desk is the perfect finishing touch—it adds a touch of drama!
With all these inspirational home office ideas, you are all set to create the perfect workspace. However, don't forget to keep in mind how different colours and styles affect your mood and outlook on work and pick the one best suited to your work style to ensure uninterrupted productivity and success.