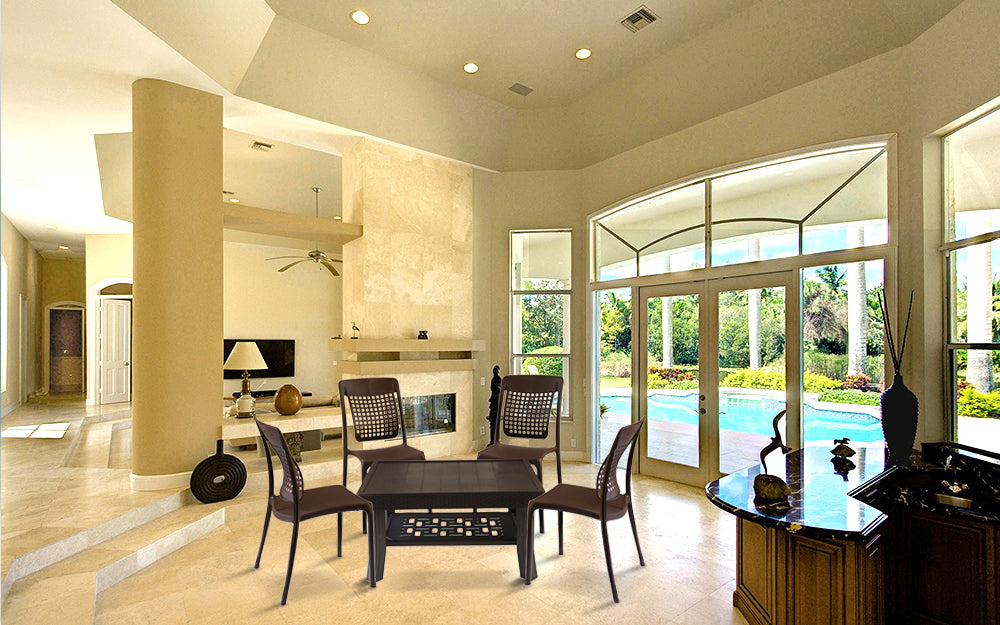 6 Reasons why Interior Designers are using more plastic furniture
Interior design is serious business, and the trends never stay the same. One of the most sustainable innovations in the world of interior designing is the incorporation of plastic. Be it flooring, panels or furniture, plastic is proving to be the designer's favorite material. Considering the quality plastic that we used to get earlier, plastic has come a long way. The advanced techno polymers of the present day are far superior to the colorful, glossy plastics from the past. The considerable improvement in the material and the overall look has made plastic surface has a mainstream choice in the interior design industry.
 1. The versatility of plastic
When it comes to building materials, there are countless uses of plastic. Since it's mouldable, plastic can be manufactured into various sizes, shapes and even strengths. Being water and electricity proof, plastic proves to be a favorite choice for homes with children and pets. Since it is lightweight as compared to other materials, plastic is being vastly used for paneling, flooring and furniture. Plastic chairs and plastic tables can be moulded to any design you want. For example, the Spine Care Chair is ergonomically crafted to provide support to the back of the person sitting on it. It's easier to do that given the mouldable quality of the material. At the same time, the chairs are bright and colorful, which adds to the look and feel of a room. Not to mention, the chair weighs just about 3.14 kilograms, which makes it easier to move around the furniture whenever one feels like redecorating the room.
 2. Plastic wall panels
Plastic wall panels are quite popular these days in the market. They are more durable than any other material. The best part about plastic wall panels is that are quite low maintenance. All you need is a damp sponge cloth to clean them up. Not to mention, there's a lot more scope for a designer with plastic wall panels as far as color combinations are concerned. It's also to be noted that unlike wallpapers, plastic wall panels are flame resistant.
 3. Plastic Flooring
It's true that designers have a lot of options when it comes to flooring but when it comes to being creative and cost-savvy, plastic flooring is the answer. Plastic gives you the option to be stylish in unconventional means. The best thing about such flooring is that you can make it look like any material you want. You can go for a wooden look, a rustic stone one, or a melange of colorful tiles. The only limit with plastic flooring is one's imagination, and designers love that. You can buy plastic flooring in tiles, sheets. They can me moulded or imprinted. The cushioned types of plastic flooring have become hugely popular lately owing to its comfortable texture.
 4. Plastic Furniture
One of the prime reasons why designers love using plastic furniture is the range of colors. It's very easy to experiment with such a vast color palette. Price is also a major factor but that's not the only reason why plastic furniture is gaining popularity in the interior design industry. The fact the plastic furniture is extremely durable almost unbreakable, makes them a very popular choice. The restaurant industry is one of the top buyers of plastic tables and plastic chairs because they're economic and good to look at. It is the same with homeowners as well. A set of 6 Italica plastic armchairs can be bought in unbelievably reasonable price as compared to other materials. These beautiful chairs (Italica Arm Chair series 2019) with a seat height of 16 centimeters have a capacity to carry 100 kilograms, and yet they weigh just 2.40 kg.
 5. PVC Boards 
Be it home or office, one of the most popular choices of material for making cabinets and other items is PVC. A chief reason why more and more modern kitchens are using PVC board is because of their ability to deal with moisture and heat. Also, PVC gives the designer ample room to experiment. The flexibility allows for various kinds of shapes, which is restricted with plywood. PVC doesn't need to be polished before installation, which is not the case with plywood. PVC is lightweight, which considerably reduces the cost of transport. Being homogeneous, the density is equal in all parts of the board.
 6. Plastic and the environment
Today's builders and designers are aware of the environmental hazards.. Considering that, it is only natural and wise to use more and more plastic furniture. Right from wall panels, flooring, cabinets to furniture, thousands of products can be produced with an Eco-friendly alternative. Not only that, but these products can be recycled to minimize waste as much as possible.