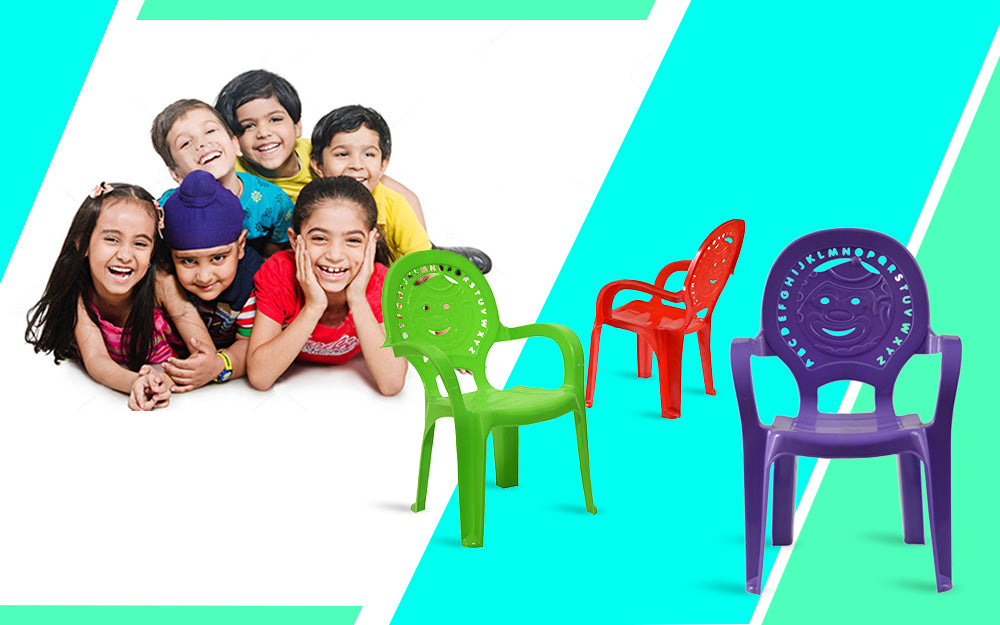 Why plastic furniture ideal for kids? Explore kids furniture
So you live with kids, and you constantly worry about the condition in which you will see your furniture when you come home. We understand your problem. Kids will be kids, and there's nothing you can do about it. What you can do is choose your furniture wisely so that your kids and your furniture can co-exist peacefully. So what's the right choice furniture considering a house or a school full of children? It's plastic. Let's understand how.
1.Your kids can't damage plastic furniture
Good quality moulded plastic furniture is not easily breakable. It's lightweight and flexible. No matter how mischievous your kids are, they can't do much harm to the plastic furniture. There are also less chances of putting scratches on the surface of the furniture as compared to other materials.
 2. It's easier to keep it clean 
Kids can be messy. They will be out all day in the mud and dirt, and come back home to mess up the furniture. Fortunately, it takes a lot of effort to get a considerable amount of dirt accumulated in plastic furniture surfaces. Even if there's dirt on the plastic furniture, it's very easy to clean it up. All it takes is a wipe with a wet cloth. Also, your child might like to paint a masterpiece on the furniture. If that is the case, only plastic furniture can keep encouraging your children to be the next Picasso.
3. It's safer with children
Children are restless. They're always running around the house. Sometimes, they don't see what's around them. With heavy furniture lying around, chances of them getting hurt are high. A plastic chair or a plastic table is light. It won't have the same impact as a wooden one. At the same time the chances of damage to the furniture is also less with plastic. Iron furniture is prone to rusting. In case your child gets hurt on a rusty piece of furniture, things can get serious. Plastic doesn't come with such hassles.
4. It's fun, it's healthy
An amazing quality of plastic furniture is that it is versatile in nature. You can brighten up any room with a colorful collection of plastic furniture. That kind of an environment is very important for the development of a child's mind. It keeps them happy, inquisitive, creative and always eager to learn. There's a reason why kindergarten schools are always colorful.
5. They're good for the back
Look carefully at the chair that your kid sits on and studies. Not only at home, but also in schools, a bad chair can cause attention deficit in your child. Chairs should be scientifically designed to support the vertebral column. As one of the leading moulded plastic furniture makers in India, Italica makes the plastic spine care chairs that are a must have for your child.