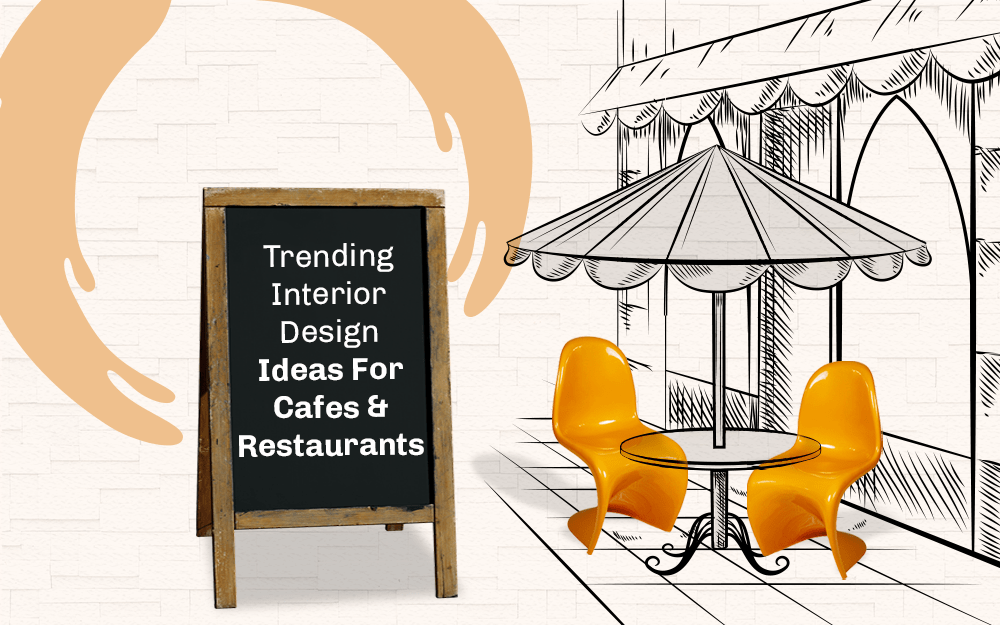 Trending Interior Design Ideas For Cafes and Restaurants
Planning to set up a new restaurant?
Or looking to renovate your older one?
Don't worry; we completely understand all the pains you are investing in sketching the design, layout, aesthetics etc.
Owing to the current trend, the restaurant industry witnesses the need to create new arrangements of dining, a novel ambience of having lunch, or soothing vibes while spending time at a cafe as a way to overhaul other competitors. The multiplicity of aesthetic and creative interiors dictates the lives of restaurants in the market. 
It all boils down to what your restaurant looks like and what it feels like, the real game-changer.
Hence, we have listed some trending restaurant interior design ideas that are customer-friendly and pocket-friendly too…
1. Mediterranean Vibes: 
Bring the blooming sunlight of Spain, the marine freshness of Greece, and Morocco's mellow colours in your outdoor restaurants by giving them a Mediterranean touch. Mediterranean style of interior design refers to the aesthetics of South European Countries. 
If you have an outdoor restaurant overlooking a beach or being beautified by a pool, a Mediterranean architecture theme is what you should bet your money on. This restaurant design style can be achieved with light and warm tones of colours, natural elements, and arched windows to maximise the outdoors' view and an encompassing ambience of the serene and the simple. 
However, since it's 'Mediterranean', it is essential to create marine vibes, for which prominence to outdoor exteriors is a must. 
a. Outdoor exterior
Enjoying the glorious sight of nature, cuddled in the sun's warmth while having a cocktail or tequila in hand, is a perfect fantasy for people who are consumed in their 9 to 5 jobs. And you can make people live their fantasy, made possible by a sunlounger. 
This extremely comfortable plastic lounge chair is all you need for leisure and relaxation. It makes people feel as though they are rejoicing under the skies of Greece. To entice your customers by giving them perfect holiday vibes, sunlounger is a restaurant exterior design idea that you must incorporate in your restaurant.
b. Mediterranean dinings

credits- central seating
Building on your Mediterranean restaurant interior design ideas, you must have elegant dinings complying with the lighter shades of the colour palette. Especially, pastels and cool colours like white, cream and blue create a seaside atmosphere. Besides, blue tones also evoke a sense of peace in your mind. A perfect mental space to be in when teleported to your dream location!
c. Bamboo Curio

credits- pinterest.com
The coastal feel is always incomplete without a touch of nature. So in your decor, weave in natural elements like wood, bamboo, etc. For an outdoor eating experience, earth tones like tans and browns can be in accordance with the Mediterranean. This can be brought to life by bamboo dinings like the curio. 
Imitating from the coastal south of Europe, Mediterranean vibes can also be achieved by building high ceilings, huge entrances, arched doorways, etc. Ornate carpets, candles, Spanish tiles are decors that would add to the foreign ambience of your outdoor restaurant or cafe.
2. Everything Spooky
We always love to be afraid out of choice!
Because duh!!! Who doesn't love a little bit of supernatural or Vampire Diaries!
Make your restaurant feel like it's Halloween all 365 days. Revive elements of the gothic, recreate the interiors of the Salvatore House from the Vampire Diaries and scare your guests with unpredictable horrors.
Over the years, restaurant interior design ideas that follow the theme of vampires, zombies, and everything spooky has gained popularity. You can create a similar set-up by incorporating various innovative decor at your indoor restaurants.
a. Dine with the vampire

credits- Atlas obscura
It is always fun to scare others with the same mortal possibility of meeting with a vampire. And your restaurant can play upon this bloody, paranormal fear.
You can evoke a nightmarish setup by opting for dark coloured furniture like black and dark brown. To augment the 'blood running cold' experience, you can also choose bright red dining colours, with blood-red colours for walls and flooring. Further, the ghostly experience playing with light or rather with the absence of it, complemented with ghostly figures, like terrifying skulls, coffin-shaped serving trays and dishes. 
b. Resin Tops

credits- Indiamart
Have you ever run in your reflection by accident! We can imagine the terror!
And now we can give life to this terror by using a macabre tabletop and reflective ones. The ones which would make you seem like the entire world of murkiness is looking back at you. This can be achieved by using resin table tops. Also known as 'epoxy', resin tops give a glossy finish. It is a sort of amalgamation of different designs and textures with a reflective surface. In specific shades of dark tints, it emotes a sense of fright.
c. Hidden treasures:
Hidden places and hidden doors! Gothic is all about the unexplored. 
To make your customers feel euphoric and excited about what they have to discover at your restaurant, you can create special corners filled with gothic motifs catering to different customers like children or couples divided by these sliding doors. These doors appear to be hard walls, annexing the theme-based interior designs, but it functionally utilises space. 
Thereby glue your customers to the enthralling horror experience by dressing waiters in dark costumes serving in plates with zombie's heads. Then, finally, go innovative with your decor by using black flamed candles, basins with skulls, side tables with cobwebs, bloody skeletons, a bookstand that leads to a secret voodoo room stupefying paintings, candles and mismatching, unique furniture. 
3. Everything Bollywood: 
We may not confess, but Bollywood is a guilty pleasure for all. We all dismiss the overly dramatic Indian mainstream with dismissing head shakes. But when Bollywood movies break into no-brain entertaining numbers or unrealistic, repetitive plotlines, we all enjoy the extra dose of mirch masala.
Imagine what a deadly ambience it would be when the Bollywood tadka is added to your restaurant with the retro vibes of the '70s. But, on the other hand, wouldn't it be a dreamland for every die heart Bollywood lover? 
Make your restaurant a Bollywood habitat by incorporating restaurant interior design ideas that are retro and filmy.
a. Play of lights

credits- Bollywood adda
To make your place lively, blazing with filmy energy, you can use lights of burning orange, neon, moss green and other blooming colours. Along with the play of light, the walls can be smartly filled with peculiar posters of Bollywood movies set up in a retro Bollywood style.
b. Rustic filmy Dhaba

credits- Times of India
You can create Retro vibes of the '70s by creating a filmy desi Dhaba ambience. This can be achieved by using unique rustic interior furniture and decor, which might be like easter eggs for your filmy customers viz murals of Dharmendra, posters of old Bollywood films, etc. The eating space can be designed in a retro Bollywood truck, or counters can have Sholay-themed bikes hanging above. You can add some vibrant colours of furniture to give your bolly hub that pop of colour.
c. Filmy motifs

credits-Magicpin
Decor with playful and famous filmy dialogues written on walls, with props like a popcorn machine at the corner or Aamir Khan's PK radio around, also works as joyous Bollywood recollections for the visitors. 
Moreover, if your restaurant has a bar, you can make it remarkably distinct from other pubs in the town by giving it retro vibes and adding to its stylistic quotient. This can be achieved by choosing interiors likewise.
d. Curved banquette benches

credits- Ambience designs
Rightly contrasted by steel and concrete, with a mix of sleek wood and steel. With those novel round marble tables on iron bases, these curved benches create a euphoric ambience, adding on the exuberant spirit of Bollywood.
Moreover, to make your visitors go gaga over the filmy ambience, table covers or mats, cutlery and the staff's uniform can also be designed according to the theme. You can also have a red carpet entrance of your restaurant, making your customers feel like superstars. 
4. Rustic Interiors:
Make your customers travel back in the times of the nawabs and aristocrats by reviving the rich heritage of the past. If you are looking to do so, you should be working on restaurant interior design ideas based on the theme of royal vintage. This involves designing your restaurant interiors in sync with the archaic, raw and elegant feel of architecture which was years or even centuries ago. In addition, the ambience should speak loud to retain our old world roots and appeal. It has to be a place of nostalgic vibes, relaxation, and royalty.

To bring this into force, diligence must be given to study past cultures' architecture, fabric, and textures. And to incorporate the most aesthetically enriched ones in your decor and furniture.
a. Antique hand-carved dining

credits- AliExpress
A popular interior design idea for restaurants to make it vintage and royal can be borrowed from the eighteenth century. A popular style, known as 'Italian Rococo' interior designs, had elements of fantasy and richness with decorative motifs of asymmetric patterns. These are majorly characterised by light, shiny marbles of golden colours. Reviving Rococo and its high-class aura, you can have this antique hand carved dining at your restaurant, which screams royalty and vintage.
Likewise, the whole aura of the restaurant can be fashioned in a way that can entice the customers with the prospect of making them feel like nawabs, kings and queens.
b. From the Rajwada

credits- Guns salute restaurants
The royal vintage theme can be evoked by bringing the Rajwada culture and its royal heritage to the table. Your restaurant's decor should have all the Rajwada interiors like the long soft pillows, beautiful chandeliers, and various antique pieces from the 17th or 18th century. An important element of royal vintage happens to be pastel and light colours like cream, white, pink and the like, which appeals to the eye and emanates elegance and peace.
5. Nature-Inspired Cafes:
The characteristic that distinguishes cafés is their ambience, which depends on the kind of visitors it caters to. And most of them resort to cafes with a need to relax, take a break and feel rejuvenated. So to rekindle your visitors, you can make them feel enwrapped in nature with green covers of plants rustic furniture illuminated with green lights.
a. Forest fairy-tale

credits- Pinterest
To go natural, design your cafe as a fairy tale forest. The most crucial step is to place a plethora of plants. It's better to create rows and layers of spaces to place them. These coverings can be on your walls, hanging pots, and floor, all in different shapes and sizes. But it is ideal for hanging them from the ceilings. Next, cover your space with the decor of natural raw elements like wood and bricks and animal sculptures around. Your interiors should be in earthy colours like brown, camel, beige, green to complete the theme.
b. Nature-themed Furniture
Conforming to the earthly shades, your cafe's seating is also central to making your visitors feel composed and free. Sustaining the relaxing vibes of nature and the rustic, you can try opting for chairs that go with a nature theme, such as chairs and tables in the shades of green, brown and dark brown to make people feel comfortably wrapped up in their world of nature.
c. Hammocks and Swings

credits- Pinterest.com
Nature is all about peace, calmness and relaxation. Hence, along with plants, you can incorporate interior design ideas like swings, hammocks and wigwams hanging from ceilings. It would allow the customers to eat, communicate, read and introspect at their ease. And would enhance the decor of your cafe too. 
CONCLUSION
Whatever your restaurant design and layout, your place's internal infrastructure and interiors should attract customers. Theme, concept or period based restaurant interior design ideas are alluring to customers. 
However, to cut down on costing and funding, you can go minimal with your restaurant and cafe designs by choosing plastic furniture, as it is cheap, stylish and malleable in a myriad of shapes are the best resort. 
Just like good interior design charms customers in a world they fancy, to make them live in it for as long as their real-world expectations do not demand, it is very important to maintain the decorum of your restaurant so you can have a loyal customer base with top-grade food and excellent insta-worthy ambience.