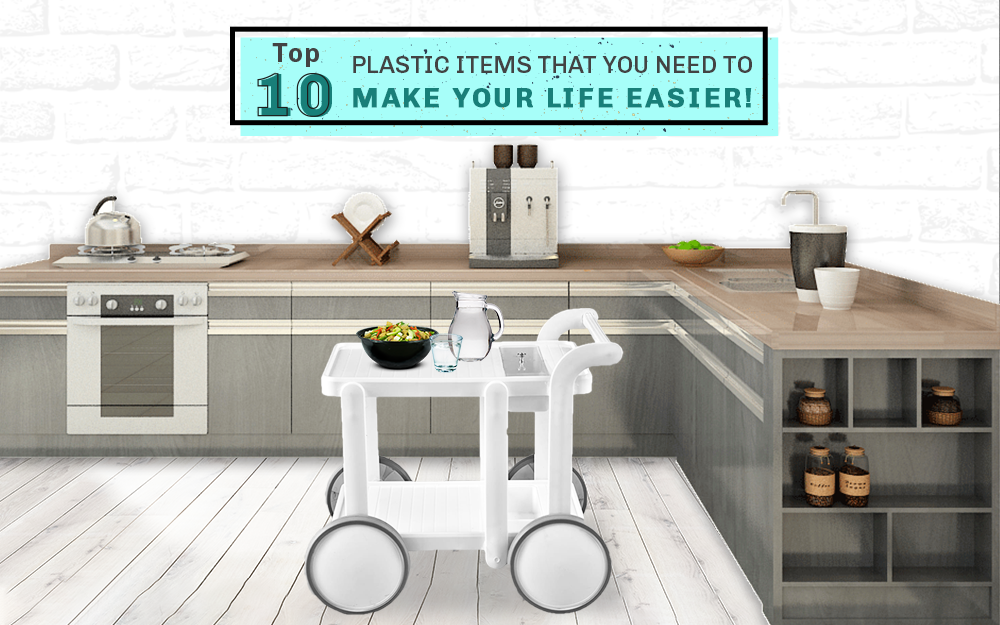 Top 10 Plastic Items that you NEED to Make Your Life Easier!
Have you been on a video binge where you start watching a video of zucchini noodle makers and end up watching random videos of innovative products for an hour straight?

Most of us are guilty of doing so! Most people binge-watch such videos as it gives you a satisfying feel and blows your mind as you come across some effortless yet innovative products that would make your life 100 times better.
Through this blog, we have curated a list of 10 beneficial plastic items that are sure to make your life feel easier.
If you wish to find a specific piece of information on this blog then feel free to click a link below to jump down to that section.
Let's dive right in!
1. Multipurpose Hooks
Most people who live in a metro city are experiencing a space crunch. They usually opt for a rented apt where nailing walls might not be allowed as it can leave behind nails/ holes once the tenant moves out. For such a time, creative solutions like using a plastic item such as a multipurpose hook can help organize every belonging and add decor to create an aesthetic space. 
You can hang your belongings, such as keys, scarves, hats, photo frames, etc., on them. It is also a great kitchen organizer to store your pan, spoons, and more. You can also find some funky and adorable hooks for your kids' room to add a fun and functional element.
Check out these quirky Multipurpose hooks from The June Shop. 
2. Spine Care Chair for Your Back
When it comes to "work from home" chairs, the internet is loaded with plastic chairs of different shapes, sizes, and designs. The most crucial factor that you should look out for when selecting a work from your home chair is an ergonomic design, like the most trending Italica's Spine Care Chair.
It has a uniquely designed backrest that takes the shape of your spine and moves with you to give good lumbar back support. This enables the user to sit on the chair for long hours with an improved posture and lesser spine troubles. This plastic chair takes care of your back and your posture in a true sense. Doctors highly recommend it for people suffering from lower backaches.
Recently, this chair was recognized by Udaipur Times for its uniqueness. Read it here!
3. Fridge Organizers/ Containers 
To be honest, most of us are used to arranging food items in the fridge according to the compartments available. We keep vegetables with other vegetables, dishes with other dishes, condiments with similar items. But did you know that piling up your refrigerator without any space for the air to circulate can make your veggies and the other items go bad quickly? This can be one of the reasons why your product doesn't stay fresh for long.
This age-old problem requires a bright and modern solution! With the help of this unique plastic item, i.e., these trending plastic organizers, you can "Marie Kondo" your fridge, meaning organize your fridge the right way!
These simple organizers can latch onto your fridge shelves and create extra room for air circulation!
Buy these brilliant organizers from Craftzeni!
4. Italica Multipurpose Plastic Trolley
Imagine having some guests over, and you have to serve them all the snacks and beverages by carrying around a tray in multiple rounds! Sounds old-fashioned, right? 
Who needs a flimsy tray when you can get a fancy plastic trolley that can easily be moved around your home and leave an impression on your guests.
You can utilize this plastic trolley for several other purposes too! This plastic trolley can serve as a counter for your personal and makeup products, or you can use this as a portable Bar station during the weekend.
This can also be used as a Modern decor element in your fav coffee corner with some snacks, books, scented candles, and flowers. 
You can use this plastic trolley in a million different ways, and it will serve you brilliantly every single time. This is one of the must-haves for you this season!
Buy this plastic trolley here!
5. Snack Bag Clips
The experience of watching your favorite show on Netflix may feel incomplete without munching on your fav snack. But it is beyond frustrating when you can't finish the entire pack, and your fav snack goes soft and tasteless. Been there, right? In that case, you should try this contemporary and genius solution that will make your life so much better. Introducing Snack bag clips for all those snack/ food item packets that need a quick seal.
This simple plastic clip is a plastic item that seals your half-eaten snack/food packets until you want to eat them next! You can use plastic bag clips in your freezer and dishwasher. Now you do not need to use twist ties or clothespins anymore. You can simply use these clips and secure the plastic or paper using this bag clip to keep everything fresh and new.
Buy these chips from Propshop24!
6. Dishwashing Soap Dispenser
While this product looks simple, its utility surpasses most of the small products that you have in your home. This plastic dish soap dispenser has a simple two-tiered structure. You have to fill up the bottom tier with dish soap. The upper level will contain your dishwashing sponge!
Before cleaning your dish, you only need to press on the first tier with the sponge. This releases the perfect amount of soap into the sponge. Now you can clean your dishes more effectively! 
Buy this fantastic plastic item from Shopclues!
7. Multipurpose Crates for Home Gardening
Staying at home for almost a year has resulted in most of our hobbies and recreation being limited to our homes. One such trending quarantine hobby is growing small produce and setting a Home garden!
Celebrities like Shilpa Shetty, Deepika Padukone, Samantha Akkineni, Saif Ali Khan and more are flexing on their new gardening skills like growing tomatoes, cucumbers, chilies, lemons, peas, etc. and planting fancy flowers in their home garden!

If you wish to grow one, the best option is to opt for a flexible and fully aerated crate that will be a perfect way to develop a green corner at home! 
Italica crates will help you achieve your dream garden with those fresh fruits and vegetables that you can flex on your social media too!
Buy these beautiful creates from Italica!
Watch this video to learn how to use crates for home gardening!
8. Portable Sealing Machine
A portable sealing machine is another excellent plastic item to seal any plastic bag preventing dust. It is ideally used to reseal food packets to keep your food in its original packaging to help save the external threats. 
To use this, place the edge of the plastic bag in your sealer and slowly slide it over the bag. Not only food packages, but they can also work for all kinds of plastic bags! To produce a vacuum effect, squeeze the air out of the bag before sealing it.
An additional feature of this gadget is that it effortlessly attaches to refrigerators or other stationary metal surfaces, allowing you to store it at your convenience without having to search for it all the time.
Buy this excellent gadget here from Valasmall!
9. Tap on LED Spotlight
Do you want to subtly level up your bedroom, closet, or living space without investing a lot? Tap on LED spotlights may be the ideal option for you!
You can add it to the dark corners of your house, kitchen, corridor, closet, even around the mirrors to instantly brighten that area. These LED spotlights are powered by AAA batteries and come with an adhesive sticker so you can stick them on any plain surface.
Buy these Stick-on LED Spotlights here!
10. Kitchen Plastic Dustbin
Segregation of your waste is crucial to keep the environment clean and dispose of the trash correctly. You already know that you need a plastic dustbin for your kitchen! However, traditional, basic dustbins can cause insects, foul odors, and such unnecessary hassles!
Check out this unique swing lid plastic waste bin from Italica. You can just throw your garbage without having to come directly in contact with the dustbin. These plastic bins are highly durable, rugged, and sturdy. Additionally, the swing lid also keeps the plastic dustbin covered once the waste is dumped, resulting in better hygiene!