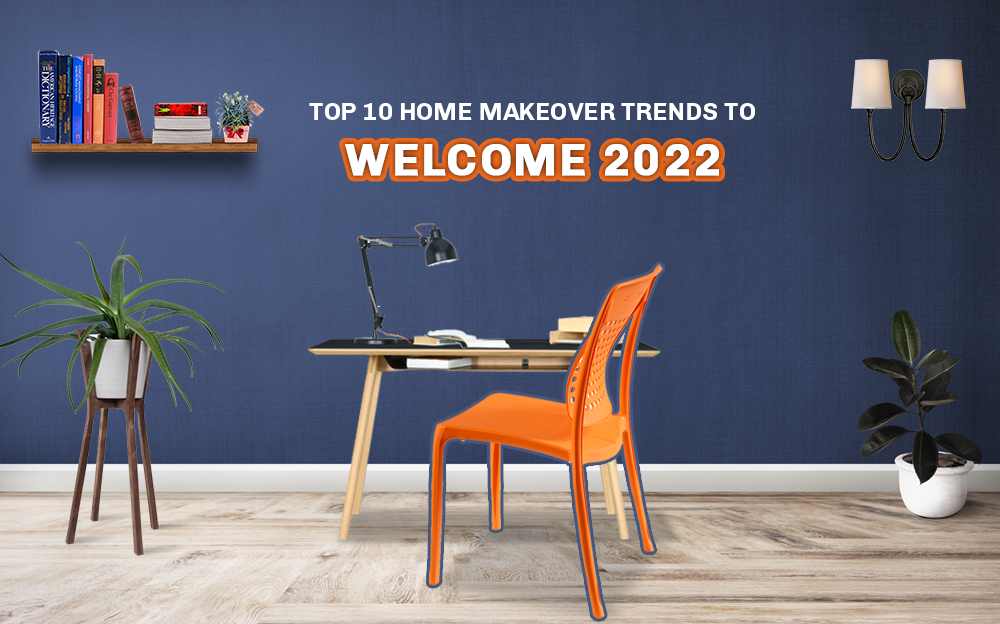 Top 10 Home Makeover Trends To Welcome 2022
The pandemic had us all locked in the comfort of our homes 24/7 leaving us with a longing for change. Well, now that we all have a new lease on life, it's only fair our homes get one too! It's time to elevate your home aesthetic a notch higher with these 10 tips and tricks for all budgets that will give your space an instant upgrade. Whether it is simply switching up your colour palette or giving the design style a complete overhaul with signature pieces, fret not, we've got your back!
Let's dive right into it.
1. Hop on Board the Minimalism Bandwagon
If there's one thing we all crave in our hectic, fast-paced lives – it is the comfort and solace of going back to our spaces called home. But unfortunately, living in cities, our apartments tend to be rather compact and yet we tend to fill them mindlessly, leaving it feeling rather cramped. So if you're looking for a way to declutter your home and give it a big makeover, then say hello to the latest home decor trend taking the space by storm – The minimalist movement. 
A rage in today's 21st century, minimalism is all about onboarding a simple, clean decorating style that helps to maximise your space and give it a larger illusion. This is done by freeing the space of bulky furniture pieces usually grouped together. The size of the furniture decorating the home must be bought, keeping in mind the size of the space. Bulkier furniture in small spaces makes the home seem very small and cluttered. The most important minimalist style aspect is to note how clean and contemporary the element you use looks. Whether it is subtle wall decoration or unique pieces of furniture, these fixtures must match your minimalist home layout. 
Pick home furniture that matches the walls of your home. Adopt fine or monochrome furniture that lend a clean visual appeal. These days, a trending style is a Scandinavian style – which uses a majority of white in all elements.
2. Ergonomic furniture is everything
Gone are the days when looks alone were everything. Today while great looking furniture is a must, its functionality and the way it supports your body are key factors all customers look out for when they head for a home makeover. Ergonomic furniture is a popular need in every home, especially since the pandemic has led to working from home. It is gaining immense popularity in the home decor industry because of its ability to adapt to the user's individual requirements. The Spine Care chair is a perfect fit for any corner of your home. 
Use it for comfortable dining seating or simply upgrade your workstation. Specifically designed to sync with the shape and natural curvature of the human body, this wonder chair ensures maximum comfort and overall wellness of the user. Complete with a flexible backrest that aligns with your spine, the chair is stylish, portable and multi-purpose and comes without arms and is available in two colours – brown and white.                                                                                                                                                                         
Ensuring utmost comfort and suited to a flexible lifestyle, these chairs, when paired with this stylish rectangular plastic table on wheels, make it a completely portable and multi-purpose plastic chair and table furniture set. Indeed, a great addition to your home for indoor and outdoor usage.
3. Use Statement Wallpapers 
Use statement wallpapers to switch the design element of your home instantly. These statement wallpapers are a fun design trick and cost-effective when it comes to staying within your budget while giving your home an instant makeover. So go wild and awaken your inner designer as you pick statement wallpaper to suit your home vibe. Hop on board the trending global wallpaper frenzy with rich colour palettes to add warmth and depth to your home, or simply opt for trending tropical prints to give your home that eternal vacation vibe. 
Ideally, opt for larger bold prints in a playful colour palette for larger spaces but stick to subtle, simple designs and smaller monochrome styles when it comes to compact spaces. All and all an easy and quick way to amplify your home aesthetic in an instant. 
4. Accentuate with Accent Furniture
Nothing screams an interesting home more than one with oodles of personality and style. So an easy way to add some personality to your home is to decorate it with some statement pieces of furniture that add that instant oomph. Like this quirky S-shaped chair that is extremely stylish and can fit into any nook and corner of your home. A conversation starter for sure, this quirky chair lends a futuristic space-age look and elevates your style in an instant. Complete with a broad and curved base instead of four legs.                                                                                                                                       
This exciting chair can give your home a futuristic space-age look and elevate your style in an instant. The chairs also have a gorgeous glossy finish that makes your home shine too! These plastic chairs become the central art piece wherever you decide to use them: home, garden, living room, restaurant, cafe, or hotels. Get these premium, high-quality chairs today.
5. Raise the Bar at your own Home Bar 
Give your home makeover a twist by setting up your own little bar. Now take your home parties to the next level with the perfect bar set up. All you need is a great compact bar cabinet complemented by the most important aspect of it all – your bar stools. Picking the perfect bar stools is a factor that can make or break your bar. Get a set of these chic dual-toned bar stools from Italica to set the perfect tone. Made of sturdy Polypropylene, this ideal bar stool is medium height and is budget-friendly. Available in a black and red shade colour palette with a white glossy seat top, this beauty is a great option for outdoor and indoor usage.
6. Get the Outdoors Indoors 
Look around and you'll realise just how many people have become plant parents off late. Plants have managed to enter all aspects of our lives, right from a hobby and wellness to gifting. So when planning a home makeover, don't forget to plan for a bit of outdoor goodness, indoors. Set up a small and beautiful section for your plants in your patio or any open area in your home. You can even line the window sills with sturdy plant crates and create compact green areas in your home despite the space constraint. These sturdy plastic crates are suitable for all weather conditions and made of sturdy plastic, suited to make the perfect home for your plant babies. Available in a variety of colours they can easily blend in any space in your home. 
7. Notch up the Wellness Quotient 
Every home has a vibe. If you feel like yours lacks one, it's time for a home makeover! Your home is your sanctuary and every time you are in it, you should feel holistic and complete. Nowadays, a lot of homeowners keep in mind wellness aspects when planning the space. Wellness decor elements include anything that can elevate and relax your senses. Thus, filling your space with a peaceful and serene vibe. Create a soothing aura by using water elements in spaces. In addition, indoor cleansing. The house with sage,  soundproofing your windows and using aromatic, fragrant candles in flavours like Vanilla and Lavender, known for their soothing properties, help alleviate stress and improve one's mood instantly. If you feel a little more adventurous, you can also add an aquarium, guaranteed to be the cynosure of all eyes. 
8. 50 shades of Colors 
Colours are everything this year. Adding to the New Normal, it's time to create a cheerful vibe in your home. Pick bright and pop hues for certain sections of your home to help steer away from monotony when opting for a home makeover. You could use any aspect, right from the colour palette of your walls to the colour of your upholstery, to create these bright sections. If your home is in darker or extremely light shades, opt for colours like sunshine yellow, aqua blue and baby pink to create an obvious distinction. These colours inject the much-needed comforting, balancing and calming vibe to the décor.
9. Transform your home into a Smart home

Credits:Sebastian Scholz (Nuki)-Unsplash 
With technology infused into every aspect of our lives, why should our homes take a backseat? It's time to give your home a technology upgrade. Home automation makes everyday life so convenient and seamless. All at your fingertips. With AI infused in all home appliances nowadays, you can control almost everything right from your phone. Whether it is setting the mood with lighting, switching on your air conditioning, cleaning your home using vacuum robots, to switching channels on your smart TV from your cell phone. 
These days customers prefer smart, connected, and energy-efficient home appliances that enhance their lifestyle. For example, integrated and automated lighting systems make illumination easier. In addition, indoor and outdoor lighting fixtures can be controlled with the wireless network using an app on the phone, or a smart home assistant is more popular.
10. Create your Own Outdoor Cosy Nook
Always wanted your little piece of paradise in your home? All you need is to select the right elements to notch up your balcony. Line the balcony with some low maintenance plants, string along with some pretty fairy lights and add some comfortable all-weather seating and you are good to go. A perfect fit for your cosy outdoor nook, these plasteel chairs, available in all colours, are the perfect seating option for your cosy little nook. 
With access to these handy guidelines, your home makeover is bound to be a breeze. We hope these 10 tips and tricks can help you transform your home into a space with a signature vibe.
Found this blog helpful? Then, kindly share it with people who might find it helpful. For more information on Plastic furniture or any related queries, kindly email us at info@italica.com.