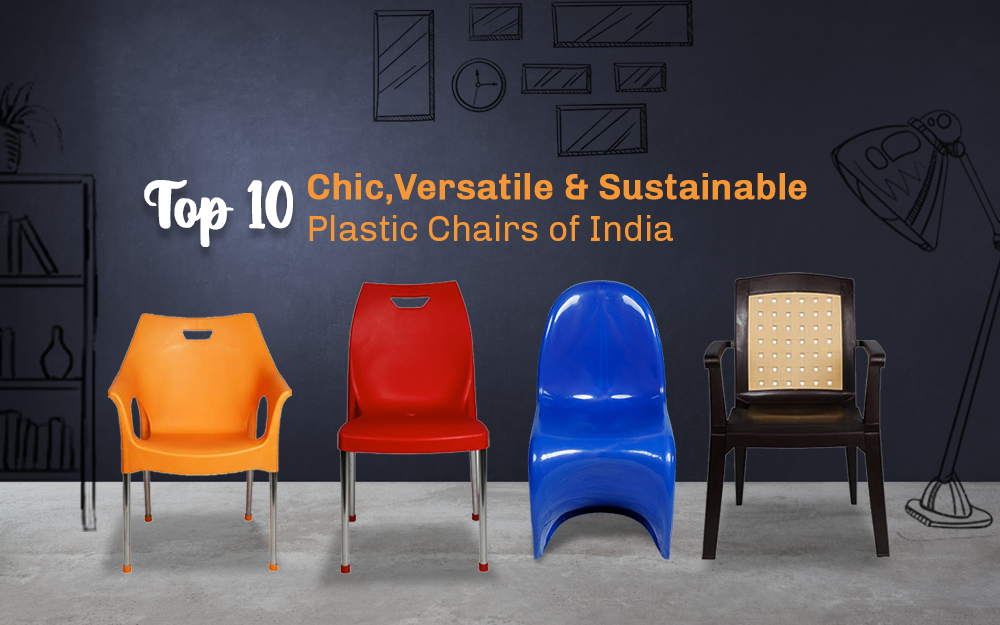 Top 10 chic, versatile & sustainable plastic chairs of India
We live in a conscious world where sustainability and style go hand in hand.  Lately, the interior and exterior decor industry have hopped on board the sustainability bandwagon, making waves with new emerging trends in sustainable home decor every step of the way. Thus, driving the need for aesthetically appealing furniture and, more importantly, high on durability, convenience, and recyclability.  What if you knew that your furniture could be an investment rather than a routine purchase, needed to be upgraded every year? What if your furniture could last you for years on end,  minus any regular maintenance upkeep or hassle? What if the furniture you opted for could help you slow down the fast furniture trend responsible for drastically increasing the carbon footprint.
It's time to say hello to sustainability with these 10 chic, versatile & sustainable plastic chairs that are currently reigning the interior space :
1. That Ideal WFH Plastic Chair 
With WFH becoming the new normal, it's only right to make sure you get yourself the right furniture to support your body through those endless seated work hours you spend glued to your workstation. Say hello to the perfect WFH solution – The Spine Care chair, an aesthetic ergonomic chair specifically designed to give your back adequate support while seated. Highly recommended by doctors, this wonder chair comes without arms and makes for a perfect fit for your everyday life. 
The Spine Care chair is a perfect WFH chair to upgrade your workstation. Specifically designed to sync with the shape and natural curvature of the human body, this wonder chair ensures maximum comfort and overall wellness of the user. Complete with a flexible backrest that aligns with your spine, the chair is stylish, portable and multi-purpose and comes without arms and is available in multiple colours.
2. That Perfect Plastic Dining Chair 
Your dining space forms an integral part of your home. Nowadays, people prefer modern and contemporary dining chairs that are lightweight, sturdy, durable and portable. Hence, leading them on a quest for the perfect dining chairs that can be used across spaces and seamlessly blend with the space aesthetics. One such popular dining chair seen in homes today is the restaurants nowadays are these stylish Plasteel Dining Chairs by Italica. Minus arms and stunningly sleek, this chair is a blend of plastic and stainless steel, making it extremely durable, comfortable, and ergonomically-suited. Available in four colours, these premium plasteel chairs are visually stunning and perfect for any dining setting for both outdoor and indoor usage.
3. That Sleek Living Room Plastic Chair
Looking for exclusive furniture that will add that instant oomph and style to your home? This monoblock S-shape plastic chair is every homeowner's dream. Its unique design is quite a conversation starter! Unlike regular chairs, this sturdy plastic chair has one broad and curved base instead of four legs. Add this S-shaped chair to any space in your home to help set it apart. Set in a glossy finish, this trendy plastic chair is bound to be the centre of attraction and can fit into any space, be it your home, garden, living room, lobby and even make a great fit in commercial spaces like restaurants, cafes, or hotels. 
4. That Chic Plastic Balcony Chair
Don't we all love that cosy outdoor space in our homes? After a hectic day at work or home, this nook is a space where you relax and are at peace. Thus it is essential to ensure that this space is designed, keeping comfort as key. While ambient lighting and calming scents help lend a peaceful vibe, the seating plays an essential role in ensuring our body is always comfortable. These Plasteel Balcony Plastic Chairs are the perfect solution to upgrade the style statement for your balcony. These sturdy plastic chairs give you that perfect outdoorsy feel, complete with stainless steel legs, comfortable armrests, and a stylish seat section. 
5. That Aesthetic Plastic Living Room Chair
Living Rooms are usually the most important part of a home which reflect its personality and style. It is important to meticulously plan every aspect and element that contributes to decorating a central area where you entertain your guests and unwind. The most important part of the living room set-up are the chairs you pick. Always opt for seating that is comfortable, portable, sturdy and can blend seamlessly with the aesthetic. These beautiful and sleek new age plastic armchairs are perfect for adding that oomph and comfort to your living area. Luxurious with a fully ventilated design, these sturdy and stackable plastic armchairs are ergonomic in design. Ensuring your guests are always comfortable. The perfect solution for all your house parties, these chairs can be bought in a  set of 2 or four.
6. That Comfy and Relaxing Plastic Armchair
We all have that one favourite chair that we love to sink right into after a long day at work. Exclusively crafted to maximise relaxation, this comfy plastic chair is just what you need for that 'quiet me' time. Complete with an ergonomic high-back design and wide arm support, this sturdy and durable chair is the epitome of comfort and style. Available in a beautiful glossy finish, this elegant plastic chair can be used almost anywhere at home, be it your living space or bedroom.  
7. That Outdoorsy Plastic Chair 
Keep your outdoor furniture elegant and classy with this premium plastic armchair. An ideal fit for your garden or patio, this beautiful Plastic Arm Chair is made of high-quality plastic and is extremely sturdy and durable. In addition, it is available in many colours, right from subtle hues to bright colours, giving you a wide range of colours to play with.
8. That Timeless Banquet Plastic Chair 
Banquet chairs are always underrated but play an important role in keeping your guests happy. Upgrade the entire event experience with this timeless plastic banquet chair. Trendy, sturdy and without arms, this plastic chair is sleek and suited to any occasion. It can be dressed up or used simply bare according to the occasion. Given that it is extremely durable, it is perfect for outdoor settings too. 
9. That Vibrant Cafe Plastic Chair 
 Looking for the ideal seating solution that will help notch your cafe decor to a higher level?
Then this affordable, durable, and stylish plastic chair is your match made in heaven. Contemporary and modern, this vibrant cafe plastic chair is available in many colours, sure to instantly enhance your cafe's style quotient. Elegant, lightweight and sturdy, this plastic chair with steel legs and comfortable armrests ensures great balance and a clean and crisp look to your cafe interiors.
10. That Leisurely  Plastic Lounger
Looking for the perfect low-maintenance yet luxurious plastic lounger to elevate your home or holiday home? Built to help you indulge in pure leisure, this chill Plastic Sunlounger is the perfect element to add to your space. So get a tan, enjoy a good read, sip on sangria, this relaxing plastic lounger is all about bringing on the good times. Made of virgin plastic with UV coating, easily foldable and portable, it blends almost in any setting, be it your garden, poolside, balcony or terrace. The perfect addition to your holiday home for sure.