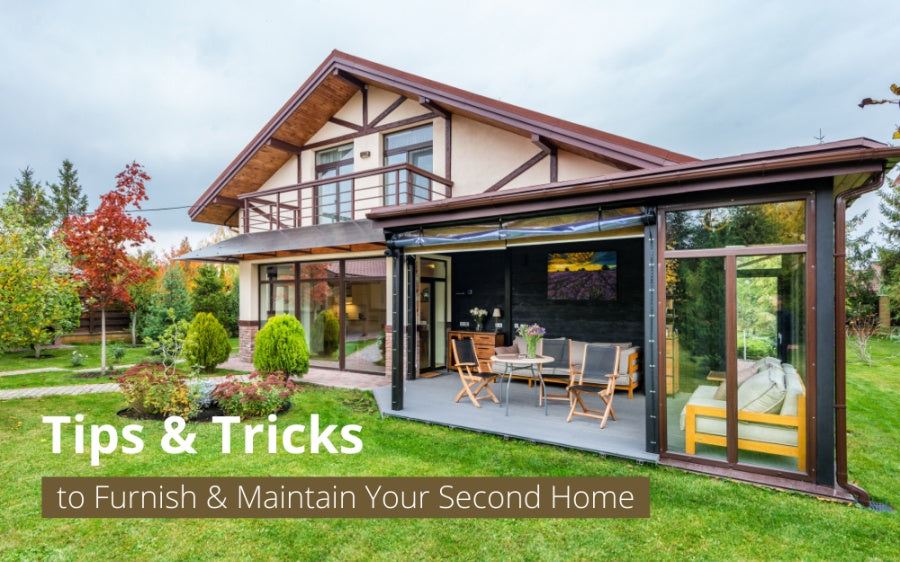 Tips & Tricks to Furnish & Maintain Your Second Home
Looking for a regular escape from your everyday life in the city? 
Well, then maybe it's time to head to your second home!
With everyday life and not so spacious apartments being the thumb rule of most urban city lives, now and then, we look for that regular perfect escapade to help us unwind and relax.
While having a holiday home to visit may seem like the perfect solution, homeowners need to be focused on some key aspects.
Picking out the right kind of holiday home furniture in sync with your taste, style and budget is tough!

Once you do, managing it to perfection without dealing with all the maintenance problems seems like a daunting task?
But worry not; this blog is here to help you. 
Here are some tips & tricks that will help you address the arduous task of furnishing and maintaining your holiday home:
Tip 1: Pick the right kind of furniture
Heavy furniture comes with its own set of risks. Inflicting injury to the user when moved, heavy maintenance and durability issues all tend to be significant cons when opting for that jaw-dropping heavy piece of 2nd home furniture; instead, opt for furniture that is light and easy to move around.

With advancements in design and manufacturing technologies, the furniture we need and use in everyday life is nothing like earlier generations. Light is the way to go, and innovative plastic furniture is a welcome respite from lugging that heavy wooden furniture set around. It is also easier on your wallet. Buying luxurious and just pretty furniture that you need to take a loan for or put on an EMI is a definite no-no. Instead, buy furniture sets that are durable and fit your budget.
Also, choose the right look and fabrics for your 2nd home furniture. For example, an all-white couch looks incredible but easily stains, especially when you have kids around. Instead, opt for a denim-covered sofa or darker hues that camouflage stains and appear fresh always.
Tip 2: Use More Multipurpose Items
Opt for furniture that has utility in more ways than one; A trolley that can also serve as a portable bar or that folding chair that mounts on your wall to become a storage shelf. Multi-purpose furniture also helps to declutter and makes the entire process of managing a second home easy.
Tip 3: Fake it till you rake it
Most of us dream of owning a second home with that incredible landscape and a little corner garden full of green plants, veggies and herbs that we can pluck and chop right into our dinner. But like all good things, fresh plants require extensive investment and upkeep. Since you will not be staying in your second home permanently, and won't be available to nurture the plants, opting for fake plants similar to the real deal, makes more sense.
Tip 4: Enjoy the view
One of the best parts of owning a second home is enjoying the scenic view and the outdoors. If your second home has a pool, ensure enough lounge chairs and sun loungers, maybe even a poolside bed, and a strong canopy that keeps the sun away. 
Similarly, if you are blessed with a view of the mountains, create a patio space that could double up as the barbeque corner or the spot where you cosy up for campfire nights with your loved ones.
Tip 5: Don't stock up; just stock right!
In addition to the traditional home furniture, a second home should be adequately stocked and shouldn't be hoarding ground for appliances you will never use. Ensure you have all the essentials in store for your kitchen and bathrooms.  Don't miss stocking up on Cheese graters, wine and bottle openers, Ziploc bags, spatula, barbeque fork, can opener, a butane lighter, washing detergents, scrubbers, brooms, mop. Go disposable (plates, spoons) where you can, and don't buy the stuff you will use only on a fancy occasion.
Tip 6: Must-Haves for your Vacation Home
If and when things go back to the 'old normal', people will again use second for a staycation and get downtime. So a vacation home should have all the fun stuff you need to keep boredom miles away. Books, puzzles, board games, and an updated multi-media corner complete with a PlayStation, a Smart TV, and those Bluetooth speakers to amplify your Spotify playlist will keep you and your guests constantly entertained.
Tip 7: Turn your Villa into a Party Pad
When you are a teenager or in your young 20s, you party with random strangers at Sunbeach or Coachella. When you get older, you want to party only with your close friends in a private area. Your second home can double up as a party pad for special occasions such as birthdays and New Year's Eve. This means it has to be party-ready at all times. A collapsible beer pong or foosball table, that excellent music system, those Bluetooth speakers to amplify your Spotify playlist, shot glasses, and disposable cups/plates/ bowls are a definite must so you can throw Instant parties.
Tip 8: Leave your stamp on your second home.
A home can reveal a lot about its owner even when they are not living in it. So make sure you personalise your second home with fragments of your personality and traits. Then, amplify your home with some artistic piece – whether it's a unique painting, a hand-knit pillowcase, exotic dinner chair, or satin stitch embroidery.
You can dress up your home with some signature Accent Pieces that instantly elevate your home décor quotient. In addition, you can include an eclectic element that will break the monotony of your decor palette and soon become the popular element in your home.
Cute, plush throw cushions are another way to notch up your home aesthetic. Use fun and vibrant cushion in the nooks and corners of your second home. Throw in a signature rug as well – one that can be rolled up and put away when not required.  This can send out a warm and welcoming vibe when you go back to your house.
Maintaining and Managing a Second Home
Once you've locked down your 2nd home furniture, second home maintenance is the next step of action to get the bang out of your buck. Here are some common tips to help manage a second home and always keep it ready to use shape.
1. Add Surveillance to your home.
Property disputes and land encroachers can put people off buying homes forever. However, with the advent of modern surveillance technology, you can keep a watchful eye on your second home from any corner of the world. To ensure your home is secure! For large spaces and farmhouses, opt for durable solid locks, electric fences and fingerprint sensors. You can also place  CCTVs in the strategic areas and stream the footage live at your fingertips on your phone. Don't forget to throw in some fire safety equipment as well.
2. Let it out
Houses, where people stay are most often better maintained than those that are under lock. So the advent of the Airbnb culture provides double benefits to second homeowners. Not only can they ensure people are regularly staying there, which means odd jobs at home are taken care of as and when they come up, but it also provides a regular source of income and allows flexibility of when you want to let your home out.
3.
Hire a Professional for the Maintenance
It always works to have a point person in charge to take care of small jobs and oversee the maintenance of your second home. It will be worth the money you pay to hire him. Several companies like Urban Clap and Home Triangle undertake maintenance activities on a predefined schedule so that your second home feels like a home when you visit. A great solution to maintaining your second home.

An alternative could be to ensure you are on friendly terms with your neighbours. The Biblical phrase of Love Thy Neighbour could come in very handy here. You can ask your neighbours to keep a check on your house now and then. But don't forget to get your neighbour a Thank you gift basket when you visit your second home next time.
Now that we've given you an entire lowdown on 2nd home furniture and tips and tricks to incorporate while maintaining a second home, you are all set to transform your second home into your little zen oasis. 
Have any tips and tricks of your own regarding 2nd home furniture or maintaining a second home you'd like to share with us? Share them in the comments section below. 
Related Articles:
The Best Selling Furniture Sets you need to check out this season