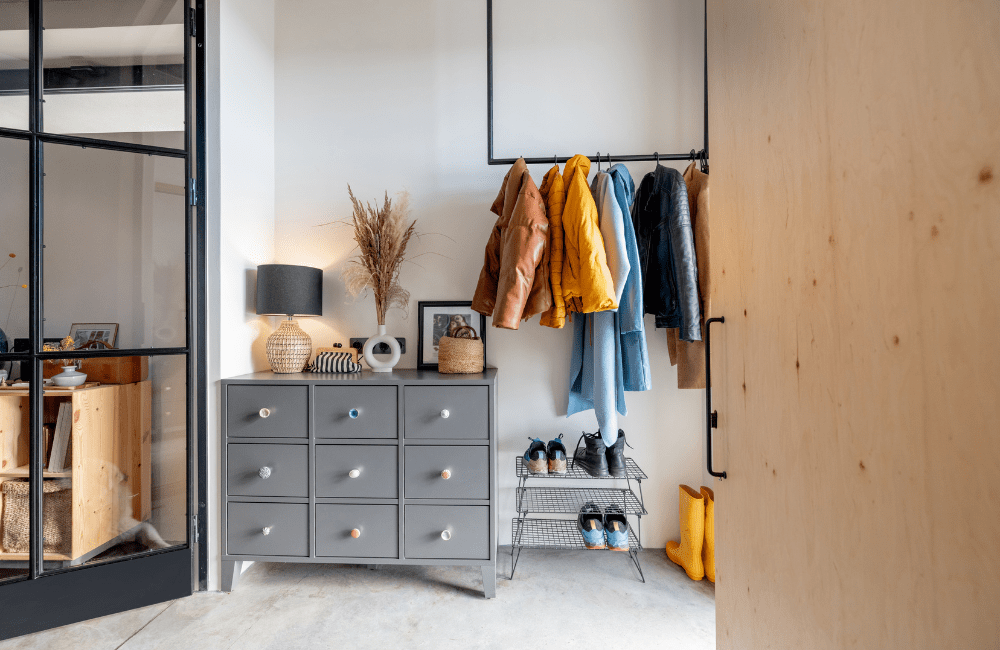 These 5 home space-saving ideas for 2022 may surprise you.
One thing that has been consistently rising along with covid cases in 2022 is real estate rates. With land prices only shooting for the skies, the need for teensy-weensy houses has been a common struggle.
But once you get a small house, the biggest problem is how to stack all your items in a small place. Because even after you've spotted the perfect dream house, small spaces can be veritably tough to live in, especially if you bear the burden of getting along with too many things.
For this problem faced by practically everyone across the globe, Indians especially, the solution is to make clever use of every inch of your space. And this can be brought into effect by resorting to space-saving ideas for small homes. These ideas help you efficiently use every little ounce of your space while catering to the storage of your items.
However, you do not need to break your head trying to decode space-saving ideas, as we have already brought them to you….
1.

 

PLASTIC STORAGE CABINET:
If you have a small home, your struggles get manifold. And in case you are one of them, here is some enlightenment for you. The most efficient space-saving idea for small homes is to install plastic storage cabinets. 
Large or small, depending upon your utility, plastic storage cabinets are a fashionable way to make space for all your household essentials. Plastic storage cabinets can cater to your needs from clothes, kitchen tools, cookware, garage and outdoor tools, and accessories to even books and files. 
Additionally, here are some of the major features of this plastic storage cabinet:
Multifunctional in their utilities. 
Has an extremely stylish appeal, 
They are ideal for all homes and decor types. 
Durable and sturdy
Easy to wipe, clean and maintain
However, to benefit from the various benefits of a plastic storage cabinet, it is all the more important to opt for a premium quality plastic storage cabinet. 
Various furniture brands might manufacture these, but the one that never compromises its quality and hence is lauded as India's most trusted plastic furniture manufacturer is Italica.
Italica's plastic storage cabinets are embedded with the key features mentioned above and hence altogether. As a result, it improves your house's aesthetic quotient.
2. PLASTIC STORAGE BINS
The apt way to declutter all the waste from your home is to opt for plastic storage bins. Plastic storage bins, an effective home-saving idea for small homes, can lead to smarter living. Moreover, these would be extremely efficient in dejunking and organising all that bids against the appeal of your place. 
Italica has one of the most high-quality plastic bins with a lid, which are ideal for storing items like your unwashed clothes.
Its key features are:
It is a hygienic way to store all your mess-creating items.
It can also be used in industrial places for the storage of any miscellaneous items.
It can be easily transported from one place to another.
Finally, it is lightweight, sturdy and durable. 
3. PLASTIC STORAGE CRATES
If you are looking to store something that needs open air and can no longer stand having them lying around randomly, plastic storage crates are what you are looking for. Plastic crates are the absolute go-to for storing edible essentials like vegetables and fruits, which require ventilation. 
These small plastic storage crates, like open-top boxes, can be placed anywhere to access the items stored. Thus, it is time to choose this space-saving idea by purchasing high-quality plastic storage cabinets, which have the following key features:
They ensure open ventilation.

It can also be used in commercial places like shops, malls, etc.

Second, they are lightweight, so you can conveniently transport goods from one place to another. 

Third, have great tensile strength and weight-bearing capacity.

Can withstand rough and heavy-duty material handling

They are sturdy, durable and resistant to all kinds of weather. 
Additionally, owing to its design and structure, if you purchase plastic storage crates in bulk, each crate of the same size can be stacked with others. This also increases your space's availability when they are not in use. 
Besides, you can also work your creative mind with plastic storage crates. And here's how…
credit: simplydiy2.blogspot.com
Yes, that's right! Plastic storage crates in the bathroom. For storing toiletries and other accessories like face wash, handwash, body lotion, etc. You can tie the ends of the crates with a strong rope-like thing that makes it possible to be hanged. And once done, you can hang them in your bathroom. This hack would not only make you save your space but would also be an innovative way to enhance the beautification of your bathroom.
4. PLASTIC CADDY WITH A TWERK
credit: homedit.com
Small houses and small spaces always go along. In a cramped-up space, it wouldn't be surprising to find little spaces here and there between two pieces of furniture. Therefore, it is only common to leave those spaces as they are while complaining about lack of space. However, an out-of-the-box space-saving idea would be to use that space.
One such idea is to utilise the unused space of your laundry or kitchen, perhaps with a caddy. A caddy with a twist has the following features. 
Caddies generally serve as square-like boxes, which resemble a tea bag. However, several layers of such square-like spaces installed above the other serve as a piece of major storage furniture. 

It fits extremely well into small spaces.

They can be used to store your laundry, toiletries, or kitchen wares. 

They save you from ruining the appeal of your place by leaving random places here and there.
5. IT'S UNDER THE TABLE
credits: lushome.com
Where several wrong things occur under the table, it is only right to turn it around and use it for your benefit. The living area is the most difficult space in your house to accommodate space for various things while maintaining your home's decor. 
We understand how strenuous it is to make space for the sofas, cabinets, chairs, etc. Because just in case you have an unexpected visitor, which happens quite often in India, you don't want to be all over the place to sort a place for them to sit.
Here is an end to your concern: unique dining set with the following characteristics: 
It is a dining set that accommodates all the chairs under its tabletop. 

It would be a perfect piece to have in the centre of your living.

If not in use, all the chairs can be kept under the table while using it to have your breakfast, brunch, etc.

This table and chairs would also be a unique add-on to your modern and voguish decor. 

It emanates all the vibes you need to give your small home a tinge of the royal.
Conclusion
In the past, storage solutions were almost exclusively cheap hanging shoe trees, bulky plastic bins, or vacuum-sealed storage bags. Thankfully, storage solutions today are more attractive in the prospering furniture industry. But, unfortunately, they are as clever as they are appealing. 
Having all the space-saving ideas in place, the next extremely crucial step for you to do is to 'execute'. First, identify left-out or space-occupying spaces at your place and work around them. 
Resort to space-saving ideas like premium quality plastic storage cabinets, bins, crates, caddies, etc., to arrange and organise your stuff. And then witness the result unfold before you in the form of an extremely charming home without feeling things falling on you.