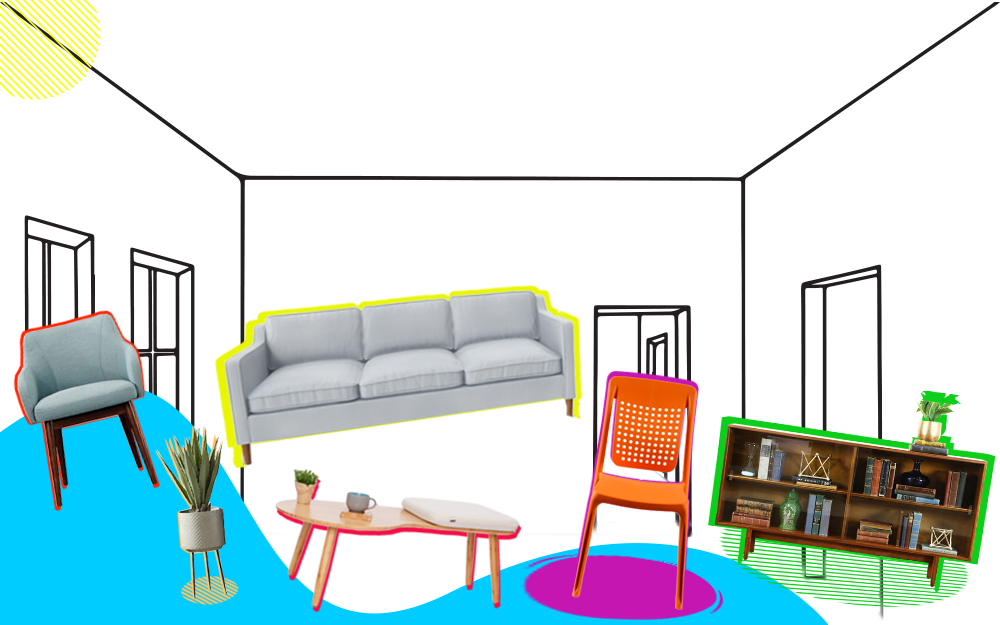 The ultimate guide for buying home furniture for the first-timers
Are you preparing to furnish your home for the first time?
Whether you are going to move into a new home altogether or you have grown tired of your old furnishings and planning to redecorate your place, buying new furniture is always a very exciting process as it may transform the look of your space entirely. However, being a critical investment, it is also essential to choose the right furniture to serve the purpose.
At times it gets the better of some people being in a rush with all the options to decide from. But if you think it through to decode how to furnish home efficiently, the process does not really have to be too stressful. All you need is a bit of a strategy in buying furniture instead of simply going out and picking whatever you like at the moment. Before you move into the furniture buying mode and start your hunt, take time to make your furnishing new home checklist to suit your needs.
You only have to avoid some common mistakes that most shoppers commit over time. Being ignorant is what makes first-time furniture buyers put in an uncomfortable place with the wrong choices in home furnishing. And do you know what it costs? You will end up not enjoying your home as much even after spending a fortune. Therefore, it is important to buy furniture that will bring pleasure when looking at it.
Through the help of this blog, we aim to help you understand and classify clearly the furniture you need to buy for your home amongst all the types of furniture available. This will help you learn what to consider when you go furniture buying like a professional even if you are doing it for the first time. 
Let us discuss step-wise in detail the ultimate guide for buying home furniture for the first-timers.
1.
Measure your space to know the size and layout better.
Do you know how to find the right sized furniture? To ensure the maximum utilization of any furniture, you must consider the size and layout of your room and the size of the furniture relatively. If there is a mismatch, you will end up in a bad deal. A small-sized room with big furniture would make the room appear cramped. You will not have enough space to move around. On the other hand, you want to be sure you have sufficient furniture to suit your needs.
You must understand how to plan a room layout to set up the furniture. The size and layout of your room are very important to consider. Also, you should keep in mind the elevators, corners, the doorways, and every place. You must make sure that whichever furniture you buy can be brought into your house easily. Getting the wrong measurements of your room can cause problems.
The 3 things you should keep in mind regarding the dimensions are as below.
1. Furniture must fit the doorways and elevator it will be entering the room through.
2. Your furniture should be in sync with the layout of your room to fit properly.
3. You should have enough space to move around and the room should not look congested.
You might consider using a floor plan or digital plan to see how the furniture fits before deciding anything to get a visual idea of space planning.
2.
Decide how long you are going to use the furniture. 
Are you staying in a rental house? Then you need to shop accordingly. The chances and frequency of moving home will be high in a rental house. It means that you may consider light furniture which will be easy to move. Bulkier furniture is difficult to maintain and will cost a hefty sum while moving houses..
If you are moving into a new home, you might either look for the furniture you will keep permanently or just for a small duration before you redecorate the look entirely. You need to consider the cost factor in such a case to furnish your rooms without splurging a lot.
When should you replace your furniture? How long should you use it and at what cost? Buying expensive furniture is a decision that affects more than just your budget. It becomes a liability if you have to move frequently due to your nature of the job or if you are staying at a rented space. Transporting might turn out to be cost-heavy and painful. If you decide to sell it you may get a price much lower than the actual cost. Or you might just end up giving it to charity and lose everything. Hence, it is important to decide how long you want to keep the furniture before buying it.
3.
Separate what you need from what you want.
After you assess your space and list out the requirements, try to determine what you want to spend your money on. You might end up with your "wants" list being pretty long. Bring it down by comparing it with a "needs" list. The key to prioritizing your need is realizing you don't have to get it all in one go. You must think long and hard while making your list of priorities.
Ask yourself. What furniture should I buy first?
Can you simply do without a decorated bed lamp? Does the kitchen really need those fancy stands? Can you focus more on highly used spaces like the living room and work station?
No matter which ones you decide to go for right now in the first buy, remember that furniture with classic and simple styles will always be in trend. And, that means you can always spice up the looks and play with added furnishings every now and then over a course of time as and when you feel like. 
4.
Set a budget for furniture in each room.
Budgeting can be tricky. Just having total spending in mind will not help to decide anything and you will end up splurging unnecessarily. So first decide the budget for each room. Consider every little detail to suit your lifestyle needs. And remember that it is not the last time you are buying furniture for the home.
Do you use your sofa much of the day? Does your bed need storage space? Do you always get visitors? How much seating do you require in your living room? Are you going to use the particular furniture for long? Do you plan to spend a lot of time cooking exclusively? Are you going to refurbish your bedroom more often than the other rooms?
You must take everything into account while setting the budget and dividing it for each room to maximize what you get for your money while ensuring the furniture needs at the moment.
5. Explore the options in terms of material quality, comfort, aesthetics, and colors.
Once you are ready with your budget distribution and measurements, you must explore all the options in your budget. Try not exceeding your budget to a very high extent only because something looks attractive. You might end up buying it just to realize it is not comfortable or does not go with the look you were expecting. That will just be a waste of your hard-earned money.
How do you pick furniture for a new house?
You should consider all these parameters mentioned below while finalizing your furniture.
1. Quality and Material:
Find out which material is best suited for your needs and within your budget. You might consider having an upholstered sofa to suit your living room style quotient but would a metal bed with storage make more sense for your bedroom considering the storage needs? Do you need a plastic or engineered wood wardrobe? Do your shoes need a covered shoe stand or a standard open stand will serve the purpose well? Are you going to need a bigger workstation in a few months?
2. Color and Aesthetics:
While you may like a rusty look on your wooden sofa, does that sit well with your wall color? Is the floral pattern making your room look more interesting or clumsy? Playing with color and designs may be a good option for the furniture you are planning to upgrade once in a while. However, for furniture like a bed, sofa, or a wardrobe which you might plan to use for a long period, it is essential to choose the style and color with the utmost attention. Otherwise, it will fall out of place with your room or when you shift to a new place if needed.
3.
Comfort:
Come what may, if your furniture is not comfortable to use on a regular basis or the purpose it is bought for, all your hard work will go in vain. So whichever quality, material, size, design, or style you choose for each furniture, make sure to try it out or ensure the comfort before buying it.
6. Finalize on what suits your lifestyle and personal needs.
Before you end up buying anything randomly, figure out what you really like. Do not forget that carefully-combined furniture styles together will light up the room much better than a bunch of matching, same-styled pieces. Try to mix and match different styles to achieve the look you wish for.
The five major furniture styles are described below.
1. Traditional – Antiques and reproductions of antique styles, old-styled upholstery, cherry, and mahogany.
2. Contemporary – Bold colors, sharp lines, and shapes, Accented with metal and/or glass.
3. Casual – Earthy colors, Oversized couches, Oak, pine, or maple with wood accents.
4. Country – Soft cushions, floral designs, paint on wood.
5. Eclectic – Mixture of styles and periods.
The hard thing about choosing a particular style is that it may not be practical to fit in your range. In that case, decide which is your personal priority – style or practicality, and then live with it. If budget is the issue, you might consider being patient with the timelines to buy your new furniture or break it up for several purchases over a period of time. If durability is the problem, you should be realistic.
7. Look out for the best price available before the final purchase.
A common mistake most of the people commit is buying all the furniture at once. While it may be exciting to get everything in a single setting, it may cost you more and do not solve the purpose at the same time.
Below is what you should do to get the best price.
1. Try to spread out your furniture buying over the course of several months or so.
2. Don't just jump into buying a whole set for a single amount; break it down to see if it's priced fairly first.
3. Find out the pricing of the same furniture at different places and compare them for the best price.
Lastly, always remember that whichever furniture you bring home must make you happy and comfortable to possess and flaunt it all the way.
After all, that is all that we wish for! Isn't it?
We understand how important your furniture is for your home. And, We hope we could be of some help in deciding the most suitable furniture for your home without breaking much sweat!
We are excited to hear your views and suggestions about buying home furniture the first time and ever after equally.
You can also aid your choices by going through the latest furniture trends in the industry. Check our detailed insight into the furniture industry, its workings, and the freshest trends of 2021!