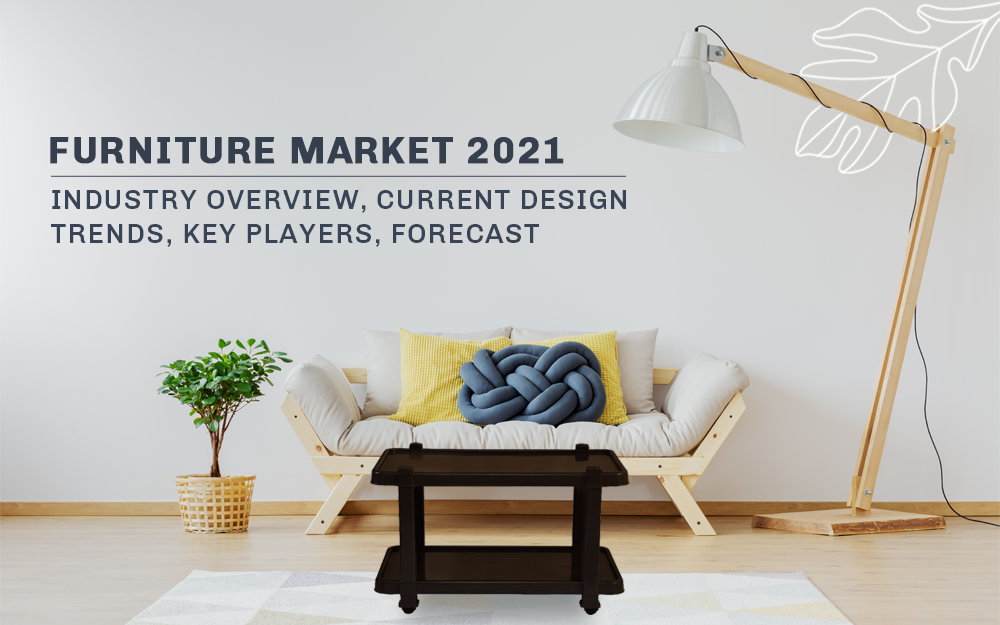 The Global Furniture Market 2021- Industry Overview & Trends, Forecast
The furniture industry is one of the fastest-growing industries in the world. The global furniture market was valued at USD 609.7 billion in 2019, with an expected growth rate of 5.4% from 2020 to 2026. However, like all other industries, the furniture industry took a massive hit in the year 2020-21 due to the ever-rising Covid-19 pandemic.

Due to the strict government policies, the furniture industry had to rely on digitizing their stores and creating an effective supply chain management so the furniture can be delivered in the safest manner possible, even during such risky hours majorly. Let us, deep dive, into the Furniture market in 2021 and also explore how the industry is expected to evolve in the upcoming years.
If you wish to find a specific piece of information on this blog then feel free to click a link below to jump down to that section.
Global Furniture Market Overview
The furniture market has seen a steady rise till 2019 and was anticipated to grow the same way. However, the sudden hit of the pandemic took this industry by surprise and caused a massive dip, especially during its first few months. In addition, the sector saw a considerable disruption in the supply chain due to the trade limitations on a global scale for a brief period.
Additionally, the buying patterns of consumers also changed significantly as most people started working from home. However, due to import and export restrictions, individual countries saw a growth in their local markets, and the reliance on imports reduced significantly.
On the other hand, millennials' increasing spending on furniture goods, combined with their increased brand awareness, drives the market to achieve higher sales during the study period. The massive increase in e-commerce platforms is accelerating the growth of the market in leading countries. This growth is further driven by the various unique designs and models of furniture products they offer. The top firms are also benefiting from omnichannel distribution strategies, allowing them to generate more money in the market.
According to a recent Furniture Report, 2020 by Statista, the Living Room and Dining Room Furniture categories are the largest and most popular furniture market. The segment is driven by consumers' need for comfort in their homes. The segment's worldwide revenue in 2019 was US$ 452 billion. This is followed by bedroom furniture and then kitchen furniture segments. Bedroom furniture accounts for 21% of the furniture market's gross revenue in 2019, while the kitchen segment amounted to US$ 156 billion in the same year.
China is the leading Furniture exporter and has a market share of about 37.5%, followed by Germany, Poland, Italy and the USA. As of 2018, India ranked 28th in the world exports with top export destinations including the US (39.2%), Germany (7.4%), France (6.6%), UK (6.3%), Netherland (6%), and Australia (2.8%) with USD 1.65 Billion and hold up 0.6% share in the world exports. 
Office furniture is also another growing segment that has seen significant growth especially post Covid. Along with innovation, this segment focuses on ergonomics too! By 2023, this segment is predicted to grow up to approximately US$ 132 billion.
Wooden furniture still accounts for many furniture worldwide, especially in North America, whereas Metal furniture is expected to gain more demand in Europe. Plastic and other materials account for US$ 22 billion in 2019 and it is expected to reach US$ 24 billion by 2023.
Furniture Market Performance in Asia
The Asian region is rapidly expanding due to its large population and rising residential construction. Customers have begun to invest in home décor and furniture as the standard of living in countries such as India and China continues to increase. 
With an estimated USD 271 billion in 2020, Asia Pacific Furniture Market exceeded its market size and is expected to grow 5.1% from 2021 to 2027. The growth of the furniture market in the region has also been fueled by rising consumer spending power. As a result, there is an increasing demand for affordable yet stylish furniture. This contributes a significant amount to the growth of the sector in this region.
Indian Furniture Market Overview
The Indian furniture market is expected to expand quickly due to high disposable income, increased urban households, and projected growth in the hospitality, tourism, and commercial construction sectors.
With increased employment possibilities, Indian consumers' spending power is rising, which is likely to continue and raise demand for both designer and affordable furniture in the country.
Furthermore, due to the developing distribution network of furniture makers in these regions, the western and southern areas are projected to continue to be the primary income generators. The largest wood providers, which is the most extensively used raw material in the country's furniture business, are Uttar Pradesh, Kerala, Punjab, West Bengal, and Andhra Pradesh.
The second most popular and exponentially-growing segment within this industry is plastic furniture. Several plastic furniture brands have put India on the map of the world because of its stellar growth and sales. Italica furniture is one of the brands that is widespread in the country and is now gradually establishing a global presence with its innovative and exquisite line of furniture!
Despite all the growth, one cannot ignore the impact of Covid 19 on the industry. The Indian economy was predicted to rise at an exponential rate before the lockdown. This hypothesis was based on changes in consumer purchase behavior when it came to furniture and other essentials. The demand for rental furniture was on the rise, prompting many consumers to rent rather than buy. However, the global pandemic influenced the furniture industry and thus observed a shift towards increased work furniture sales.
In 2020, the industry saw a change in consumer behavior patterns. Work from home culture snowballed. People started buying ergonomic home furniture to improve their ability to work from home for long hours. As a result, the Work-From-Home furniture market is expected to move up to $3.49 billion by 2026.
The demand for modular furniture in India is skyrocketing as well. The population's living standards are shifting as the housing sector develops. The growing demand for home décor and home furnishing with innovative and trendy furniture is driving the Indian furniture industry forward.
Key Players in The Industry
A few key players dominate the global market and are the major contributors to the industry's growth. These key players are:
Ashley Furniture Industry
IKEA Group
Herman Miller Inc
HNI Corp
Steelcase Inc
On the other hand, mid-size and smaller businesses are expanding their market presence by gaining new contracts and entering new markets due to technical improvements, product innovations and aesthetic designs.
If we look at the key players in India, we will find these companies dominating the market:
Godrej Furniture
Zuari Furniture
Durian
Italica Furniture
Ikea
Post-Covid Lockdown Scenario
India's online furniture market accounts for 3% of India's organized furniture sector. The online furniture industry has emerged as one of the country's fastest-growing e-commerce industries. The pandemic has caused a dramatic upswing in the ecommerce category, rising at 35-40% in the past five years. This rapid shift from offline to online isn't just emerging in tier 1 cities; it's also unfolding in tier 2 and 3 cities' more traditional markets.
As we mentioned before, several new market trends have emerged due to Covid, allowing manufacturers to explore new commercial opportunities.  Interestingly, kids, furniture and seating have seen a rising demand too due to the lockdown situation. Post the relaxation of lockdown restrictions, demand for home office furniture like study tables, office chairs, laptop tables, and other items has nearly tripled. This phenomenon has been observed because many of India's corporate employees now work remotely, and almost all students pursue their education online. This is expected to continue at least till the end of 2021.
Most Popular Materials Used to Make Furniture
The global furniture industry can also be divided according to the most widely used materials.
1. Wood
Wood is the most widely used material for making furniture across the globe. It has its roots set in several traditions. Thus, it has cultural significance in several regions of the world, including India. In addition, it provides gorgeous, culturally rich, and royal designs.
2. Cane
Cane/ wicker is another material that has been used for several centuries. In today's day and age, it is considerably less prevalent than it used to be. However, globally it is still quite popular to add a rustic vintage touch.
3. MDF
This is yet another popular material used as a solution to build furniture for modern homes. This is generally used as a substitute for wood. However, it is way cheaper. Due to its price and functionality, it is one of the most popular materials in the furniture industry.
4. Glass
Even though it is not one of the most popular materials, it is still used to make certain types of furniture like Glass tables, Glass based cabinets, etc. It adds style and elegance to any kind of interior decor.
5. Metal
Steel, chrome, metal, etc., are materials that dominate the furniture industry. Several furniture materials are made up solely of these materials. However, most furniture has steel inserts or blends to create hybrid furniture.
6. Acryl
Used as a substitute for glass, acryl is popular for its utility and cheap price. In addition, it has impressive durability and is one of the most popularly used materials today.
7. Plastic
Last but certainly not least, plastic is one of the fastest-growing furniture materials in the world. It is affordable, customizable, versatile, functional, and aesthetic. It is one of the most preferable and durable options in this day and age!
Plastic Furniture Market Growth and Performance
Globally, the demand for low-cost and durable furniture has increased among various customer segments. In India, particularly in the last decade, plastic furniture has risen exponentially, prompting a shift in the sector. This shift mainly occurred as a result of the introduction of plastic furniture in India, which resulted in a surge in the home furniture market in India. This is also because of several advantages that plastic has over other materials like low maintenance, durable, economical, customizable, and available in various shapes, colors, and designs. In addition, many entrants are focusing on producing eco-friendly plastic furniture to capture ever-growing environment-conscious buyers. 
To gain more in-depth insight into the Plastic furniture industry, check out our blog on An insider's guide to Plastic Furniture Industry.
Notable Trends in The Furniture Industry
Like all other industries, this is also an ever-evolving one! These changes come from consumer demands and preferences and several other factors. From multiple payment options to new essentials, we witnessed interesting and unique customer trends and behavior. However, here are a few pervasive trends that are being observed in the industry currently.
1. A Rising Online Demand 
Since the pandemic has forcefully pushed people into their homes, all the activities are now being carried out from our homes! Ecommerce has reaped the advantage of this situation as physical stores have been closed for an extended period. Ecommerce sector is expected to grow 84% by 2024 due to the pandemic. The ongoing pandemic has led to increased reliance on online retail for purchasing needs, even among traditional consumers. Pepperfry's online business has risen to 120 percent of pre-lockdown levels, indicating amplified use of e-commerce options.
This change can be owed to several reasons. Firstly, even after reopening these stores, the customers were skeptical about retail shopping for social distancing. Customers found it easier to purchase their desired products from the comfort and safety of their homes. Major Industry players have stated that the brands have witnessed more than a 50% increase in the new online buyers since 2020. This brings us to the next trend.
2. Omni Channel Sales
Several furniture stores, especially local furniture retails, relied on local sales entirely. Some of these brands were beginning their online journey. However, only after the onset of the pandemic most brands focused on their online presence and tried to make it grow religiously. Hence, this resulted in most brands opting for an omnichannel approach to reach a more significant mass. Even local brands focused on perfecting their online sales strategy as it was one of the easiest ways to grow the business even in the middle of a calamity. 
Brands have switched to selling on their websites or ecommerce websites such as Amazon, eBay, Pepperfry and more. In addition, many have switched to other mediums such as Facebook Marketplace, Instagram shops, Google Shopping, Paytm marketplace and Whatsapp Business too! These platforms have seen exponential growth post the onset of the pandemic.
For example, Italica furniture distributes its products through local retailers and sells digital via ecommerce stores, Email, Instagram and Facebook. However, post the pandemic, they focused on perfecting their online sales channel. They created Easy guides and tutorials for their dealers and distributors to shift towards creating a successful online sales channel. This has helped the brand reach a more comprehensive online audience and cater to tier 2 and tier 3 cities with seamless and risky free delivery options.
Big online furniture players adopt innovative technologies and solutions to cater to increasing consumer demands. As purchasing furniture online can be tricky, leading players in the market explore augmented reality and virtual reality features within their apps and websites to create a virtual online shopping experience for their customers. However, considering the vast catalog size in this space, this exercise comes with several constraints and is still at a nascent stage.
3. Customizable Products
With the younger generation seeing a higher purchasing power at an early age, it is observed that they gravitate towards more customizable yet affordable furniture. This has led brands to offer the option of customization in their products. Plastic furniture provides extreme versatility and innovation. Therefore, itMoreover, plastic would be a top preference for most young customers.
4. Environment Consciousness
Sustainability is one of the significant concerns with the customers. Hence the industry has also focused on this as a serious concern. From having environment-friendly manufacturing processes, treatment of workers to final production of the products, brands are making all these processes ethical, from start to the end. 
Italica furniture has a sustainable policy wherein all of Italica's products are 100% recyclable, creating zero waste. Furthermore, their manufacturing method rigorously adheres to sustainable guidelines, ensuring little to no detrimental environmental impact. In addition, they implement an efficient water recycling system and utilize renewable energy sources.
5. Smart Furniture
Customers are gravitating towards smart furniture. This type of furniture serves more than one purpose. It will be versatile like Italica Spine Care Chair, a doctor-approved seating to improve your posture, provide back supreme comfort with its excellent lumbar support, and be easily used as both a Work-from-home chair and a Patio chair!
There are other examples of smart furniture, such as Barca loungers with Bluetooth speakers, or tables with charging ports or the option to surf the internet, etc. 
Smart furniture manufacturers are already producing smart furniture solutions to fulfill the demands of changing lifestyles and cater to audiences with smaller home spaces.
6. A Growing Need for Remote Office Furniture
With more people increasingly working from home, there has been an upsurge in demand for ergonomic yet fashionable, functional, easy-to-assemble, and quick-to-ship home office furniture. As a result, sales have increased considerably for furniture companies that specialize in home office furniture. We anticipate this trend to continue well into 2021, and even after that, remote working will be more than just a fad.
Furniture manufacturers have started to adapt their designs to their target market by creating practical home office furniture that is both comfortable and pleasurable while also conducive to productivity. As a result, home workspaces are on the rise, with stylish and comfortable furniture!
7. Cash and Carry Option
As we mentioned before, millennials constitute a large percentage of the consumers of the furniture industry. Millennials expect to receive all their purchases immediately or within a day. Whether it is online or offline, they want their furniture to reach them as soon as possible. 
Younger shoppers, who have grown up in an ecommerce-driven world, are used to instant gratification when they make purchases. That's why more and more shoppers favor a cash-and-carry model for furniture stores, even if that limits the choices they have.
Hence, the option for Cash and Carry is on the rise! As a result, several businesses cater to the masses by offering pre-assembled furniture in a range of options for easy pickup or quick delivery.
8. Personalized Experiences
It's 2021! The year that sounds like a futuristic world should be in place. And to our delight, it is! Customers expect personalized experiences and brands are offering them to them! 
Businesses are acquiring as much information as possible on their customers, including internet searches, demographics, geography, purchase history, social media activity, and things in or previously added to their shopping cart. In addition, some brands use AI to understand their customer's behavior and cater to them in a more personal and exclusive way. From sending out exclusive birthday offers to promote products to online customers based on their past searches, brands focus on providing personalized and memorable experiences.
9. Tech-Savvy Staff
In-store staff for furniture stores is now becoming increasingly tech-savvy. They are gradually acquiring the necessary tools to provide customers with accurate, up-to-date product information and answer their inquiries to provide a seamless shopping experience to the customers.
10. Policy Support For Manufacturing
All Indian Industries, including the furniture industry, are becoming self-reliant. Government enables this growth with initiatives such as 'Make in India' and 'Vocal for Local.' As a result, the government of India has planned to increase the country's GDP by 25% by 2025 and the furniture industry contributes a significant portion to the GDP!
11. Impeccable Logistics and Supply Chain
With the government's emphasis on building vital road, rail, and international networks and concentrating on a technology-enabled supply chain and storage ecosystem, the country's logistics and supply chain sector is expected to increase. This will impact the furniture industry positively as a result happens to be excellent products and services for the customer.
Top Furniture Design Trends in 2021
After the consumer trends, let us look at some of the most prevalent design trends of 2021.
1. Panton Chairs
Panton chairs are modern space-age-looking chairs. These chairs have a unique S shape that can elevate just about any home decor. These chairs are generally made of plastic or tempered glass.
2. Wicker Tables
This is a trend that made a massive comeback in 2020! Wicker tables were famous as patio furniture, but now they are extensively used for interior purposes with the comeback.
3. Italica Spine Care Chair
One stunning plastic chair that has been gradually conquering the plastic furniture industry is the Spine Care Chair by Italica. It has exceptional lumbar support and an ergonomic design. This makes it perfect for the user. It corrects the posture of any user and gives a comfortable seating experience that one can never forget!
4.  Sunloungers
Traditionally used in beaches and shacks, sun loungers are also becoming a part of people's homes now. Whether it is interior decor or patio decor, sun loungers are now quite the trend. A sun lounger gives your home a beachy aesthetic!
5. Rounded Furniture
People are going gaga over rounded furniture! Whether it is a circular bed or a couch with circular edges, curves are IN! This type of furniture gives your home a soft yet regal look. This rounded aesthetic fits your living space as well as your bedroom!
6. Lounge Chairs
Lounge Chairs are the most adorable trend this season! If you are looking to build a luxurious and ultra-modern home, you should invest in a good lounge chair. It is the epitome of elegance, luxury and minimal decor. But, of course, you cannot miss out on this if you are a bibliophile who likes to unwind your day with a good book and coffee. 
Future Predictions
Based on our preliminary studies, previous performances, and current trends, we can predict a few directions in which this industry will inevitably grow.
Key players have come out with a variety of discounts on their products in response to high demand from the younger generation. The growing demand for readily assembled furniture goods is also assisting the market's growth, particularly in the residential and office furniture segments, resulting in increased sales across the globe. The market is predicted to rise due to rising residential and commercial buildings around the world, as well as an increase in strategic alliances and collaborations.
Due to the general gravitation of consumers towards eco-friendly and sustainable practices and brands, most furniture brands will also move towards adopting sustainable practices for the future of the brands. To put it concisely, the future of the furniture industry is Green! 
Plastic will be one of the top furniture materials in the future. As a consequence of the eco-friendly and affordable inclination of the consumers, plastic will emerge as the Hero option. Most plastic used today is recyclable plastic. Additionally, ongoing innovations in engineered plastics and a rising focus on recyclable plastics will continue to shape the future of the plastic furniture business.
Free shipping will be non-negotiable for the brands. Customers will now expect free and fast shipping!

 

Forty-three percent of shoppers expect free shipping

 

to be a part of every purchase they make, and they expect their purchases to arrive within three days or less. Thus, brands will move towards shipping the products fast and delivery inclusive!
Most common questions around Furniture Market
1. Is the furniture industry growing?
The furniture industry is overgrowing number Of course, across the globe as customers' purchasing power is increasing.
2. How is the furniture industry doing globally?
The global furniture industry is also performing very well. Despite the pandemic, we have seen an increase in the sales of home office furniture. As a result, the furniture industry was valued at USD 609.7 billion in 2019, with an expected growth rate of 5.4% from 2020 to 2026.
3. How is the furniture industry doing in India?
The Indian furniture industry is also growing steadily as disposable incomes rise, the middle class grows, and urban families increase.
4. What are the key players in the furniture market?
The key players in the global furniture market are Ashley Furniture Industry, IKEA Group, Herman Miller Inc, HNI Corp, and Steelcase Inc. In contrast, in the Indian market, Godrej Furniture, Zuari Furniture, Durian, Italica Furniture, Ikea are some Top players ruling the industry.
5. How to market furniture online?
The furniture market is now thriving in the online space. To market furniture online, you should optimize your brand's website, use social media and other platforms such as Facebook Marketplace and Whatsapp Business.
6. What are the top furniture design trends?
The top furniture trends of 2021 are panton chairs, wicker tables, sun loungers, spine care chairs, rounded furniture, and lounge chairs.
7. What are the most popular furniture materials?
The most popular furniture materials include wood, cane, MDF, glass MDF, metal, acyl, and plastic.
We hope you found this blog informative. We hope to bring such exciting insights to you over and over again. Do leave us a comment down below if you found this helpful.
Do not forget to share this blog with whoever may find it useful. Thank you!