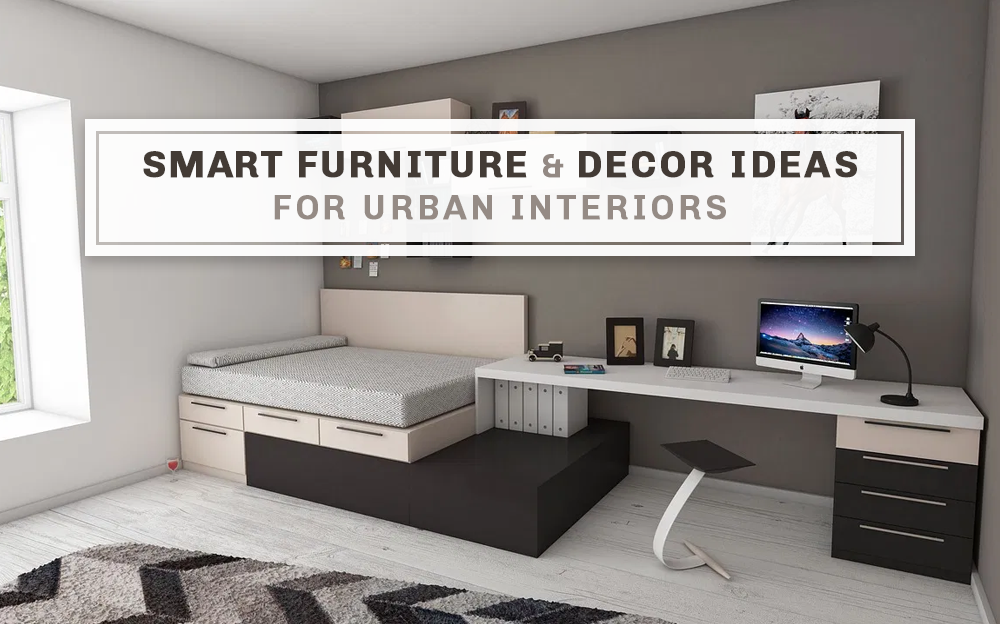 Smart Furniture and Decor Ideas for Urban Interiors
The hustle-bustle, the happening crowds, the party places, and endless opportunities: Big cities have them all.
Doesn't it seem so perfect?
As appealing as it seems, living in a metro city is not an easy feat, especially in urban cities where there is cutthroat competition for everything, including space. It is almost impossible to find a spacious home in these cities!
Inevitably, to live an urban life, we have to settle for smaller houses. But does that mean you have to cramp up the apartment and have no fancy decor? No way, right…?
Today, we are here with 8 Highly Smart Furniture and Urban Interior Design Ideas for Your Small Urban Home!
Let's get started!
1. Hidden Kitchen / Dining Table That Doesn't Take Additional Space
Modern problems require modern solutions! Your kitchen and dining spaces are vital for obvious reasons. However, if you merge the two, you can save a lot of room for other functions!
For your dining table, choose a table that fits perfectly into your kitchen fittings. In this way, this one-of-a-kind and elegant solution frees up a lot of extra floor space and gives the kitchen furniture arrangement a more defined visual appeal.
2. Multipurpose Furniture 
When you live in the city, you have to perform all your functions in your tiny space. When you multitask throughout the day, you need furniture that fits into the hustle. Multipurpose furniture is the best option for your urban decor! For example, you can use a plastic table that serves you during your work hours and then moonlights as a coffee table in the afternoon!
You can also opt for multi-purpose Chairs like the Italica Spine Care chair that can be used as a Work chair and a Dining Chair.

Italica Spine Care chair is a premium quality ergonomic, comfortable plastic chair used for indoor and outdoor usage. One added benefit is that it helps you to improve your posture with its exceptional lumbar support! 
You can also use this designer plastic chair with the dining table that fits into your kitchen settings and adds a trendy flair to your urban interiors!
3. Sofa Cum Bed

credits
A sofa bed is perfect for bachelors and small flats, and it can withstand the rigors of daily life. You can move such furniture around the home with ease. It's a godsend when you have limited space and need a practical piece of furniture. It is the epitome of utility when it comes to modern urban decor.
Sofa cum beds are soft, comfortable, and easy to put together. The perfect solution for saving space with minimal effort and time- it is a functional unit with its sleek appearance and helps you keep a clutter-free home, as you'd expect from such a lightweight but robust piece of furniture.
We recommend this fantastic sofa cum bed for your urban interiors– Check it out here!
4. Sliding Doors
Regular doors take up a lot of space while opening and closing. Even in a closed state, you cannot utilize the space required to open doors. However, if you opt for sliding doors, you save that space! These doors are super compact and easy to use as well! These doors also look incredibly stylish! You can choose plastic sliding doors, wooden or even glass ones! This is one of the most brilliant urban interior design ideas you can implement for your urban interiors!
5. Utilize the Height
A lot of vertical space goes to waste when you don't plan your home efficiently. Instead of crowing your floors, make use of the space high on your walls. Add high shelves to store your books or decor items. This saves you a lot of room, prevents ground-level obstructions, and is perfect for the urban interiors decor style!
If you have storage cabinets, utilize them for miscellaneous items that may clutter your urban interior!

credits
6. Colors
Colors play a huge role in your modern urban decor! They can make or break the entire look of your home. To elevate your urban decor style and to make your home look bigger and broader, light and cool-toned colors are your best bet! White and lighter colors give an illusion of space and can make your tiny home look spacious!
You can also read more about color palettes and the psychology of interior decor here!
7. Storage Bins
Your home is always filled with miscellaneous items that you never knew existed! There are certain things you just cannot categorize! These things end up cluttering your space and causing a mess and chaos in your small home.
For such items, you should consider using plastic storage bins. You can keep all the things that are not of immediate use to you in these bins.
Check out Italica's excellent multipurpose storage bins:
Read more about how to declutter your apartment and redecorate it here!
8. Mirrors!
This trick is mostly for aesthetic purposes. You can also make your studio apartment look much larger by installing mirrors. Using mirrors to give the illusion of a bigger space isn't a new decorating trick, but it's a game-changer. This not only gives the impression of more space, but it also reflects light, brightening the room even more. Without having to renovate, this simple decorating trick makes your room feel brighter and more open. This elevates your urban interiors style quickly!
If you're thinking about adding leaning mirrors to your room, keep in mind that style is essential. A mirror increases the amount of space and light in a room and doubles whatever is in it. It will help if you keep it simple because you want the mirror to represent a tidy, beautiful space. Focus on decorating a different area to prevent unnecessary clutter because a large statement mirror is already a focal point of the room.

credits
Are you moving into a metro city and you've been thinking about decorating your new place but don't know where to start? Read our detailed blog on A-Z Guide on decorating your home here!
Did you enjoy this blog? If you did, do not forget to share it with your friends and family. Comment below if you have any other unique ideas for decorating an urban home!