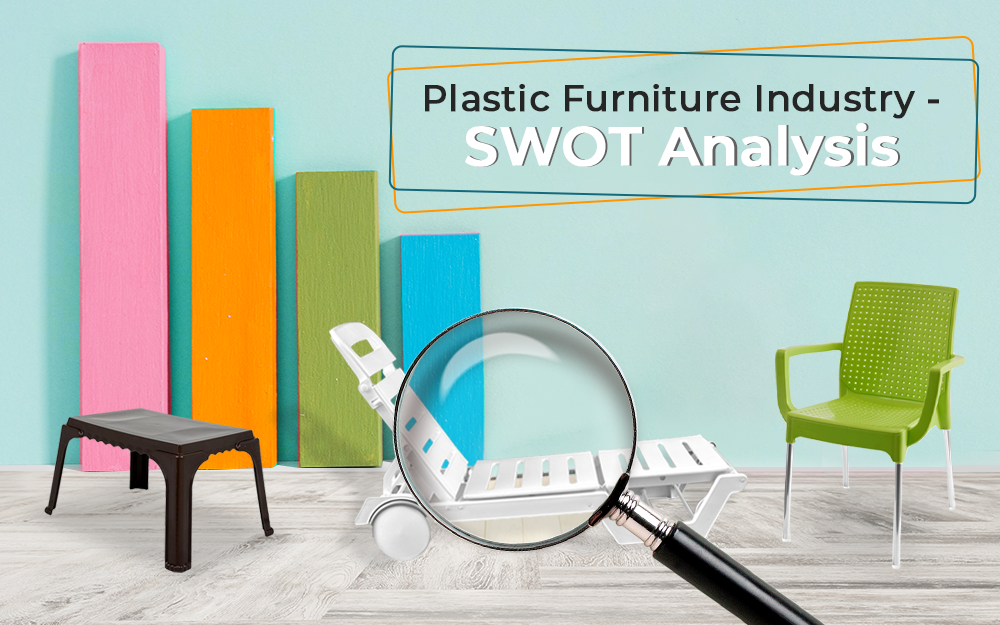 Plastic Furniture Industry – SWOT Analysis
The furniture industry is ever-changing, much like the fashion industry. With trends coming and going, you never know when which trend will take off and which one will plummet. Yet within this vast industry, there have been specific niches that have been growing continuously. 
The plastic furniture industry is a sub-sect of this industry that has been skyrocketing globally, particularly in Asia. Plastic furniture account upto one third share of the market revenue in the commercial sectors.
The global plastic furniture industry was valued at 12.89 billion USD in 2020, growing steadily at a CAGR of ~4%. The expected revenue of the Plastic furniture industry by 2025 is forecasted to be around 15.48 billion USD.
 Read this blog on an insider's guide to the plastic furniture industry for detailed insights!
Since its modest yet successful start in 1957 with polystyrene, India's plastic industry has made considerable progress. In India, the plastic industry significantly contributes in developing new job opportunities and innovative products for the Indian people. [2]
Yet, just as all other industries, we can also dissect this one to its core to find its strengths, weaknesses, opportunities, and threats!
Let us dive right in!
The Strengths of the Plastic Furniture Industry
The plastic furniture industry has grown severely, and its growth can be owed to a few prime factors. Let us look at those factors or the strengths of the plastic furniture industry!
 1 Consumer Demand
The demand for plastic furniture has been growing steadily over the past few years. Plastic furniture is generally priced at lower costs. Hence, it is excellent for a lower-middle/middle-class population with a standard annual income.
Even at low costs, plastic provides designer furniture that can be a luxurious decor statement. The demand for this has skyrocketed across the world, particularly in Asia. The global market for plastic furniture is expected to grow at a 6% CAGR by 2028, and the growth rate may increase further after that! 
 2 Affordability
Plastic is one of the most affordable materials available for mass production Even compared to wood/ metal furniture, plastic provides much cheaper options for users. Its widespread popularity is owed to its affordability.
Plastic has a low manufacturing cost, making the final product more easily accessible to the customers.
As a consequence of small plastic imports from China, the Indian furniture industry is getting a further boost with extremely cheap raw materials. This is due to globalization and WTO directives.
 3 Rising Income Amongst the Consumers
Now the young adults of India are increasingly gaining more purchasing power.
Constituting a whopping 47 percent of the working-age population, millennials are India's top wage earners. They are India's and the world's largest generational cohort.
This generation is also distinguished by a high degree of disposable income. They are spending more on a comfortable lifestyle and luxurious consumer goods now that they have more disposable income. 
This generation gravitates towards more affordable, trendy, and stylish furniture that can change as per the trend. Hence, plastic furniture is a top choice for this consumer segment. It is because of their increasing purchasing power that the popularity of plastic furniture has grown substantially.
 4 B2B Demand
Additionally, business and hospitality sectors also resort to plastic furniture over traditional furniture because of all the listed benefits of plastic over other types and materials of furniture. This comprises a significant portion of the plastic furniture sales and provides a massive boost to the industry.
To capitalize on the increasing customer demand for eco-friendly items, small businesses are entering the plastic furniture market with an environmental conscience by introducing new plastic furniture designs made of recycled plastic.
The Weaknesses of the Plastic Furniture Industry
Despite being one of the leading sub-sects of the furniture industry, the plastic furniture industry has specific weaknesses that it needs to overcome! Let us take a look at all these factors!
 1. Perception of Being Harmful to the Environment
Plastic has an image of being harmful and toxic to the environment. Plastic pollution is essentially a pervasive threat to the whole world. Plastic is polluting the lands and the oceans alike. Hence, quite accurately, plastic has a harmful image in the eyes of the world. However, today's plastic furniture industry barely poses such an environmental threat.
The plastic furniture of today is almost 100% recyclable. It can be molded and remolded once the furniture piece has been discarded. Other than that, there are also ways to upcycle these pieces quite easily, which can last for decades. Plastic furniture also does not cause deforestation like wooden furniture. Hence, in the long haul, it is better for the environment!
However, a large percentage of the customer base is unaware of this, leading this industry to have a largely untapped audience. This is one of the major barriers that the plastic furniture industry needs to overcome! 
 2. Not accepted Readily by High-end consumers
Despite being one of the fastest-growing industries, another area where this industry falls short is when it comes to entering the luxury market, as most plastic furniture is meant for mass production. Plastic furniture is never considered to be at par with ornate wooden or metal furniture. It is often considered to be not of good quality or 'CHEAP' furniture. Plastic furniture used to lack aesthetically pleasing designs and a luxurious feel to the products.

A large population avoids plastic furniture because of these connotations. However, this change also shows a gradual change with modern plastic chair designs such as ghost chairs, panton chairs, and plastic steel blends. Still, the majority of the luxury goods consumers do not prefer to opt for plastic furniture.
 3. Lacks Elegance and Craftsmanship of Wooden Furniture
Wooden furniture is renowned for its exquisite, intricate designs and structures. Making intricate wooden furniture is an art passed over generations and holds an emotional value as each furniture piece would be unique like their artisan.

In India, several cultures still use traditional wooden furniture pervasively. Plastic furniture is a relatively new phenomenon in this country, and not everyone is open to accepting Plastic furniture over a traditionally carved wooden furniture piece. It has seen growth in the country in the last 50 years or so! 
The Opportunities of the Plastic Furniture Industry
This industry has a lot of scope and opportunities that it offers to several ends of the business. Let us take a look!
 1. Job Opportunities 
With the amount of growth this industry is experiencing, job opportunities are also on a constant rise! This, in turn, boosts not only the industry but also the Indian economy. Within this industry, several sectors need more and more human resources. This creates a favorable stance for this industry, and it continues to grow in more than one way.
 2. Innovation Opportunities
Plastic is indeed a flexible and versatile material that innovated and reinvented in so many ways. Ongoing advances in engineered plastics and an increasing focus on recyclable plastics will continue to shape the future of the plastic furniture industry. With the introduction of high-performance plastic materials suitable for producing long-lasting plastic furniture, the market gained traction.

It is not just about producing indoor or outdoor furniture but about exclusively designing products focused on customer pain points. Manufacturers will continue introducing new fabrics and designs for plastic furniture to take advantage of lucrative market opportunities.
You can take the example of Italica's Spine Care Chair. This chair has been regarded as one of the most innovative chairs in the country. It has been ergonomically designed with unique lumbar support that has healed the users' spine-related problems and significantly improved their postures too! It is recommended by Doctors for people who are suffering from back aches.
3. Local Market Dominance is Possible
Plastic furniture retails can easily establish Local Market Dominance due to the nature of their business. It is easier to establish trust amongst the audience as most plastic furniture is priced at an economical range. It is easier to get b2b business and establish a strong network within your community. This way, Plastic furniture companies can supply furniture to restaurants, cafes, offices, public space and easily gain local market dominance via b2b partnerships.
The Threats of the Plastic Furniture Industry
With an ever-changing and dynamic world, this industry also finds itself faced with several threats.
 1. Covid-19
Not limited to this industry, but Covid-19 has derailed the growth of several industries all at once. The pandemic has acted as a barrier in manufacturing processes as well as the final consumer consumption process. However, with the pandemic being in place for over a year, this industry has also started to cope with the changes and gradually get back on track.
 2. Lack of Awareness about Plastic Material
Plastic as a material lacks the right image and general awareness amongst the masses. Plastic has an impression of being hazardous and toxic to the environment. Plastic as a material is highly versatile. It is used in insulating certain building products, Healthcare materials in hospitals, Sportswear, Automobiles, Eyeglasses, and more. The problem with plastic is that not all plastic materials used are collected and recycled. The Plastic management program across the nation needs to be more efficient in collecting the used plastic and invent more ways to reuse/repurpose them.

Back in 2016, Ahmedabad used plastic wastes to create plastic blended roads to cover up their potholes.

Most people assume that all kinds of plastic have such effects on the environment, which is highly untrue. Recyclable plastic is not toxic for the environment, and they are being confused with single-use plastic. This is resulting in plastic culture being canceled without the actual knowledge of the material!
 3. The Threat of Imitation/ Substitute
Substitutes and imitation are pervasive problems when it comes to plastic furniture. Due to the industry's size, many dupes are available for the original furniture models in the current days. Many people complain that this leads to a lack of unique designs. If any brand comes up with innovation and a unique modern design, the competitors develop substitute models. This phenomenon highly limits the capacity of the industry.
 4. Government Policies
To reduce plastic pollution in the country, the government has drafted several policies to ban/ restrict the usage and manufacture of plastic. This is a threat to the industry in some ways. Firstly it reinforces the public opinion of plastic being harmful; in turn, it says that plastic furniture is also detrimental to the environment. In truth, waste plastics can also be used to make furniture, amongst many other things. This poses a massive threat to the plastic furniture industry as some products can easily be banned if they don't meet the government standards/ policies.
We hope you found this blog informative, and you got a deep insight into the plastic furniture industry through this.

If you wish to know more about this, do look at some of our other blogs!

Do share it with your friends and family, and leave us a comment too!

Thank you!
Related articles:
Why The Booming Wedding Industry Thrives On Plastic Products