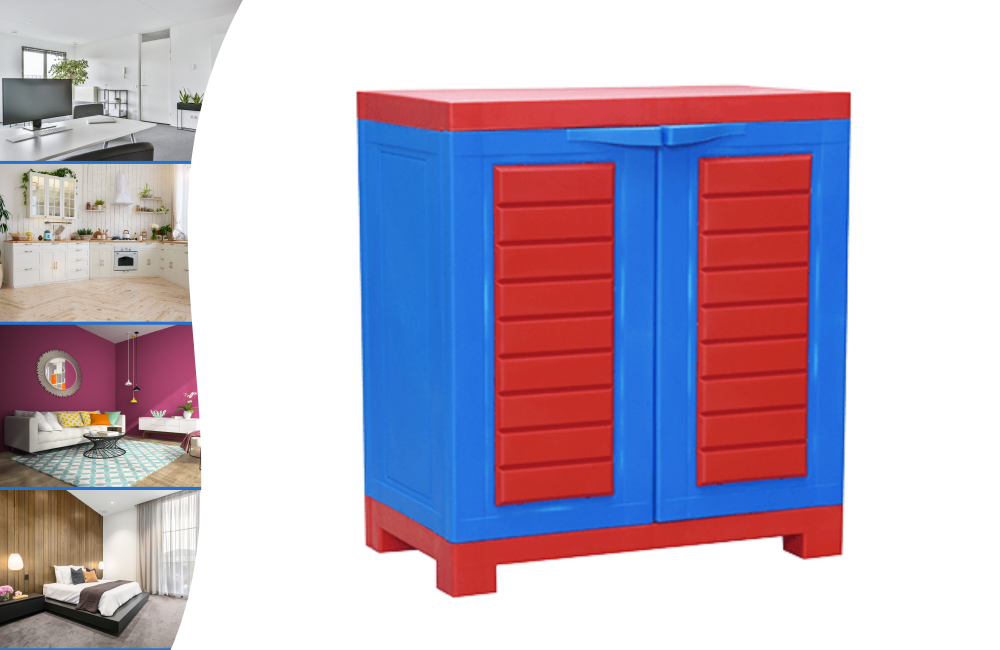 Organise Your Space With A Plastic Storage Cabinet
Let's face it. Be it messed up space or emotions, we all want to eliminate chaos. The civilised humans within us like to see things placed in order, clean and tidy. While this may seem a very straightforward and universal goal, it isn't as easy to achieve as it sounds.
With a plethora of utensils lying in some corner of your kitchen or piled-up clothes falling on you when you open your cupboard, the goal of decluttering seems all the more unreal. But we understand how difficult it is to place everything in an ordered fashion while maintaining the visual appeal of your space.
And the solution to the problem of effective storage is, of course, in the problem itself, which is 'plastic storage cabinets.
We assure you, no matter what the layout of your space is, efficient plastic storage cabinets are the solution to all the messy, cluttered items ruining the display of your place. 
Whether you want them for your home, office or garage, heavy-duty plastic storage cabinets can transform space with their compact design, large doors, sleek drawers, and premium quality.
Thus, plastic storage cabinets can organise the disorganised in numerous unknown ways. The section below is for you to discover the various ways you can make use of plastic storage cabinets.
Why should PLASTIC STORAGE CABINETS be your first choice?
1. Heavy-duty plastic storage cabinets resist corrosion and are designed to be highly stable. They are also non-reactive to chemical and acidic exposure.
2. Compared to metal furniture, plastic storage cabinets are resistant to rust. A stainless steel cabinet may rust over some years, but a high quality heavy duty plastic storage cabinet will look as good as new.
3. Since plastic is also moisture resistant, unlike wood.  
4. They are portable and multifunctional.
5. They are relatively sturdier and have a strong inbuilt. 
6. Plastic storage cabinets are also apt for spaces which require you to ensure absolute sterility. Since plastic can be easily sterilised, plastic storage cabinets are ideally suitable for surgical rooms, laboratories, and cleanrooms.
7. Since plastic is lighter than other inlaid materials, plastic storage cabinets can also be easily moved and transported from one place to another. 
8. Heavy-duty plastic storage cabinet material provides exceptional structural strength.
DIFFERENT PURPOSES PLASTIC STORAGE CABINETS CAN BE USED FOR
Plastic storage cabinets can be used in several ways. Designed to fit well in and suit various places like the kitchen, garage, attic, basement and even industrial places, plastic storage cabinets are your go-today for every purpose. To enlist, it goes as follows:
1. Storing clothes:
Plastic storage containers are very efficient for storing clothes with locking lids or closed doors. Instead of piling them in a corner or overloading them in a wooden cupboard, you can stack your jeans, underwear, shirts, or jackets in plastic storage cabinets. In addition, due to its premium quality and characteristics, your clothes will be protected from dust, dirt and other possible damage.
Since plastic storage cabinets also ensure protection from humidity and natural conditions, clothes made of special fabric like wool, cashmere, etc., will be safe.
2. Papers and Crafts:
The well divided heavy duty plastic storage cabinets are perfect for storing papers, important documents, files, and even crafting materials. The flat, short sections within or small plastic cabinets themselves can be used very well to store all your important paperwork. 
With everything stacked under one storage system, you wouldn't even have to worry about not being able to find crucial papers when needed. Besides, it also saves you from ruining the look of your space by placing these papers at random corners of the house.
3. Accessories:
Plastic storage cabinets are also perfectly apt for storing and organising your accessories like gloves, scarfs, hosiery, chunky jewellery, etc. If you have kids at your home, they can also be utilised for storing toys or other tools like cables, wires, desk accessories, etc. 
Besides, if your bathroom space has become topsy-turvy with toiletries and other accessories like face wash, handwash, body lotion, etc., you can place them in small plastic storage cabinets. They are easy to wipe, clean and maintain.
4. Kitchen Items:
Heavy-duty plastic storage cabinets are an optimal option as a multi-storage interior for your kitchen items like utensils, cooking wares, etc. They can bear the heavy weight of different domestic utilities and can still be light enough to move around easily. Apart from utensils and the like, you can also use these plastic storage cabinets for storing pantry items like spices, snacks, and other ingredients. 
5. Garage and outdoor tools:
For storing heavyweight items in your garage, on your patio, shed or any other outdoor space, you can use heavy-duty plastic storage cabinets efficiently. It is an ideal go-to for your outdoor, not-so-regularly used gardening, cleaning and sports equipment.  
6. Industrial purposes:
If you have a commercial space with many raw materials or inventories to store, you must opt for heavy-duty plastic storage cabinets. You can easily organise your materials in the ample space provided by these cabinets. In addition, it would also save your commercial space from looking like a dumping ground. 
You can also use these plastic storage cabinets to arrange, organise and store your everyday office paperwork, files, etc. It would fit well in your cabin or even near your reception area.
7. For your shoe collection:
A major concern for shoe lovers happens to be the storage of their shoes. So in case you are among them, here is an end to your worries. A small plastic storage cabinet can also be used as a shoe rack to store your clothes without worrying about external conditions decaying your favourite pair.
Thus, plastic storage cabinets are the perfect solution to your problem of storing various items, be it in your office or your home. They would accommodate everything from fruits, vegetables, kitchen tools, accessories, toiletries, craft supplies, files, and seasonal clothing.
However, the advantages mentioned above of plastic storage cabinets would only be optimised if you are wise enough in your purchase. Therefore, buying only premium quality, guaranteed cabinets is very important. While most of the brands promise to serve the best quality, the brand that is trusted to be the best manufacturer and furniture supplier of PAN India is ITALICA.
Looking for the best Plastic Storage Cabinet?
Italica has the best plastic storage cabinets, saving you from worrying about securing and stacking your items. Their storage series can be discerned in detail as below:
If you are someone who has a fetish for shoes, this plastic storage cabinet by Italica is specially designed for you. Its compact shape serves as primary storage for your shoe collection. It has several sections, divided by iron-like rods, that give you separate shelves for storing your different pairs of shoes.  
Designed with premium quality integrated materials, this small sized plastic storage cabinet is extremely durable and resistant to any external conditions. Hence, you need not worry about termites, or any other external condition, be it weather ruining your shoes. 
Besides, it is easy to clean and wipe and demands low maintenance.
Available in a contemporary beige colour, it doesn't deviate even a bit from the modern decor. Hence, it would be an ideal addition to any interior decor or space, indoor, outdoor or industrial.
This small multipurpose plastic storage cabinet can fit into any space and can be used for numerous purposes. For example, it can fit well in your drawing or even at your entrance to accommodate your elegant collection of shoes and footwear. 
Moulded with premium quality, it doesn't rust or fade its lustre within a few months of making the purchase. With a sleek and fine finish, this multipurpose cabinet's transparent surfaces and insides are easy to maintain. Without compelling you to invest in putting up with its appeal and functionality, Italica's plastic cabinet is very economical.
Available in various shades of marble beige, red, and blue, it also emanates modernity in its design. 
Crafted with high-quality materials, it is designed to be extremely strong and durable. 
Italica's aesthetic plastic storage cabinet can be efficiently paired with any decor and will seamlessly blend with any interior. In addition, this big cabinet has been specially designed to make space for huge storage.
Its industrial yet voguish appeal makes it perfect for placing your finest items in the kitchen, like crockery, food, etc., or it can even accommodate commercial inventories. 
It can be easily assembled on your own and easy to clean, promising low maintenance. 
Available in multiple colours, this cabinet comprises well-fitting shelves integrated into a compact design. And hence, it is a piece of furniture that is very space-saving. In addition, owing to its strong inbuilt, its compactness is accompanied by its sturdiness.
Hence, it is time for you to get your scattered mess together by purchasing Italica's plastic storage cabinets. Entailed with everything that you need, in just the right way, they are the ultimate saviour of all your dishevelled items.