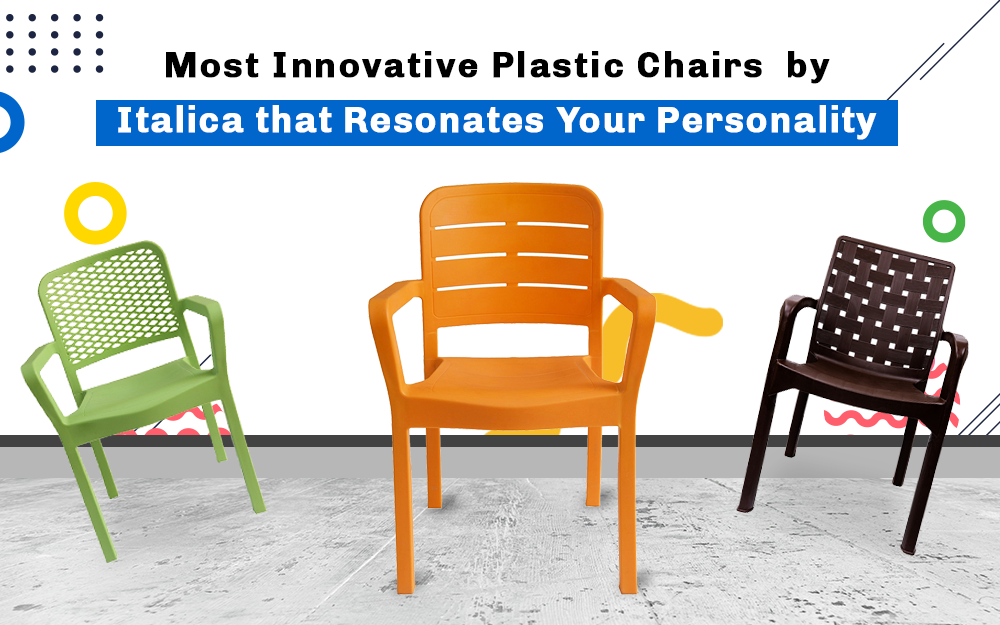 Most Innovative Plastic Chairs by Italica that Resonates with Your Personality
Furniture speaks a lot about one's personality. It can instantly say who you are as a person. Wooden Furniture could mean that you are a nature lover, Colored Furniture could mean that you are Happy Go Lucky type, Antique furniture could mean that you are Old school at heart and so on.
Unfortunately, we sometimes end up choosing furniture that is either comfortable but isn't good looking, or is super uncomfortable and ends up just being an eye-candy.
While you look for the right balance between design and value in your furniture, Italica presents its best pieces that will aesthetically enlighten your house with the utmost comfort. Right from Home to Restaurants, Playrooms to Boardrooms, we have got something for everyone.
Here's a pool of innovative plastic chairs that will match your personality without compromising your style statement and comfort.
1. OXY Series: For the Relaxers
If you like to chill and relax, even on a busy schedule, we got you a perfect match, even on a busy schedule.
Italica Oxy series chair, India's first fully ventilated stackable plastic chair, is an impressive mixture of elegant class, ergonomic design, and superior quality. It is a perfect balance of aesthetics and comfort.
Most plastic chairs are designed to allow little or no ventilation through the backrest. But the Oxy Series Chair is exclusively tailored to provide you 100% ventilation from backrest to seat. 
With a considerably lightweight of 3.06kg, premium quality, and luxurious look, it is easy to move and works great for indoor and outdoor seating areas.
2. Plasteel Series: For the Determined Ones
You are a vibrant personality with a strong sense of determination that makes you stand out in a crowd. Well, in that case, this one would perfectly compliment your style. 
The Italica Plasteel Chair, with and without arms, is one of a kind to the balance of aesthetics and comfort, making it a notch up with the strength. Molded plastic chairs with the added strength of stainless steel legs – the Plasteel Chairs are made with both worlds' best to give a premium look. It is a range of durable and stylish plastic armchairs that suits any residential or outdoor seatings like home, office, restaurants, gardens, and cafes.
It is reliable, lightweight, and visually stunning with vibrant colors.
3.

 

Baby Armchair: For the new Moms and Pops
Every child is unique, and so is their first chair.
Italica's Baby Armchair is specially designed for your kids with utmost safety, and durability, with a hint of style to make your baby's room cozy and stylish.
Striking designs on the backrest like a smiley face and alphabets, make sure that your kid's creativity and imagination starts right from their room. A classic kids' plastic chair molded for every kid-safe and happy living at home, playschools, and even gardens.
Its charm and strength provide a balance between aesthetics and comfort in various designs and colors. So, all new moms and pops, worry no more, your kids are safe and sound around Italica's Baby chairs.
4.
Spinecare Chair: For the Workaholic ones
Are you the one who's enjoying the work from home and doesn't mind working overtime as well? In that case, this is a perfect addition to your study/ work station.
With Italica Spine Care Chairs, we present you with the most innovative creation of an ergonomic design that ensures aesthetics and comfort. It is explicitly designed to support the vertebral column and provide excellent lumbar support, 
It is made of PP with Fiberglass Reinforcement for UV and Weather Resistance with a flexible back and comfortable seating and only weighs around 3.2kg. It is designed to give your back the extra support so you can comfortably sit and enjoy your work for hours without hurting your back posture. It is the right mix of aesthetics and comfort in a luxurious way that makes it a perfect addition to your work and study setups. 
You cannot go wrong with our all-time best seller – Sand color, Spine Care Chair that is tested and recommended by doctors to help you maintain the right-back posture and avoid any spine-related issues.
5.
Without Arm Plastic Chair: For the Minimalist heart
As we said earlier, Italica has something for everyone. For those who prefer to have a simple and minimal lifestyle, we present to you a wide range of Italica's without arm plastic chairs. The economic and sturdy armless chairs with unique designs are a perfect solution for large gatherings indoors and outdoors.
It's a classic yet trendy furniture piece with the right balance of aesthetics and comfort that will brighten your space without burning a hole in your wallet.
6.

 

Plastic Arm Chairs: For the one with GEMINI nature
You want classic styles but not a fan of heavy furniture and end up feeling confused and indecisive. We get you. Totally!
This dual-natured innovative designs from our Plastic Arm Chairs. Range with superior quality and flexible functionality is the right call for you. It gives you all in one – comfort, premium looks, and simplicity, so you don't have to compromise on any feature. Its stylish matte finish designs combined with superior durability (weighing around 2.66kg)  will leave your spoilt for choices.
Comfort Series Plastic Arm Chair: For the Common Man
If you are an ordinary person who loves functional yet high-quality furniture that is affordable and portable, you have stumbled upon the right blog.
Italica Comfort Series Plastic Armchair is a collection of well-designed, aesthetically superior, sturdy, and highly portable armchairs. It is an ideal fit for your shops, cafeterias, food stalls, and even daily use at home.
The comfort series in the plastic armchair range has a wide range of designs per your style preference.
For instance, Curve V-shaped Tapering Backrest Comfort Armchair is on an exquisite design with sleek, suave, and sophisticated styles that you can find nowhere. It's a work of art from Italica with a blend of superior and comfortable seating.
Simple yet stylish, this chair is ideal for indoors as well as outdoor uses.
Premium Series Plastic Arm Chairs: For the InfluenZers
Many of us live for the 'gram, which means aesthetically pleasing designs are a must for getting that perfect picture. Well, we got your back, InfluenZers.
Let us introduce our Premium Series Plastic ArmChairs- a collection of subtle, poignant yet beautiful chairs that can make your room look classy, sophisticated, and Insta-worthy in no time.
One of our best sellers amongst range is Classy and Funky Premium Series Plastic Arm Chair. It is all about subdued classy aesthetics for those with a subtle, understated mind but with the right amount of poise.
Luxury Series Plastic Arm Chairs: For the royal highness
Luxury is your inherited style and never comes across as an option to you.
So allow us, our Royal highness, to present to you Italica Luxury Series Plastic Arm Chairs, where you do not have to compromise or choose between your style and comfort. Our collection of high quality, ergonomically designed Luxury Series Plastic Arm Chairs is designed, keeping in mind the intricate detailing that will make you feel like you are sitting on a million bucks.
One of Italica's most exciting and unique designs in this luxury range is popularly called the Sofa Chair. It is comfortable, like a sofa, yet has a Lux vibe to it. This solid-colored armchair comes with a unique design and Italica's trademark durability.
These chairs will be perfect for indoor or outdoor arrangements with superior comfort, style, and durability.
What's the process for making these plastic chairs?
We recommend watching this video. It will blow your mind.
At Italica, we design the best of the products that would cater to each of you, and in this scenario, we hope we could help you pick out the perfect chair that compliments your personality!
Feel free to comment below, and Do share it with your loved ones too!