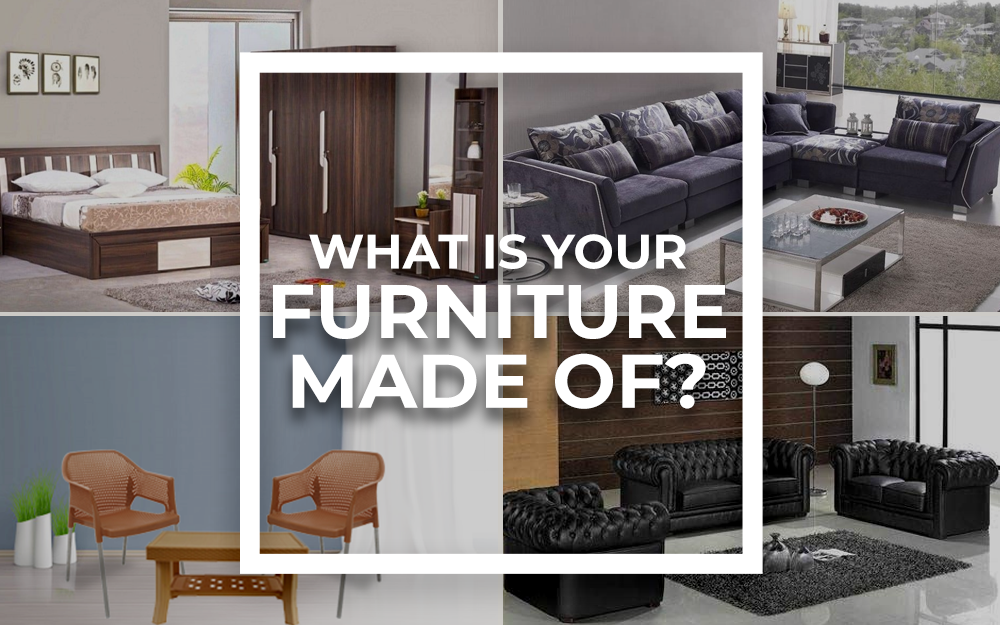 How to choose the right material for your home furniture?
We understand that purchasing new furniture can be exciting yet very confusing, with an array of options and variety available in the market.
While there are plenty of parameters to select your furniture, the furniture material is a common and crucial element. Understanding the advantages and disadvantages of the available furniture materials is essential to decide the best fit for you and your home.
It may seem challenging to decide even if you are clear on your requirements as there are plenty of options to choose from. But if you know the furniture materials well, you can do it quickly with minimal effort.
With the help of this blog, we have tried to explain the variety of furniture as per the commonly used and available materials and select the perfect one for your home without being overwhelmed with the full range of options.
Are you ready to know your furniture by its material?
Let's explore the commonly used and accessible furniture materials!
Wood
 Wood is one of the most popular furniture materials. It has been the leading material in furniture manufacturing for ages. Anything from storage units to bed and tables has been made of wood for centuries, making its integration into the interior simple as ABC. While it is widely used, it is generally a higher-priced material than most of the options available. And hence, it is preferred only when the furniture is expected to be used in the long term.
Wicker / Cane
Wicker / Cane is another material type that has been used for long enough now. It has become relatively less common today. However, plenty of light and stylish furniture solutions made of cane are still available. Though, the thing to keep in mind is it needs a matching decor to go within the interior space. Though it brings new beauty to the home, it is not entirely durable, and high maintenance is required to upkeep this.
MDF / Plywood
MDF/Plywood is a cost-friendly solution for the modern home decors. It provides the basic look like wood, but it is a low budget option with lesser durability. Nevertheless, with recent trends of regular revamping the homes, it has definitely become one of the dominant materials in the current furniture market.
Another variant of stylish MDF furniture is to cover it with a polished and thick lacquer finish. The furniture will look bright and elegant. They combine style and simplicity, making the most suitable modern interiors solution.
Glass
Tempered glass is a modern approach to interior decoration options. There are a few types of furniture made of glass exclusively. Yet, plenty of tables, storage units, and even computer desks may be made of a combination of materials featuring glass as the primary material. While glass can add elegance and class to the furniture, it is fragile than most of the materials and risky to use.
Acrylic
Acrylic looks similar to the glass, but it is a cost-friendly option. Not only that, but it is also more durable as compared to even the most exquisite quality safety glass, which itself shows very impressive durability. Though it is very affordable, it does not bring a fresh or stylish look in the long run. For using it for a shorter period, it is a good option.
Steel
Stainless Steel and other materials of the kind like chrome and metal are dominant in modern, hi-tech interior space solutions. Like glass, some furniture will be made of Steel exclusively. In contrast, most of them can have metal inserts for strength with other materials in both functional and decorative pieces. While it brings power without adding much of a weight, it does not give a classic look. Hence, it is not much preferred in general.
Plastic
Plastic is undoubtedly one of the most budget-friendly options that give you good looks from outside and provides strength and durability. Among other furniture materials, plastic furniture is an all-time favorite for most people for interior and exterior usages. While it gives a vibrant look, it also saves much space and is easy-to-move and durable and makes it one of the best choices for personal and commercial areas equally. With changing times, we can also see some excellent ergonomically designed high-class plastic furniture like Italica's Spine care Chair and Oxy series chairs.
Leather
Leather is widely used for furniture upholstery to provide softness and elegance in look. It can play a part in giving you the contemporary or a classic interior look, depending on your interior theme and design. It can be of both faux and genuine leather. While genuine leather can bring the budget to the higher side, faux leather may seem affordable. However, it is quite difficult for a layman to distinguish between real leather and faux leather. This is why most people refrain from taking the risk.
Fabric
Fabric is undoubtedly a softer and mild material used for the upholstery in a piece of furniture. Mostly fabric is a part of delicacy in furniture meant for seating arrangements like a chair, sofa, stool, ottoman, etc. Unlike leather, it comes in a range of prices depending on the quality and texture of the fabric.
So we got the basics of the commonly accessible and popular furniture materials covered.
The interesting fact is that some of them are used alone to make the furniture at times. But more often, a combination of these is preferred to make a perfect looking durable and robust piece of furniture. 
Let us learn how they work together.
Wood + Metal/Steel
Generally, wood is a costly furniture material amongst all. Also, it is not preferred due to the heavyweight as it makes the furniture very difficult to move. Unless it is not custom-made, it is a preferred choice for mass production to make the structure with Steel with a wooden platform on top to keep the cost and weight minimum without compromising the quality.
Wood/Steel/Metal + Fabric/Leather
A combination of these makes up for what is commonly known as upholstered furniture. Also, some basic furniture is made with the base made out of wood/steel/metal with a fabric or leather on the top for a better look and comfort with the sturdiness.
Plastic + Steel
While this may sound a little tricky, plastic with Steel is an excellent combination to make furniture. The Steel provides the strength, whereas the plastic gives a vibrant and stylish look to it. As both of them bring in durability, it makes for an excellent combination of furniture, especially for seating options. An appropriate example of this is Italica's Plasteel chair that immediately brings charm to your personal and commercial space evidently.
Now you can quickly identify the furniture available according to combinations of furniture materials used.
The next logical step is to learn how to choose the furniture material that will be the best fit for your requirements. There are certain aspects to consider while deciding the furniture material. i.e.
Decide on Your Budget.
If you have a considerable budget for the furniture, you can consider getting a combination of wooden and leather furniture, depending on what you are buying. For the bed, sofa, stool, dining sets, tables, etc. wood furniture is excellent. And for the recliners and sofas, you may opt for leather furniture. But if you have a medium to low budget, you might consider MDF and faux leather instead.
If you are not a fan of wood and leather, with a medium to low budget, you should go for Steel or plastic furniture depending on what you buy. For the bed, sofa, and wardrobe, Steel is a good option. For chairs, dining sets, sun loungers, stool, etc., plastic can be your option any day.
Even glass is a good option for coffee tables, tv units, and dining tables.
Consider the color and interior style of your place.
You don't want your furniture to look out of space after you have put so much time, effort, and money. Make sure to analyze the area well in terms of size, layout, the color of walls and floor, and the other elements put in the room to find the right fit.
If your room is small in size or has a darker wall or floor color, consider going for lightweight and space-saving furniture in Steel or plastic or Plywood.
Your room would look great with wooden furniture if you have a big space with white walls as it will fill the space beautifully. You can also combine it with wicker furniture in indoor as well as outdoor settings.
Plastic furniture is an excellent option for space-saving and multi-purpose utilizing as they are easy to move and go with any background color or layout smoothly.
Cleaning and disinfecting process.
If you are a pro at cleaning and disinfecting your furniture, there is nothing you can't go with in terms of furniture material. However, you should consider your options wisely if you are not someone who frequently likes to clean the furniture. If you have some allergic issues, you might go for plastic furniture more as it doesn't hold on to dust like most of the materials.
Be in sync with your personal style and lifestyle.
Even if the place looks great, if it does not suit your lifestyle choices functionally, it is still a waste of money. So you must consider your personal preferences while choosing the furniture materials.
If you are someone who likes to revamp the look and set up every once in a while, then a lightweight, easy-to-move Plastic, Steel, or Acrylic furniture would be a great option.
A classic at heart with a considerable budget should opt for wooden furniture with modern variations and fabric upholstery to class it up.
In the end, whatever material makes up the furniture you decide to purchase, you need to be sure that it makes you happy. Buying home furniture for the first time or not, it is always an emotional connection more than the money you spend.
We can relate how overwhelming finding and buying the right furniture for your home can be. We sincerely hope that we could be a small help in making the decision a little smoother.
We are thrilled to hear your views and suggestions about understanding and selecting the right furniture material effortlessly.
Feel free to share the tips on selecting the furniture material with your dear ones if you find this article helpful.