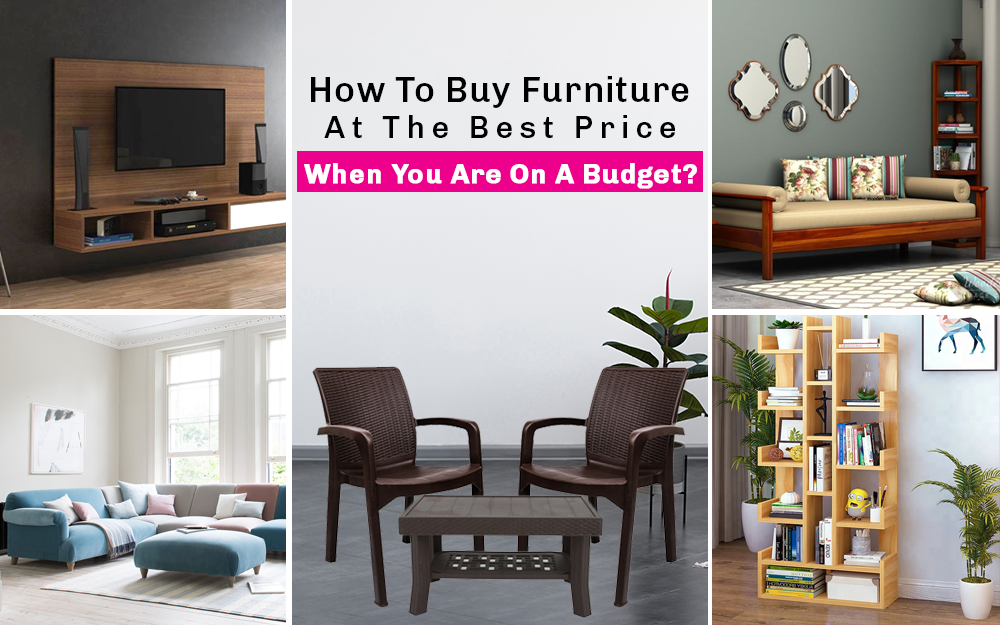 How to Buy Best Quality Furniture At Affordable Prices When You Are On A Budget?
Excited about furnishing your new home or revamping your home for an uplifting change but stuck with a cap on your budget.
Does that ring a bell? Well, been there, done that, right?
Furniture is one of the most significant cash expenditures for your home.
But don't you worry. We are here to your rescue.
Stay with us for a couple of minutes and you will be able to furnish your house in a way that will make you feel happy about it forever.
With this, we pass you the only cheat sheet you will ever need to set your budget and bring home your choice of furniture at the best price possible without scratching off your head anymore!
1. How to Set your Budget for Furniture?
Assess which furniture you need in each room considering a few aspects, and you will be sorted to get going.
Figure out how much you can spend on the furniture right now.
Know your spending limit.
Depending on your spending power and requirements, set aside an amount that you are willing to spend solely on buying furniture. Try to allocate the maximum budget in a way that lets you opt for Multi Purpose furniture over the eye candy ones.
Decide on how long you would be using the furniture.
Duration of usage is a very tricky matter while buying furniture.
When you want to use a piece of furniture for a long time, you might consider a more durable option in the category. At the same time, if you want to use it for long but you need it to move it from one place to another frequently, you have to consider that factor as well while selecting the furniture.
Don't get confused with the pricing and durability of your furniture. Furniture at a reasonable price can be more durable than heavy and higher-priced furniture.
One such great example is Italica's Plasteel Chair. It is stylish, durable, affordable, and lightweight. You can look at it as a perfect solution that is easy to move, aesthetically pleasing, long-lasting, and pocket friendly.
So, explore your options thoroughly before you decide.
Identify the frequency of usage of the furniture at your place.
Your bed, sofa, work station are some of the highly used furniture whereas a stool, extra set of chairs, etc. are not used only when there are more people in the room.
So it is important to classify your furniture and set a budget on them accordingly.
The furniture you use frequently and plan to keep for a long time demands a better part of your budget and must be chosen very carefully. You have to list them down and put a good portion aside to spend on these. But again, you do not have to splurge on this.
A good option for a frequently used workstation is Italica's Spine Care Chair, which takes care of your health, comfort, and style without dipping in your pocket and lasts long. In a similar range, Italica's plastic chairs will give you an array of options to treat your guests elegantly without spending a fortune.
Understand what complements your room's size, layout and color scheme the best.
Deep down we all desire to own comfy recliners where we can binge all day on Netflix but would that be the best choice for the layout of the room?
Some furniture might make you feel like you must have it.
We understand. But does that use your space efficiently?
You would not enjoy the space if it is overused or is decorated the wrong way.
Would an L-shaped sofa cover your window completely?
Think upon these aspects before you just plunge in to buying an irrational piece of furniture for your place and then regret it. You will not enjoy replacing your furniture right after you bought it. So, know your carpet area and understand the layout of your room. So that it is easy to find furniture that is right in size and beautifully compliments your room.
A heavier or pricier or more embellished furniture does not necessarily bring elegance. You can go for something really sleek like Italica's Plastic Coffee Table that is compact, aesthetic, and comfortable to use, all packed in one.
Explore your personal preference in furniture style.
Do you like wooden furniture, better or plastic furniture?
Do you prefer minimal design or high customization in your furniture?
Will you go for a particular color scheme?
A spacious bedroom and a cozy living room or vice versa – which is your preference?
A bean bag or a recliner – what would you prefer to chill?
Decide your personal furniture style before you decide your budget for your rooms or specific furniture. Dwindling between this or that every time you see something new might put you in a spot. Clear your head in advance in terms of your preference between comfort, style, price, and aesthetics to balance your choices.
Combine all of the above parameters to close on the final budget.
Is it too much to decide upon?
Let's make it simple.
To finalize your budget, first, decide your priority as per your personal preferences in each piece of furniture.
Then keep in mind the size, layout, and color of your home.
Accordingly, assess and select your furniture as per your frequency and durability requirement.
2. How to get the best Price for Furniture?
Categorize your furniture needs on an urgency-to-buy basis.
A perfectly planned purchase can save you from spending a fortune unnecessarily.
Remember that you don't have to furnish your entire home in one go.
Consider starting with the most essential furniture pieces for each room and going down the list as it permits. Think simple. What can be the most important piece of furniture for your bedroom- a bed or a bedside table?
In the living room, a couch is more important, or an ottoman to keep your foot?
Once you are done purchasing these big-ticket items, you move along the list for the next set of necessary furniture. Consider furniture such as a dressing table, a nightstand, or a bedside table depending on your lifestyle.
Sorting your furniture in terms of urgency will reduce your load drastically. You may even end up accommodating more in terms of quantity or quality. If you just focus on one set of furniture and wait it out for the next time, your purchase will be more efficient, and your budget can be controlled better as well.
Watch out for the Furniture Sales through different mediums.
Whether you are buying your furniture online or offline, it doesn't matter. You have a great chance to grab a pretty good deal if you watch for the sales available on the platform or in the shop.
Most of the retailers offer deep discounts on last season models or for stock clearance. Also, it may be an occasion-based sale. Either way, you can end up with a great deal on the furniture without compromising your choice. Sometimes you might end up having an entire set of matched furniture at a price lower than the actual amount for a single brand new piece.
So wait it out and keep an eye on the upcoming offers.
If you are someone to prefer going online, offers are running around the year. All you need to do is figure out the best deal available from different platforms and go for it. You might also wait for the annual sales of online platforms where you can sometimes get your furniture even at an unbelievably lower price.
The key is to have patience and keep looking consistently.
Consider multi-purpose usage of furniture.
Having furniture that can be used for different purposes can help you limit your budget or go for a better option in the same budget. Additionally, it will make your place spacious with lesser items to keep.
For example, Italica's Oxy Series Chair is equally perfect for your indoor times of reading, writing, relaxing, and having a great time with your friends in the garden. Furnishing your home with some useful and practical furniture can fulfill all that you need within your budget and within your space.
Put the different types of furniture together.
Do not limit yourself to only classic or modern styles of furniture. There is a vast pool of options to choose from.
You don't need to abandon style just because you are on a budget. you can mix and match the different designs to make a contemporary look and bring aesthetic to your home without spending a bomb.
Lastly, we suggest you always go with what keeps you satisfied.
Your home and your furniture should be a happy place to be with at all times.
We hope this blog will be handy for you anytime you plan to refurbish your home or get furniture for your new home.
If you find it helpful, please share it with your near and dear ones. And don't forget to leave your thoughts in the comment box below.