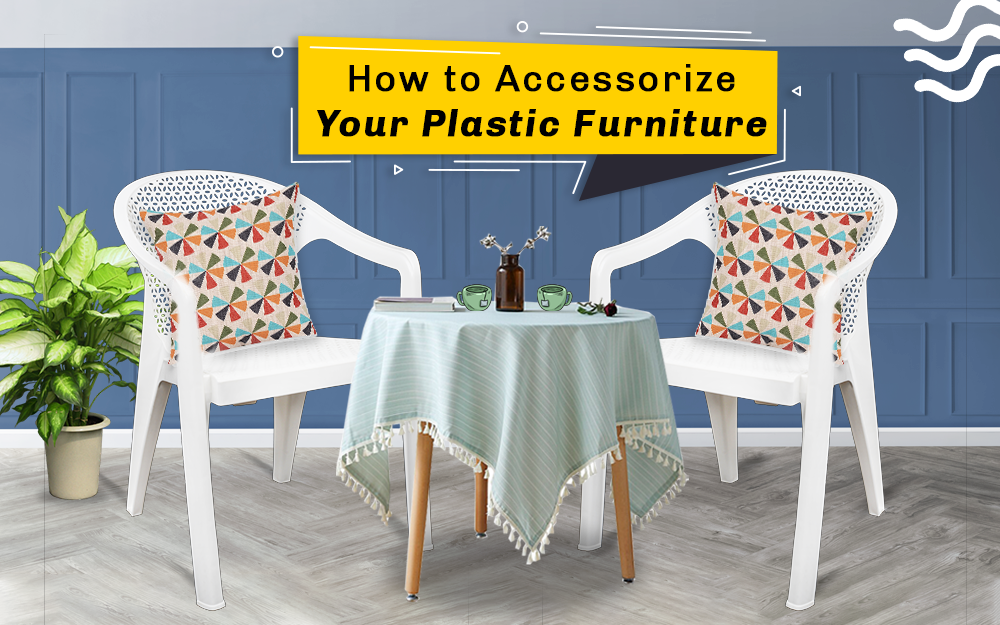 How to Accessorize Your Plastic Furniture!
Plastic furniture is the future of the furniture industry! Right from a dining chair to Patio furniture you can find exquisite and aesthetic plastic chairs for all decor styles. Plastic furniture is also advantageous in multiple ways over its competitors. It is affordable, weather-resistant, eco-friendly, durable, stylish, and comfortable! 
Read about the growth and the future of the Plastic Furniture industry here!
Yet sometimes, your plastic furniture pieces may look incomplete without a little accessorizing and jazzing up. 
In this blog, we will give you several exciting ideas on how you can create your cozy corner by jazzing up your plastic pieces!
 1. How to Style Your Plastic Chairs
Plastic chairs are the trendiest furniture pieces in the market today! They are versatile and stylish. 21st-century Plastic chairs are highly innovative which are specifically designed for maximum comfort with high-grade virgin plastic.

Let's start by adding that color pop, shall we?
 a. Add Colorful Pillows
You can decorate your plastic chair very easily by adding a few colorful pillows on the chair or choose Cushion pillow pads, as shown in the image below. Choose a pillow that matches the color and style of your chair. If you are adding multiple pillows, ensure that they match with each other too!
 You can add designer pillows in bohemian styles with stitchwork and tassels. Or you can also add pillows with geometric designs. If you are a superfan, you can also add pillows from your favorite tv show like  F.R.I.E.N.D.S/ Brookly Nine-Nine Quotes pillowcase makes more sense than ever!
You can also find pillows of different shapes and sizes! Choose the one that fits your style! Not only will this jazz up your plastic chair, but it will also give your back some additional comfort.
 b. Add an Ottoman!
Picture this: After a long day of work, you just want to relax and unwind. You turn on the Tv, get your favorite snack and sit on your favorite plastic chair. Seems comfortable enough, right? But you can take your comfort level up substantially by adding an ottoman.
Imagine propping your feet on a super soft and comfortable Ottoman! It will make you feel heaven on earth with the level of comfort that it would provide.
c. Time for some DIY!
Are you bored with your single-colored plastic chair? We have an idea for you, but you need to get your hands dirty for this one! Take your favorite plastic chair and do a little DIY! Paint over it with spray paint and let your creativity out! This is a great way to customize your furniture!
2. How to Style Your Plastic Table
Plastic tables are multipurpose and super helpful, and these furniture pieces can go well in just about any room! Yet if you want to spice up your table a little more, we have got you covered!
a. Bring in Some Bright and Fresh Plants
Whether your plastic table has a neutral color or is bright and vibrant, there is always an opportunity to make it look better! Plants can add a splash of freshness and add a calm, soothing sensation to your decor.
 b. Throw in a Trendy Rug!
To decorate your plastic table, you can add a rug below your plastic table. Place a furry and comfortable rug/ carpet beneath your table to spruce up the look of your space!
 c. Bookend
This one is for all you bibliophiles out there! Your table may look so empty on its own! However, with a few books perched on it, it can become a gorgeous showpiece. However, just staking books one on top of another may not be such an aesthetic solution. Thus, you can add beautiful and unique bookends, arrange your favorite books in between, and make your table look stunning!
 d. Tablecloths/ Weaves
One of the most common ways to perk up your table would be to add a table cloth. No, we are not talking about basic printed ones! We are talking about beautiful weaves that instantly stylize your decor! The added benefit is that it will keep your table clean for more extended periods!
3. How to Style a Plastic Sun Lounger
Sun Loungers are stylish and modern furniture pieces that can elevate your home style on their own! However, if you wish to take your style quotient a step further, we have all the tips for you!
 a. Get a Memory Foam Pillow!
Memory foam pillows are the hottest trends in the industry now! And, trust us, they are worth the hype! With these super comfy pillows, your sun lounging experience will only get better and better! As the name suggests, these pillows assume the shape of the user's body and provide them with extra comfort! This means, quarantine or not, your summer evenings will be the most comfortable and relaxed without going on a vacay.
 b. Add a Cup Holder
Imagine reading on your sun lounger on a relaxed and lazy day. Wouldn't this day become more perfect if you had your favorite beverage in your hand? However, you might be at the risk of spilling it.
Add a detachable cup holder to your sunlounger to keep your beverages safely and enjoy your lazy day to the most!
 4. How to Style a Plastic Stool
Plastic Stools can be handy for your home. They can serve multiple purposes and also help in stylizing your interiors!
a. Add a Cover for it
Do you have an old bedsheet with parts of it ruined? Repurpose that by cutting a piece of it in a square and stitching the ends. Use that as a small tablecloth for your kitchen stool! This serves two functions: aesthetics and cleanliness!
 b. Add a Book Pile with a Paper Weight!
When not in use, you can make use of your stool as an aesthetic showpiece. Stack a few of the most aesthetic books on your kitchen stool and add a paperweight on top in the most aesthetic corner of your house. Ensure that the books you pile up have a broader surface area to make the structure more balanced!
c. Add A Photo Frame!
Add a photo frame with your favorite inspirational quote or your favorite picture on your stool near a table! This way, you can add a personal touch to your decor as well! 
 d. Place a Cushion pad
For some extra comfort, you can add cushion pads on the bar stool. Ensure that this cushion is in the shape of the stool so that the user does not experience discomfort while sitting on it!
We hope we could inspire you to decorate your plastic furniture! With these ideas, you can spice up your space into a super aesthetic for yourself!

If you liked this blog, do share it with all your friends! Do not forget to leave us a comment down below!