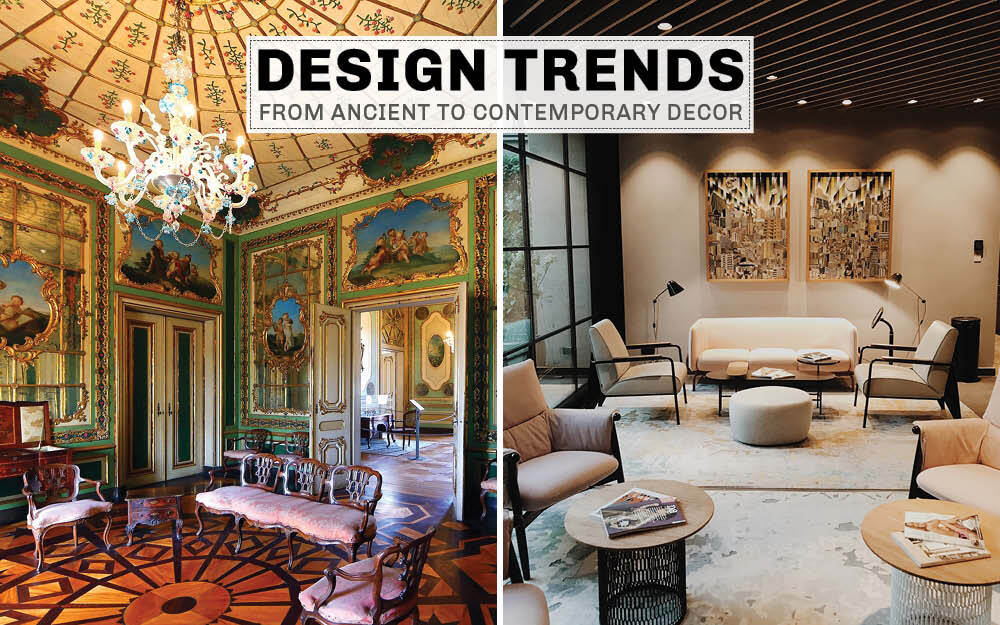 Home Designing and Furniture Trends Through the Years: From Ancient to Contemporary
Wouldn't it be amazing to travel back into the past and see how people of ancient times lived and how their home interiors looked?  
Each period had its trends, styles, and fads when it comes to interior design. However, from the time of monarchs and rulers, interior decor certainly has come a very long way. These styles have evolved monumentally, yet you can still note their traces in today's interior design.
Even though time travel is still a concept, it is not impossible to see through these eras and the home designs that characterised each of them. In this blog, we will take you back a few centuries and walk you through the timeline of home design trends starting from the Renaissance Era to Contemporary:
Renaissance Era
This era consisted of intricate and ornate details with interiors that had oak and hardwood panels. The walls were adorned with Arabesque tapestries and embroidery. The furniture's colours were generally dark neutral palettes that were heavy and bulky with hefty chests and huge wardrobes.
Wooden floors were also a huge trend in this era alongside encaustic tiles, rugs, and mats with Asian inspired designs. Along with that large fireplaces with intricate detailing were also popular. Velvet, damask, and brocade were the most extensively used fabrics for bedding and curtains. These trends emerged in the mid-fifteenth century and lasted through the 1600s.
Baroque and Rococo Era
These two interior design styles almost coincided in the periods beginning from the mid-seventeenth century to the mid-18th century. However, the traces of the decor style from these eras can still be noted even today. From the previous time of muted colours, the trends advanced towards vibrant and gaudy tones.
Vivid tones characterised Baroque interiors with bright furniture. Illusory painted ceilings were also predominant in this time. When you look at this style, the first word that crosses your mind will be royalty or luxury.
The seatings, chairs and sofas were heavily upholstered and generally included exaggerated floral patterns. The curtains and rugs also add a similar appearance with ornate details and bright prints. Large golden chandeliers and large sculptures were also a classic of Baroque decor. Interior designs often describe this style as dramatic and exuberant.
People have often wondered what the difference between baroque and rococo decor is. Rocco decor style succeeded Baroque. The rococo decor had a similar appearance to baroque, but unlike baroque, it was lighthearted and the epitome of fantasy and elegance. This style is subtle and neutral in terms of the colour palette. Baroque designs presented the power of church while Rococo represented secular high fashion.
Neoclassical
This decor style emerged in the late 18th century and had heavy influences of Greek, Roman art and their architecture. But what is neoclassical decor?
This decor style emerged in the 1700s, which was all about elegance and sophistication. The colour palette consisted of muted shades of grey, blue cream and green with a subtle flower theme. This style was more refined and sophisticated. Neoclassical furniture had detailed and careful ornamentation. Neoclassical was more of a minimalistic style, with blank and block-coloured walls, beautiful ornament, and stone/marble floors with Persian carpets. Column-like shapes and linear structures were predominant in this style. The fabrics were generally block-coloured or had softer prints.
Modern and Mid Century Modern
This trend began in the last 19th century and is widely found in today's interior design as well. Minimalism is the inspiration for this kind of decor. These houses generally had a relatively simple style with plain and neutral colour palettes. The furniture used is typically elegant in appearance and function. Furniture in this kind of interior decor includes materials like glass, metal, natural fibres, leather and steel. These also generally have straight horizontal or vertical lines. Reflective surfaces are also quite predominant. Scandinavian, bohemian, industrial, minimalistic and coastal decor; all these are subsections of the modern decor styles.
Mid Century Modern style is the epitome of the minimalist aesthetic. The usage of wood characterised this era as the centre stage. Exaggerated wooden details were one of the main aspects of this era. The colour schemes are generally traditional and muted. What makes this style different from modern interior design is that it has a different retro feel. It also uses specific bright colours to add a pop amongst the neutral palette. The designers generally used fabrics made of natural elements.
Art Deco
At its prime in 1925, the Art Deco Style of the home design was quite the rage. It is one of the most popular styles that attract a lot of curiosity because of its popularity. So, what is the style of Art Deco? This style has heavy geometric influences, with bold patterns in the fabric. Loud, vibrant and bright colours made a comeback with this era. Eccentric sculptures, vivid curtains and bold paintings also were a predominant part of this style.
The furniture had a luxurious appearance with exaggerated curves and bright colours. In this era, bold wall colours and wall patterns also were quite prominent. Zigzag patterns and floral patterns were also a huge hit. People used a wide variety of new materials to achieve this decor style, such as chrome, plastic, plate glass, and even other luxury materials such as ivory, mahogany. Uniquely designed plastic chairs are also quite popular with this decor style.
Post-Modern
This style emerged in the late 1970s, and it is still predominant today to a certain extent. Postmodernism in-home design wanted to break free of muted colours and too utilitarian homes. This style was about breaking the rules!
The interiors that constituted this era were flashy, bright and eccentric. Pattern blocking, mismatched elements and bold patterns were all trendy in this style. The colours in this era include a mix of natural and retro shades. Metallic and turquoise also contributed to the palette. Asymmetry and uniquely shaped furniture also contributed to this era.
Contemporary
This era started in the 1980s and is continuing till date. The contemporary interior decor is the style you see in most homes today. Large open floor plans characterise this style. Neutral colours, blacks and whites are the primary colours of the contemporary style. Several people are unable to find what is the difference between modern and contemporary decor.
In contemporary decor style, the furniture is characterised by long horizontal lines with minimalistic designs. Metal, stone and opaque glass are present significantly in this style. Aesthetic cool and modern chairs made of durable plastic are also a classic. The curtains and seating upholstery used heavily-textured fabrics. Soft two-tone prints and floral patterns are also present to a certain degree.
If you want to look deeper than the designs and into the nitty-gritty of the industry and its workings, we have just the blog for you. Get a deep insight into the furniture industry and its latest trends in 2021 via our detailed blog!
With the times, the interior decor has evolved to reach a point of balance between utility and aesthetics. All these decor styles have something unique about them and add personality to your homes. Let us know in the comments down below which era resonates with your decor style!