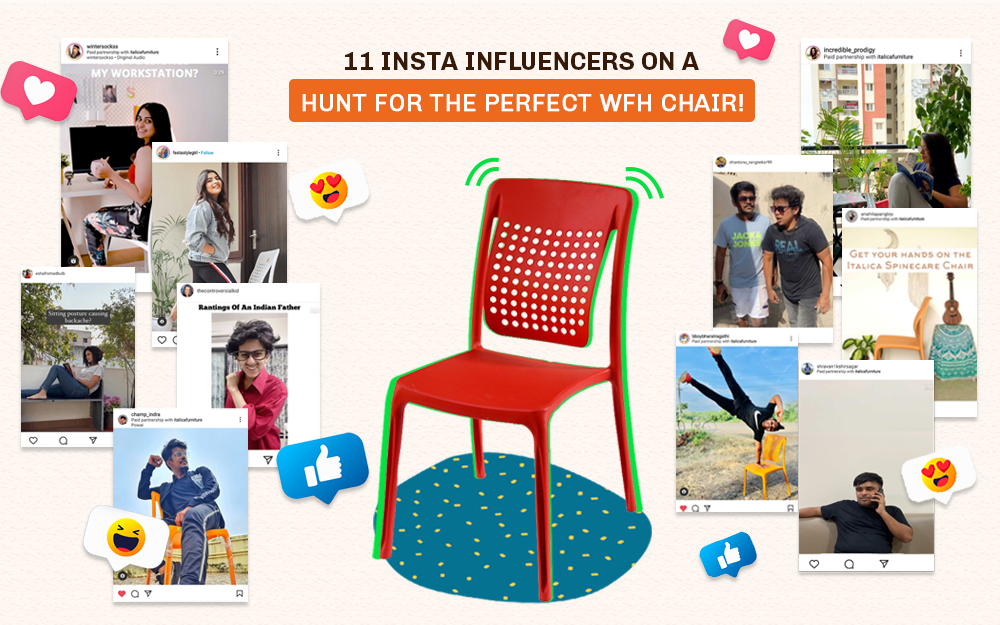 Gear up for some Viral Hungama as these popular Influencers hunt for the perfect WFH Chair!
What happens when 10 influencers from different walks of life and completely different world's embark on a quest to find that perfect Work From Home (WFH) Chair?
Well, they created insanely sensational Viral Content that broke the internet!!
Right from testing this wonder chair in the busy streets of Mumbai, using it as a yoga and selfie prop, to convincing stubborn Nani's and Papa's to switch from their age-old furniture to India's new favourite Spine Care Chair, these influencers showcase their crazy escapades in sensational videos that have gone viral with over 1 Million consolidated views and over a 100 thousand consolidated likes and comments.
So, sit back, relax and get ready to embark on a hilarious journey with these talented viral sensations as they take you on a tryst with Italica's Spine Care Chair:
1.Shraddha aka Wintersocks
Work from Home (WFH) is the most critical part of our days in this New Normal. And what better way to boost that productivity than by revamping and creating the perfect workstation with the perfect work from home chair.
Shraddha takes us on a visually indulgent journey as she gives her workspace a stylish overhaul combining it with the perfect ergonomic WFHchair – Italica's Spine Care Chair- to support those long working hours.
Check the video below to see how Shraddha effortlessly designs her workstation.
About Wintersocks:
Shraddha, aka Wintersocks, is a popular Content creator who creates aesthetic content focusing on DIY, lifestyle, art and travel. She has a massive fan of 46.7 K followers on Instagram. She also runs her brand of quirky stationery – Felizland.
2.
Mohammed Zama aka Zamaanaa
This pro-Fifa player, Mohammed Zama, is deeply in love with his WFH Chair and just when things are going great, his savage Nani's back takes a hit. And thus begins the love triangle between Zama, Nani and Italica spine care chair. 
Mohammed Zama shows you the ultimate formula to relax like his savage Nani by using Italica's Spine Care Chair, which lets you bid farewell to all your backache worries.
Check the video below to watch this beautiful love triangle.
Check the video below to watch this beautiful love triangle.
About Zamaanaa:
Mohammed Zama, aka Zamaanaa, is a popular Comedy Content Creator on Instagram with a fan following of 527 k followers. His content usually revolves around witty and hilarious trending topics and everyday situations which will leave you on the floor laughing.
3. Nikhil Nair aka nikhilnairr
Padosi ne naya furniture le liya …
This line resonates with most Indians and their buying habits! But how sensible is it to blindly buy furniture without considering how expensive, how durable and in reality, how good it is for your back? 
Nikhil Nair takes you on a fun journey of a desi husband and wife while making a drastic shift from these age-old buying habits and opt for the super modern, stylish, comfortable, and ergonomic chair from Italica! Finally, a WFH chair that helps them elevate their lifestyle.
Check out Nikhil's video to see how Desi Uncles choose the right Chair for their Household. 
About Nikhil Nair:                                                                                                                         
Nikhil Nair, aka Nikhil Nair, is a budding actor with a keen flair for desi comedy and is the king of versatility. Backed by a fan following of over 7,500 fans, Nikhil delivers power-packed content on everyday related life situations, making everyone wonder, "Yeh toh mere saath bhi hota hai".
4. Anjana Sharma aka festastylegirl
Want furniture that is the perfect balance of work and plays? Then join Anjana as she shows you how Italica's versatile spine chair is a perfect balance of work and play. Anjana shows you how this WFH Chair, with its ergonomic design, makes the perfect prop to support your body and nail those bomb poses for Instagram pictures. All without breaking your back, of course!
Check out Anjana's video to know how to nail Picture Perfect Poses with a Chair!
About festastylegirl:                                                                                                                  
Anjana, aka festastylegirl, is a passionate content creator on Instagram with an avid fan following of 7.2 k followers. Her handle features interesting content on Beauty, Lifestyle and Food. She also does regular podcasts on a range of varied trends. Sounds like a treat, right?
5. Esha, aka eshafromadbulb
Are you spending a lot of time seated on your regular chair due to work from home? Do you suffer from constant backache? Esha highlights the two primary triggers of backache because of incorrect furniture and being seated in bad postures for long periods.
Esha swears by Italica's Spine Care Chair as a one-stop solution to all the back drama. Italica's ergonomic chair has a curvy, flexible back that gives you lumbar and upper back support—correcting your posture and keeping your backache issues at bay. Made of high-quality plastic and designed to protect your spine. And here's the best part, doctors too highly recommend this excellent chair. Along with this perfect WFH chair, you can try taking some additional measures to keep your spine healthy. 
Check out Esha's video on doing some easy stretches between your work to maintain a good and healthy back posture. 
About eshafromadbulb:
Esha, aka eshafromadbulb, is a content creator with a huge fan base of 52.4k followers. A hardcore sports and health enthusiast, Esha dons many hats. A national-level athlete and state-level tennis player, an entrepreneur, an AdBulb marketing consultant, and a fitness influencer, this powerhouse generates some excellent fitness content and helps you take care of your body.
6. Sharadi aka TheControversialKid
Don't Indian Papas have a solution for everything?
 Stomach aches, throat aches and body aches. With WFH becoming a constant feature in our daily lives, Sharadi's Papa shows how using the right chair is necessary to avoid backache and correct posture. Italica's Spine Care Chair is not just a regular plastic chair but an ergonomic chair designed to correct your posture and provide maximum lumbar support. It is aesthetically pleasing in design and sturdy built, making it a must for all of you complaining papa ke bache.
Is your Papa just like Sharadi's Papa? Then check out this Desi Papa's rant right now!
About TheControversialKid:
Sharadi Shetty, aka TheControversialKid, is a budding content creator with a fanbase of 21. 4 k followers and counting. She makes hilarious videos on different topics and life in general.
7. Shravan aka shravan1kshirsagar
Is work from home driving you nuts? While it's not so simple to get chutkara from your annoying boss or the (mostly) useless zoom meetings,  Shravan tries to procrastinate his work by saying that he's suffering from backache.  But his smartypants boss keeps him in check by sending Shravan his favourite WFH Chair. 
What happens next? Check out the whole scene with Shravan and his boss.    
About shravan1kshirsagar
:
Shravan, aka shravan1kshirsagar, is a rising Instagram influencer with a following of 19k followers. He regularly creates entertaining and engaging content centred on his guy gang, trending reels.  
8. Indrajeet aka champ_Indra
Who doesn't love the idea of style mein rehne ka? 
Ever heard of a chair that can fit into any and every aspect of your life? Indrajeet puts Italica's Spine Care chair to test in the hustle-bustle of Mumbai and discovers that this chair is not just an essential work from home chair but much more! The spine care chair is so comfortable that Indrajeet just can't get enough of it, so he replaces all his chairs with Italica's Spine Care chair.
About Champ_Indra:
Indra, aka Champ_Indra, is a famous influencer who makes engaging content in Marathi. He has a huge fan base of 16.6 k followers and is growing. His highly relatable yet versatile content will make you comment, "Bhau, Ek number!!"
9. Bharat aka bboybharatragathi
If you are a Desi 90s Kid, then you might be aware of the very famous dance fiction D3( Dil, Dosti, Dance) on Channel V. That's how Bharat came into Limelight for the first time as a dancer and also performs crazy stunts, which commoners can only dream of. As a stunt lover, one of the crucial things to take care of is your Spine-health.
You need to constantly maintain a good posture and take care of your back, never to get Dancer Injured. So Bharat, being Bharat, tried the Italica Spinecare chair and tried out some pretty nifty stunts with it.
About bboybharatragathi:
Bharat, aka bboybharatragathi, is a television star and a content creator, Dance. Enthusiast and Stunt Lover, with a fan base of 28.7 k followers. He is famous for his role in D3 and Savdhan India. He also has a trending YouTube channel with 26K Followers and has performed with celebs like Jason Derulo, Sunny Leone, and Hrithik Roshan.
10. Shantanu aka shantanu_rangnekar99
Tired of being tedha because of your backache issue? Shantanu has now found the ultimate WFH Chair ensuring that all his friends are Teda because of incorrect body posture. He slyly shows how his friend is standing, sitting and driving with a curved back and incorrect posture. Sounds like someone you know?
About shantanu_rangnekar99                                                                                              
An actor, a national award winner and a famous influencer, Shantanu has a massive fan base of 98.9 k followers and growing on Instagram. His content is varied, engaging and based on real-life situations.
11. Aaditya aka Lordiyengar
Tired of Appa's stubborn drama of moving with the times?
Well, the Spine Care Chair from Italica is undoubtedly going to change his mind. Aaditya shows how this ergonomic chair of the Spine Care Chair by Italica is a godsend for Bhagbhan Fan based Appa with its curved backrest, sturdy finish and relaxed built soothing back to improve posture and ease pain, recommended by doctors and comes at an affordable price!
About Lordiyengar
:
Aaditya aka Lordiyengar is a channel run by Aaditya Iyengar and Shivkumar Parthasarathy aka APPA. A Popular fan page with over 27 k followers, this talented duo creates content around their Father-son relationship. Aaditya is famous for his comedy videos on trending Reels. They also regularly vlogs on many topics and Aaditya also has his finance channel – lordmoneyengar
Wondering h

ow a Spine care plastic chair is made?
Must watch this video. We bet you will be amazed…
We've ignored our backs for too long! It's time to treat our backs to some tender loving care. So hop on the bandwagon to great posture and get your Spine Care Chair today!

A perfect fit for your everyday life, these popular influencers swear by the Work From Home Spine Care Chair's versatility and impact on redefining your posture.
Did you enjoy this blog?
We hope this blog threw light on the love affair these famous Instagram influencers have with their Spinecare Chair.
Have your own spine care chair stories you love?
Don't forget to share your videos and pictures on Instagram and tag us.