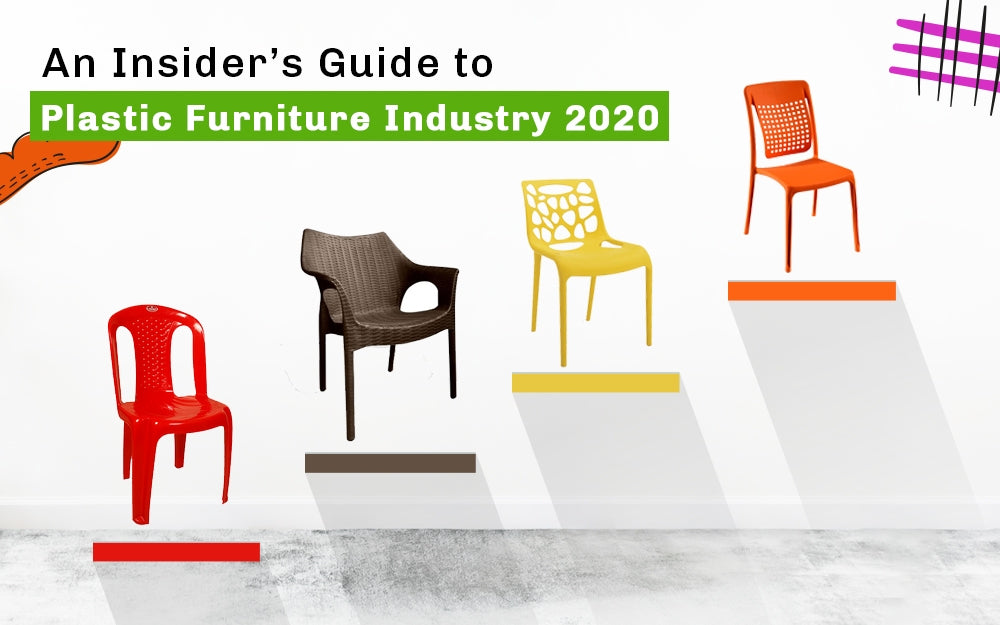 An Insider's Guide to Plastic Furniture Industry 2020
The plastic furniture industry is booming in India in today's day and age. Currently, Plastic furniture is a popular choice among South Asian people. But that was not always the case.
Traditionally, when people thought of Indian furniture, they would think of artistic woodwork or metalwork with an inclination towards aesthetics rather than functionality. Our tables had a global reputation for artistic imagination. The furniture industry primarily catered to people with high purchasing power, concentrating on furniture accessibility to a smaller population percentage. But, throughout the years, the Furniture industry has changed dramatically.
The furniture market in India has now become customer-friendly. There was a gradual shift from wooden and metal furniture to more accessible and durable materials like Plastic. These materials gradually lowered the production costs, making furniture available to more people and the businesses started selling cheaper, readymade furniture, which was low maintenance yet durable. 
Let's dive into the ever-growing Plastic Furniture Industry in India:
A shift in the Furniture Industry
Plastic furniture has grown exponentially in India, especially in the last decade, causing a shift in the industry. This shift was mainly witnessed due to the introduction of plastic furniture in India, which caused a spike in the Indian domestic furniture market. The industry is expected to grow at a whopping CAGR of 12.91% from 2020-2024. [1] The revolution from wooden to plastic furniture has occurred due to several aspects.
Other than this shift in the furniture industry, there are several other trends that have been observed. The industry had seen a slump followed by exponential growth. To know more about these trends, read a detailed blog on the furniture industry in 2021.
1. Benefits of switching to Plastic
Conventional wooden furniture would not only cost a fortune but was also vulnerable to external conditions. Hence, many businesses opted to invest in plastic furniture instead of wooden ones due to the following benefits:
Wooden furniture often gets weathered by water and moisture. It is also prone to get damaged by mites. On the other hand, Metal furniture is known to rust. This kind of furniture needs extra maintenance and care. However, Plastic furniture does not get damaged easily due to any such external factors.
Because of its inherent features, plastic is more durable. Plastic furniture does not get damaged or decayed, unlike traditional furniture. 
Wooden furniture often expands and contracts depending on the moisture content in the atmosphere. Such changes can wear them out quickly. Plastic does not exhibit such damaging properties.
Plastic is also very strong, chemical-resistant, and almost unbreakable. With the development of high-performance plastics, the durability has been enhanced furthermore.
Plastic Furniture is much lighter as compared to bulky wooden and metal furniture. Additionally, most plastic furniture can also be disassembled and reassembled, which further adds to its portability.
Reducing production costs with increased utility and overall functionality makes plastic furniture much more economical than wooden and metal furniture.
Plastic is flexible and mouldable. Therefore, in the last few years, we have seen highly innovative and ergonomic designs in the plastic furniture industry.
Plastic Furniture offers several different textures in its design. Modern furniture provides glossy finish, matte finish, enamel, weaved, and more, unavailable in traditional wooden and metal furniture.
2. Changing Consumer Demographics
Millennials are the chief wage earners in India, with a whopping 47% in the working-age population. They are the largest generational cohort in India and globally. This generation is characterized by high levels of disposable income as well. [2] 
With increased disposable income, they are spending on lifestyle and consumer products. [2] 
Their behavioral patterns are drastically different from the previous generations. These people focus on aspects such as aesthetics, functionality, price, eco-friendliness, and uniqueness.
Family structures have also changed. Nuclear families and an increasing number of double-income families have positively impacted the plastic furniture industry.[3]
3. The boom in Real Estate and Housing Industry
In 2013, Real Estate contributed to 6.3% of India's GDP.[10] In 2019, the Real Estate Sector in India was around INR 12,000 crore, i.e., 13% of the GDP. It is expected to reach INR 65,000 cr by 2040. [4] There is a growing demand for wooden furniture in this sector; however, increasing discretionary spending and consumer demographics create high sales potential for plastic furniture. [6]
Both housing and commercial development has had a positive effect on the plastic industry. The industry will see further growth with rising demands in the coming years.
4. Tourism and Hospitality Growth
As per the latest 2018 reports, Tourism is one of India's largest industries and is expected to reach over 500 billion U.S. dollars by 2029. [5]. The growing tourism industry has created a significant demand for furniture in hotel rooms, restaurants, and other travel and tourism needs.
Tourism and Hospitality, as an industry, are gravitating more towards plastic furniture, given the durability, versatility, and affordability.
The Plastic Furniture Industry
The plastic furniture industry earns its revenue from the commercial sector and the residential sector. The retail industry accounts for approximately one-third of the income of the plastic furniture industry. This sector has been migrating towards plastic furniture in the last few decades because of plastic functionality. [6]
Two-thirds of the revenue from this industry comes from the residential sector.[6] However, in this sector, a slight decline of plastic furniture usage has been noted. But with the exponential growth of the construction industry globally, leading manufacturers in the Plastic Furniture sector expect to gain profitable growth opportunities in the coming future.
Emerging Trends in the Plastic Furniture Industry
The plastic furniture has seen tremendous change over the decades. Here are some of the emerging trends in the industry:
The consumers of today are awake, and they are conscious of what they buy. They do extensive research before their purchases. They are becoming increasingly conscientious about the environment, and hence, there is increasing consumer demand for eco-friendly furniture. Since the traditional wooden furniture is obtained by cutting down forests, the consumers migrate towards furniture made of other more sustainable materials.
Plastic molded furniture is considered to be an environment-friendly option because it saves from deforestation. Around 200 million cubic feet of woods were protected in 2000, on the onset of the boom in the plastic furniture industry. [7]
Plastic is looked at as a pollutant and a source of global warming. Hence, most of the plastic used in the plastic furniture industry is made from recycled furniture to combat this issue. Waste from plastic bottles and ocean plastics is often reused to make outdoor and patio furniture. Recycling plastic waste into furniture extends the life cycle of plastic and contributes towards reducing the carbon footprint.
Many of the players in the industry use recyclable plastic as a CSR initiative. These companies strive hard to make the recycling process sustainable by leaving zero waste. 
Traditionally, most of the furniture stores were physical retail shops. However, there has been a shift in this scenario.
Millennials are the biggest consumers in today's day. It is common knowledge that this generation's people are digital natives. According to a recent study, Indian Millennials spend 1/3rd of their waking hours on their mobile phones.[8] The online market place is now at your fingertips. Plastic furniture is no exception. People are increasingly buying their furniture online. With players like Amazon, Italica Furniture, etc. online sales for furniture has seen tremendous success.
An online e-com platform also offers a broader range of products, comfortable price and feature comparisons, deals and discounts, product exchange policies, and delivery services.
Due to the COVID times, the physical retail space has taken a hit. This has further boosted the sales of plastic furniture online. The focus is on perfecting the online retail space by creating excellent logistic models and improving customer experience.
Omni Channel Distribution
With the plastic industry's growth, there is also scope for creating omnichannel one-stop destination spaces for furniture. One of the prime examples in this regard is Pepperfry that started as an online furniture store but later expanded to physical retail spaces. This helps the brand to cater to a wider variety of customers. Whether they are consumers who prefer online buying or like physical shopping, all your customers are happy and satisfied!
 

Innovative Plastic Designs
Plastic is immensely mouldable and flexible. Engineers and designers are capitalizing on creating unique and innovative furniture designs that are highly beneficial and sustainable. The customers want their furniture to be unique and different from others as they do represent Social status. This market need was met by the plastic furniture brands that created fresh and new designs. For, e.g., Italica plastic furniture offers various innovative ergonomic designs, textures, shades, and colors that meet the continuously changing consumer demands. 
Plastic-Steel Combination furniture 
The combination of plastic and metal composites are being explored, as it is one of the niche areas in the current furniture scenario. Such furniture bears the flexibility of plastic and sturdiness of metal. This kind of furniture is suitable for both indoor and outdoor usage. Italica's Plasteel Arm Chair range is one of the aptest examples of such furniture.
The Global Plastic Industry Vs. Indian Plastic Industry
The growth of plastic furniture has been seen at a global level. The global market was valued at USD 11.9 billion in 2018, and it is expected at a CAGR of 3.9% from 2019 to 2025. [9]
Compared to the rest of the world, South Asian countries have seen a sharp curve in plastic furniture sales, particularly India and China. This is because of rising disposable incomes and the awareness about plastic furniture throughout this region. The Asia Pacific has also procured most of the growth-share in 2018 due to the fast-growing construction sector and its abundance of raw materials. [6] Additional factors contributing to the growth are the growing IT sector, nuclear households, and the growing middle-class population.
African countries and European Countries are close behind with their growth in the plastic furniture industry. These countries are attracting new investments because they have more scope and resources. They are expected to grow more in the next decade. [6]
Future Scope
The global plastic industry will continue to see steady growth in the years to come.[9] Due to opportunities in infrastructure, housing, and other related sectors, India will continue to be the top market for this industry in South Asia.
The industry is an extremely profitable position, and the revenues are only expected to go up. This industry has also experienced dramatic changes in several trends. Most of these changes seem to make this industry more eco-friendly and zero waste with sustainable product options. 
Italica's eco-friendly plastic furniture range is keeping up with the ever-evolving trends. Our eco-friendly and stylish furniture will surely brighten up your house and elevate your style. 
If you found this blog useful, feel free to share it with your friends and family! Do let us know what your insights are regarding the plastic furniture industry.
References:
[1] https://rls.net.in/wp-content/uploads/2018/02/Trendsetting-Millenials_RAI-Deloitte.pdf
[2] https://www.bcg.com/publications/2017/marketing-sales-globalization-new-indian-changing-consumer  
[3] https://bit.ly/35mh7VY 
[4] https://www.statista.com/topics/2076/travel-and-tourism-industry-in-india/
[5] https://www.mordorintelligence.com/industry-reports/plastic-furniture-market
[6] https://bit.ly/353F1ph 
[7] https://bit.ly/3hgFBCx 
[8] https://www.grandviewresearch.com/industry-analysis/plastic-furniture-market 
[9] https://bit.ly/3kgLx0n