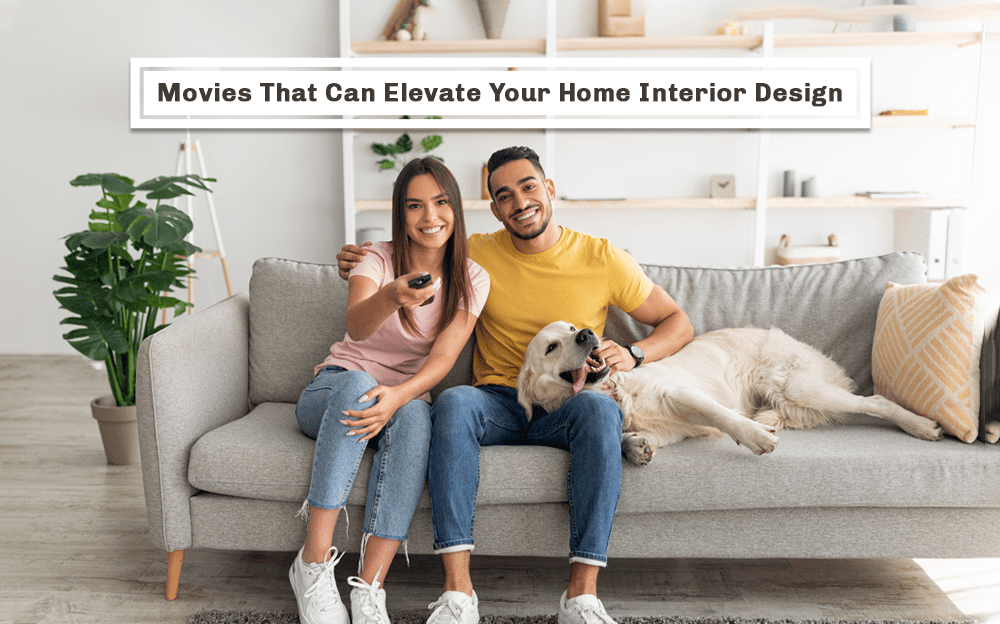 9 Movies that can elevate your home interior design
From Alia's chic studio in 'Dear Zindagi' to Kareena's and Arjun's train dining in 'Ki & Ka', Bollywood has always managed to hit the mark when it comes to effortlessly crafting the home of our dreams. After all, an appealing home interior design plays an integral role in our lives.
For ages, movies have always been a source of inspiration in all aspects, especially home interior design. The beautifully done homes featured in movies have often awakened the interior designer in all of us, making us want to replicate some aspects in our own homes. 
In a bid to help you recreate the magic, we've put together a list of 9 popular Bollywood Movies that have redefined home interior design with their stunning homes.
So, if you are a cinephile on a journey to decorate your home, here's some next-level home decor inspiration that can help you elevate your home aesthetic.
1. Dear Zindagi – Rustic and Vintage Decor 
This film is all about living life on your own terms, synonymous with millennials of this age. Whether it comes to fashion, mindset or something as basic as your furniture, every aspect must be unique or customised. The furniture elements used in Dear Zindagi was a potpourri of all vintage styles with a bohemian decor as the preceding theme. 
With its raw and rustic feel, Alia's studio apartment has a unique vibe to it, which is trending these days. A wall full of posters and post-its, quirky and unique decor elements, a futon with bright cushions and wooden cabinets make this house Pinterest. Shop for similar elements like multi-purpose lightweight, trendy furniture, lights, and decals from your local furniture market and you'll have your very own countryside paradise.
2. Salaam Namaste –  Tropical Decor
Have you ever heard of a movie becoming an industry trend? Well, Salaam Namaste did just that and more. It took the interior designing space by storm and made the fresh, airy and contemporary beach vibes a design trend. If you too love beachy and contemporary interior design, feel sure to adopt the minimalist and spartan approach. Opt for vibrant coloured walls coupled with beachy furniture and signature contrast elements. Lighting too plays an integral role in elevating the ambience. Choose soft diffused lighting, sheer curtains, light portable furniture and some eclectic floor cushions to give your home that much-coveted vacation vibe!
3. Piku – Cultural & Antique Decor
The next movie on our list is Piku, which reflects traditional home interior decor with tons of old-world charms. This gives us a peek into authentic Bengalis living in Delhi. Adopt the look and feel by decking your home with long back chairs and wooden furnishings. Use printed cotton curtains and printed titles to give your home that traditional yet minimalistic vibe. Finally, add a hint of nostalgia with frames of special moments lining a corner in your room.  
4. Ki & Ka – Post Modern and Artsy Decor
Adventurous by nature and want your home to reflect a specific theme you love?
Well, Ki & Ka did that successfully and made concept homes a popular trend. The couple's home in the movie reflected Arjun's love for trains in all elements throughout the home. This decor is Post Modern style with an artsy theme of extravagant train dining and playful colours. 
If you too love such eclectic, fun decor, then pick a concept and design your home decor around that theme. Choose signature elements, wall art and furniture, centrepiece, and colour palette that compliments your theme and voila, your post-modern and artsy decor inspired home is ready.
5. Kabhi Khushi Kabhi Gham – Grand, Traditional or Luxury Decor
Nothing spells splendour better than our big Indian business family homes full of "parampara" and "all the fine things in life". Take some notes from Kabhi Khushi Kabhi Gham if you are on a quest to give your home a grand, traditional and luxury makeover. Go all out with huge art pieces, richly textured fabrics, glass centrepieces and the finest Italian marble flooring. Don't forget to add multi-layered curtains to add that hint of luxury. Another great way to balance this extravagant vibe over the top is to infuse wood into many decor aspects to give it a warm and classic appeal.
6. Wake Up Sid – Quirky DIY Decor
Want to make your compact home stand out with a cosy vibe? A home that reflects shades of your personality in all corners. Then, 'Wake up Sid' is an excellent watch if you are looking for inspiration!
Konkana made every nook and corner of her compact apartment stand out. The birdcage with fairy lights, the yellow bird-lined wall, the hanging chair, the vibrant armchair, the vintage trunk and all the cute knick-knacks and elements are some things that would match any home decor and set it apart at the same time.
7.  Finding Fanny'- French Vintage Decor 
Apart from a great storyline and fabulous cast, 'Finding Fanny' threw light on subtle aspects of the charming French Decor and made waves in the Indian interior space. Draw inspiration from the movie and make your Parisien dream a reality with little details like flower baskets, lamps and sepia-toned pictures to nail the vibe. You can also opt for pastel wallpapers and curtains to transform your home into a chic French Maison.
8. Kapoor & Sons- Countryside Vacay Decor
Ever wondered how it would feel to live in a vacation home eternally? Alia's vintage villa in Kapoor & Sons is what our vacation dreams are made of. But how about we draw some inspiration and bring home that holiday chalet vibe with customised home interior design elements. Have your little green patch with a set of your favourite plants. Opt for sheer curtains and big french windows to enhance natural light and use plenty of wood elements to give it that cosy feel. Throw in some fairy lights, lanterns and picture walls to add a hint of magic.
You can also throw in some vintage pieces of furniture available at your neighbourhood market.
9. Aisha- Minimalistic Pastel Decor
Fan of the fairytales and want your home to reflect that magical vibe? Then it's best to take some cues from the "IT' girl movie 'Aisha'. Play with a girly colour palette of pastel shades like pinks, peaches and florals, but remember to ensure you stay minimalist. You can also complement the vibe with rustic statement pieces and comfy, classy wingback chairs to give it an elegant feel like Aisha's home in the movie. 
We hope these tips and tricks from these fabulous Bollywood movie homes inspire you to transform your homes and make the home of your dreams a reality!  Do let us know in the comment if you have any other movies in mind to draw some Decor inspiration from. Until next time!