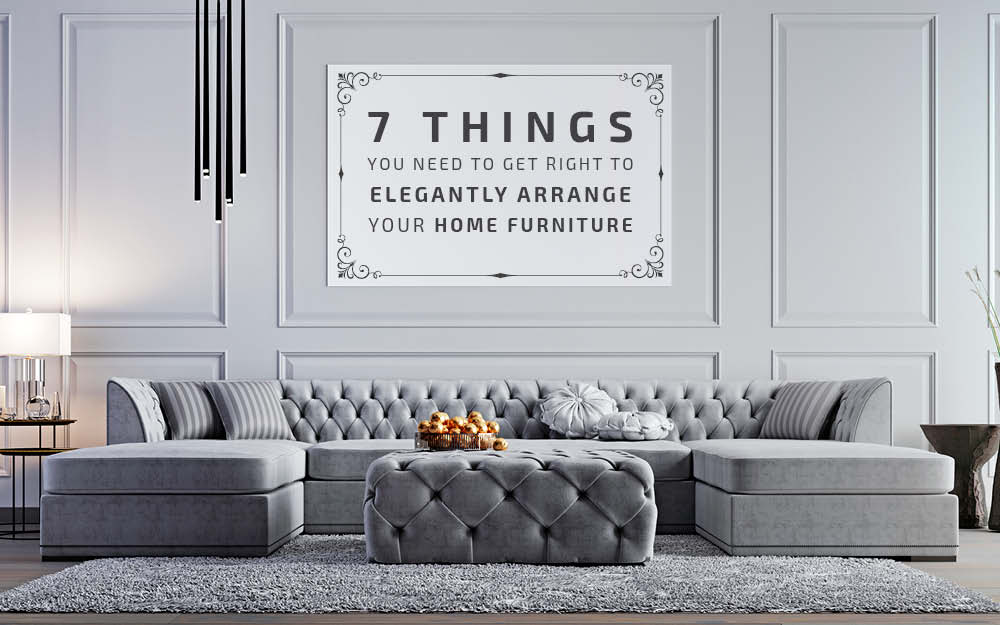 7 Things You Need To Get Right To Elegantly Arrange Your Home Furniture
Imagine this! You have bought beautiful decor pieces and furniture for your home and have the image of the perfect home in your mind! But when you put it all together, it looks unpleasant and cluttered! Not even close to what you had imagined!
WHAT A NIGHTMARE .. !!!
But do not worry, we have got you covered! More than the furniture piece, understanding the right way to position furniture can help you achieve the desired aesthetics!
In this blog, we share with you some AMAZING decorating tips and tricks on how to arrange furniture beautifully and efficiently to design a home that you enjoy!
1. Choose a Focal Point
During the furniture arrangement, you should keep a focal point. A focal point can be many things: a good view, an art piece, a television, or a mantelpiece. Sometimes, these pieces occur naturally; however, you sometimes have to choose what you want to be the room's focal point. Taking that as a starting point, you can arrange the rest of your furniture. This way, your space will be more functional as well as aesthetically pleasing. 
2. Usage Space Efficiently
In interior design, space can be of two types, namely: negative and positive. Negative spaces are those spaces that are left empty for practical or aesthetic purposes. Positive areas are those which are occupied by decor pieces and furniture. To make your home look beautiful, you need to strike a balance between positive and negative space.
For example, it is never a good idea to push all your furniture against the walls and leave a large gaping negative space in the middle. It is also not a good idea to leave very little negative space around.
3. Think about traffic flow
The usage of space has other aspects associated with it. Traffic flow is one of them. You have to arrange your furniture in a way that will not obstruct your path and limit your movement in the room. You should always keep some space between the coffee table and the sofa and between other furniture pieces. You should arrange your room in a way that you can walk from one end to another without difficulty and without banging your toes or tripping over every now and then.
4. Keep tables within reach
Your method of room arrangement should also cater to your idea of comfort. There should always be a space for keeping your knick-knacks temporarily. For example, if you are sitting with a glass of water in your hand, there should be a space where you can keep the glass down.
Hence, it is always a great idea to keep tables within reach, incredibly close to seating areas. However, to achieve the utmost comfort, this should be done while thinking about the traffic flow.  You need to strike a balance and strategically place all your furniture pieces.
5. Get a Big coffee table or a Centrepiece
This decor piece should be substantial as well as useful. The primary purpose of this would be to act as a buffer space for regular usage so that the rest of the room does not get cluttered. This space is where your guests can put down their bags, coats, keys, etc. This piece could be a nice coffee table or a coat rack, or anything that goes well with your interiors. This could be the last furniture piece you add to the room and bring everything together in decor!
6. Use the Right-sized decorative items
It is also crucial to understand the size requirements of your decor pieces. If a particular item is too small, it may not look well or blend in with the rest of the decor. Similarly, if an item is too big, it may look out of place and tacky!
Be it paintings, wall hangings, mirrors, or plants; you should arrange each of these so that it does not look cluttered or attractive and obstructive. For example, a large painting on one wall of an otherwise minimalist room may disrupt your entire aesthetic!
7. Furniture Arrangement Ideas for Different Rooms
While thinking of bedroom furniture arrangement, your primary focus should be to create a space of comfort. Bedrooms are supposed to be the most comfortable and relaxing spaces in your home! The bed is inarguably the most crucial furniture for your bedroom, and it also takes up most of the area!
The placement of the bed should be parallel to the walls or in the middle of the room. You should line up the bed against a wall. Keep side tables close to the bed as per your convenience. It is advisable to keep ample distance between your wardrobe and the bed to ensure comfortable traffic flow.
Arrange the living room in a comfortable way for the family and guests who come over. Place sufficient chairs and seating arrangements to accommodate everyone. Also, add tables near the chairs and sofas to put down knick-knacks. It generally holds more people than other rooms. Therefore, living room furniture arrangements should be set up by maintaining enough negative space with some wiggle room around the furniture.
The dining space should generally be centered around a dining table, with chairs around it. However, there should be ample space for the chairs to be pulled out and sit comfortably. A side cupboard can help with cutlery and other dishes. There should also be enough space for moving around for serving or a buffet system!
The kitchen is one of the most vital spaces in our homes. It is also often the most cramped space. Hence, the utilization of the kitchen area should be efficient and effective. There should be ample shelves and settings to store your food items as well as dishes and utensils. You should create sections and stations for different kinds of things. For example, there would be a corner dedicated only to electronics such as mixer grinders, toasters, etc. 
Well, If you find yourself asking 'how should I arrange my furniture?', these are some ideas and suggestions that you should keep in mind while decorating your home. However, every home is different, and everyone has different tastes in home decor styles. You need to find the right balance between what you like the most and what makes you the most comfortable! 
If you liked this blog and found it informative and interesting, share it with your friends and family.
If you have any other furniture arrangement suggestions, do let us know in the comments down below!