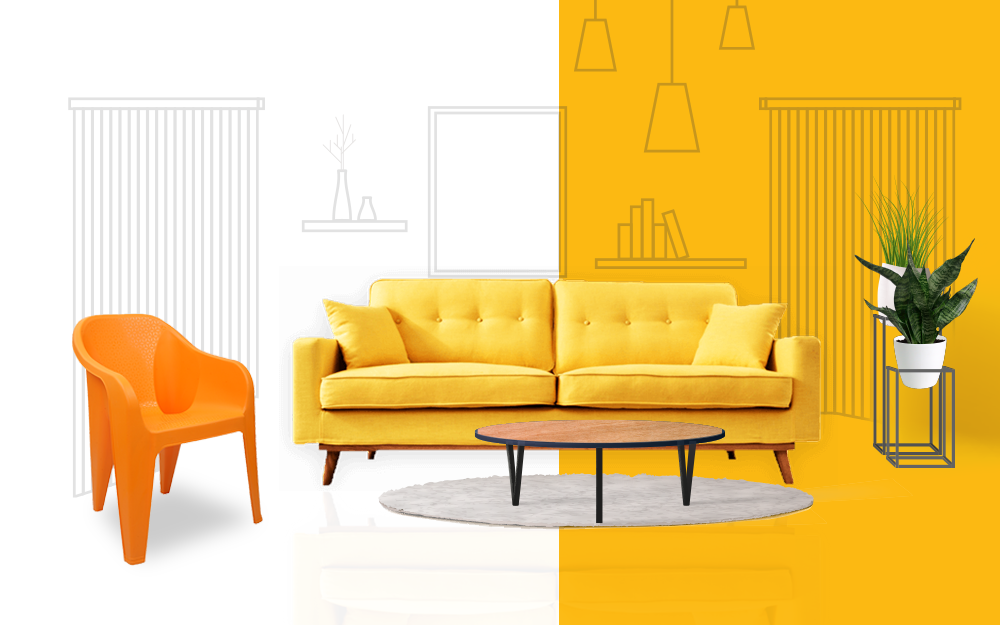 7 Most Popular Furniture Styles in 2020 & How To Match Them Up With Your Personality
Your furniture style speaks volumes about you and your home.
The good thing is You can decide what it says! But first, you must understand what furniture style is all about.
We know how exciting yet very confusing it can be to stroll through all those styles at random and find the right one for your home.
So here we are.
By the time you finish reading this blog, it will empower you in two ways.
First, of course, your understanding of different furniture styles will be enhanced.
And second, you can create your very own carefully-curated personal furniture style by clustering the available options.
Alright.
Let's begin!
Step 1: All set to be acquainted with different furniture styles?
We will discuss the most popular and widely available furniture styles to give you a broad understanding.
Traditional Furniture Style:
When we try to define various furniture styles to design the interior, one of the most popular forms is the traditional furniture.
Traditional furniture often has their bodies from dark wood with details in ornate. It draws its inspiration from the 18th & 19th Century Furniture styling from England and France.
It explains well why it is so common to find the expensive textiles like silk, velvet, and linen are used everywhere, like from upholstery to window treatments in a home of traditional style. Fabrics bring in with a variety of different design patterns. Some of the designs include; damask, florals, stripes, and plaids. Conventional types of furniture bring in the sense of glam when paired with crystal chandeliers. It offers classic details, lavish furnishings, and filled with accessories, rooted in European sensibilities.
The traditional home furniture is often made of dark and finished wood, vibrant color palettes, a variety of textures, and curved lines. It would have vivid and ornate details and fabrics, like velvet, silk, and brocade, to include a variety of patterns and textures.
It gave you the depth, layering, and dimensionality within most traditional furniture.
Contemporary Furniture Style:
When you look at furniture styles throughout history, contemporary furniture is the one style that is always evolving. The contemporary design style will most likely keep changing in the twenty-first century.
Contemporary refers to only the present moment. This unique furniture style borrows from various periods to create an environment fit to last a lifetime. Though people get confused between modern styles with contemporary interior design, there will always be a difference. Contemporary furniture style is entire of the point while modern methods can mean anything. Contemporary furniture styles trends and have freedom as modern is usually fixed around squared, graphic lines, and a particular take on modernity.
Causal/ Modern Furniture Styles:
Modern furniture style is a just broad design term that may typically refer to a home while clean, crisp lines, a simple color palette. And it uses materials that can include metal, glass, and steel. We can always opt-in for this choice. The modern furniture style gathers a sense of simplicity in each element. It is also known as the sleek furniture style. There work well without clutter or accessories on them.
You can go ahead and give a try to the Italica's premium quality Modern Plastic Furniture designed for your needs.
Bohemian Furniture Styles:
Bohemian is a popular style for home furniture.
Bohemian Furniture Style encapsulates the essence of a carefree and adventurous spirit of the modern lifestyle. It often features the creative application of rich patterns with vibrant colors, especially those with red or purple tones. The focus is on presenting a purposefully "messy" look carefully. Layer on textiles (throws, pillows, rugs, tapestry) for a warm ambiance.
When furnishing, look for pieces that possess ethnic or nomadic vibes. Moroccan, Southwestern, or tribal-inspired designs are currently trending. Composition-wise, boho-chic loves textiles, wood, animal hide, and metallic accents.
People with Bohemian style in mind may include vintage furniture and light fixtures at home. It's common to spot some floor pillows and comfortable seating spaces when incorporating the bohemian style. Within the Bohemian style, there's a laissez-faire attitude where anything goes as long as you love it.
Rustic design is always drawn from natural inspiration, using the raw and often unfinished elements, including wood and stone.
The rustic furniture style incorporates accessories that are from the outdoors with warmth emulating from its design and architectural details. It may include features like vaulted ceilings adorned with wood beams or reclaimed wood floors.
Many designs now integrate rustic design with more modern furnishings and accessories. Taking inspiration from the outdoors and combining the farmhouse and industrial interior design styles, rustic décor emphasizes natural and weathered finishes, raw wood, stone, and leather, with unexpected touches and an overall sophisticated bent.
We love how the room featured above fuses a varied mix of statement-making furnishings like the custom plush sherpa sofas, the industrial-inspired wire pendants, and unique leather chairs. That said, we're all for modern interior design styles that combine various elements to create a beautifully realized, one-of-a-kind room.
Minimalistic Furniture Styles:
Minimalist Furniture Style is an obvious choice of modern-day furniture styles. People often confuse minimalism with a stark coldness and uncomfortable severity, which is hardly the case.
Also, there is a warmer take on minimal interior design (warm minimalism) full of no-fuss, clean elegance. Suppose you think about simplicity, refinement, and a deft hand at luxurious comfort and functionality. Here the point to make is to keep rooms superfluous and well-edited with printless for a dual purpose.
As a reference, think of a modern art gallery or museum as a reference with their combined approach to filling a space with the bare essentials only that will feature a lively sense of drama, either organic or abstract.
Transitional Furniture Styles:
Transitional Furniture Style borrows it from traditional and modern furniture designs to facilitate a space that's not "too much" for you in terms of one style or the other. The sense of balance is what makes it appealing and unexpected. It may incorporate modern materials like steel and glass, to use them with some plush furnishings. It always includes a relatively neutral color palette to create a calming and relaxed space that can manage both stylish and sleek feel and warm and inviting.
Transitional Furniture Style is something we like to call the happy-medium style of interior design. If the traditional furniture style is too stuffy for you, then the contemporary style will be out of your comfort zone, also, then this is also the style for you. Transitional Furniture style is the perfect mix of elegance from the traditional with contemporary lines and textiles.
Transitional furniture generally keeps the accessories to a minimum as it's essential to let the furniture and the textiles do the talking. Throw pillows and blankets to accessorize the furniture. It is one of the most preferred furniture styles in the home furniture design world today. If this is your style, you must consider Italica's plasteel chair to give you the perfect mixture of trend and tradition.
Step 2: Curate and create your furniture style
First of all, what you need to understand and remember is that there is nothing at all right or wrong about a personal style in furniture. And, your furniture style need not be of a single particular style. It is necessary to know that your furniture style can always be a combination of two or more furniture styles.
Sometimes, your furniture style does not have a name yet, and that is ok. Personal Furniture Style aims to give you a visual and comfort level of furniture style that defines you and your lifestyle.
Choose area-specific preference:
It is prevalent that many of us prefer different types of furniture for different places at home. What you like for indoors may be separate from what you would put in your outdoor garden. To give you a glimpse, you may select comfortable upholstered bedding set for your bedroom, as that is where you relax and sleep. At the same time, for your study area, you will prefer a lumbar support chair like Italica's Spine Care Chair to work diligently and with a proper focus for long hours. On the other hand, while near a swimming pool or the garden area, you will find a Sun lounger to sit and relax with a fresh mind. So it is imperative that you understand your style preference for each section of the house and then compare if you can club it together to be in one category.
Make a combination of all your style preference:
Once you know what style works for which room or area of your home, you must combine them to understand and find out the similar grounds and the diversities.
It will provide you a detailed view of what exactly is your range of furniture style.
Find your lively personal style of furniture:
With the range of furniture styles, you can now easily curate a set of furniture that will meet your needs, suit your lifestyle, and represent your happiness quotient with balance.
Whatever you select, make sure it makes you happy to own that.
We hope this blog helped you with the right direction to your furniture style.