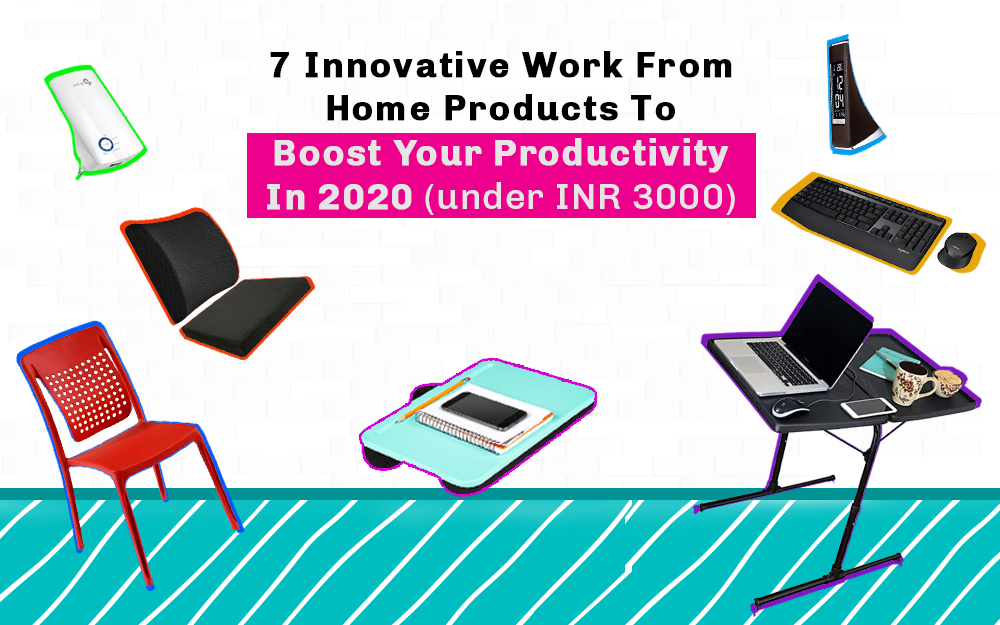 7 Innovative Work From Home Products To Boost Your Productivity In 2020 (under INR 3000)
We all have adapted to the new normal now in which work-from-home is non-negotiable. Honestly, it can be comfortable and exciting too! 
We understand that you cannot go to the office right now, but it is possible to transform your place to an energetic #workfromhome setup that makes you feel cozy yet productive.
In this blog, we bring you the seven most innovative work-from-home products in 2020 under Rs. 3000 that will save you time, increase your work quality, take care of your well-being during those long working hours, and let you enjoy your work. 
Italica Work from Home Spine Care Chair
Description:
Whether you are working at home or in office, prolonged sitting can lead to lower back pain and spine issues in the long run.
Well, say goodbye to all your spine issues with the Italica Spine Care Chair.
Its innovative design, modern style, and durable manufacturing give you a flexible backrest and extra lumbar support for your back with a stylish and luxurious look. With a perfect blend of extravagant design and extreme comfort, the Italica spine care chair is a must-have addition for your work from home set up.
Specification:
Material: High-quality virgin plastic
Color: White with Matte Finish
Style: Luxurious and sleek
Cleaning: Wipe clean with a wet/dry cloth.
Length: 57 cm
Width: 48 cm
Height: 89 cm
Weight: 3.33 Kg
Maximum Load Capacity: 100 kgs.
Warranty: 2 years of manufacturing warranty.
Benefits:
– Ergonomically designed swing back to comfort and support your spine.
– Easy to stack, move, and clean.
– Soft texture, radiant glow with impeccable design and engineering.
– Comfortable, extremely light, easy to maintain.
Table Max Double-Top Multipurpose Table
Description:
Table Max Double-Top Multipurpose Table comes with the smart cantilever design that allows the user to have maximum closure with a versatile and contemporary design. It's adjustable to 6 heights 53 -73cm and three angular settings to maximize user comfort.
It's the perfect addition to work from home as you can quickly move it around and keep it aside at any corner of your house.
Specification:
Product Dimensions: 70 x 53 x 73 cm
Manufactured with: Virgin Plastic and Steel with epoxy coating
Recommended  Load: 10kg for regular use
Benefits:
– Light-weight, portable, easy to move.
– Space-saving with foldable features.
– Equally suitable for young and older people.
Logitech Palm Rest Wireless Combo
Description:
Logitech Palm Rest Wireless Keyboard and Mouse Combo is a useful typing and navigation device that offers 2.4 GHz wireless connectivity for faster, accurate, and more comfortable computing experience. The working wireless distance up to 10 meters with a long battery life makes it convenient to use. Its spill-proof design increases durability with the sturdy body and easy to use compact size.
The customized designing with adjustable height and effectively placed keys of this wireless keyboard facilitates ease of access. Dedicated keys to control media settings, pause the content, or go to the previous or next song with the simple push of a key, skip a song, or mute the video.
The mouse has a comfortable palm rest while handling the device and using it for an extended period. It comes with sensitive left and right mouse buttons for better tracking.
Specification:
Colour Black
Height: 18.7 Cm
Width: 44.7 Cm
Weight: 603 g
Dimensions: 3.8 x 44.7 x 18.7 cm
Hardware Platform: Wireless
Included Components: Keyboard, Mouse, USB receiver, 2 AAA alkaline batteries in keyboard (pre-installed), 1 AA alkaline battery in mouse (pre-installed), User documentation
Benefits:
– Quick access to email and internet
– Robust wireless connection
– Faster typing, accurate results, and instantly set up
– Increased battery life for more usage
– Comfortable design, ease of access
TP-Link Wi-Fi Range Extender
Description:
Working without a good Wi-Fi connection is just in the past.
TP-Link Dualband Wi-Fi Range Extender works with up to 1200Mbps Speed as a Wireless Extender, Repeater, Signal Booster, Access Point. It has Superior Extended Range with Two external antennas extending Wi-Fi coverage. Intelligent signal light helps to find the perfect location for optimal Wi-Fi coverage by showing the signal strength.
Dual-Band Operates over both the 2.4GHz band(300Mbps) and 5GHz band(867Mbps) for a more stable wireless experience. The No Dead Zone feature Brings Wi-Fi dead zone to life with steady Wi-Fi expansion at a combined speed of up to 1.2Gbps.
It has a Single Mesh function support for connecting different devices. Simply plug the Ethernet cable into its Ethernet port to quickly turn your wired internet connection into a dual-band wireless access point and works with all Wi-Fi routers.
Use TP-Link's free Tether app to set up the range extender from any Android or iOS device in minutes and access advanced network management at your fingertips.
Specification:
Weight: 159 g
Dimensions: 7.8 x 7.7 x 8 cm
Included Components: AC1200 Wi-Fi Range Extender RE305, Quick Installation Guide
Colour Screen: No
Voltage: 5 Volts
Batteries Required: No
Data Transfer Rate: 1200 megabits_per_second
Wireless Type: 802.11a, 802.11b, 802.11g, 802.11n, 802.11ac
GSM frequencies: 2.4 GHz
Number of Ports: 1
Connector Type: Wireless
Bluetooth: No
Programmable Buttons: No
Benefits:
– Built-in access control mode
– Expands your Wi-Fi coverage effectively
– Easy management and remote control
– Perfect location finding at a glimpse
– High-speed dual-band Wi-Fi for better connection
Jukkre Shadeless Multi usage Table lamp
Description:
A lamp that is the clock display, calendar, thermometer, and the alarm function is an excellent choice if you are looking for a desk lamp.
Business leather-like soft material adds luxury to the light with an adjustable lamp arm to conveniently get your desired optimal angle.
High sensitivity touch dimmer for switching between 3 brightness levels makes it suitable for varied uses with uniform and soft light that works as an anti-dazzle.
Eco-friendly with energy-saving technology, lower consumption can save 80% energy, the lifespan of more than 30,000 hours without tungsten, mercury, and other toxic metals to refuse environmental pollution.
Specification:
Charging input: DC5V / 1A
Material: ABS (synthetic leather) + silicone
Power: 5W
Color temperature: 5000k ~ 6000k
Luminous flux: 260lm
Weight: 0.9 kg
Color: brown, black
Package Includes LED lamp, USB cable, Product instructions.
Benefits:
– It functions as a lamp, alarm, clock, calendar, and thermometer.
– It comes with a flexible, adjustable arm that allows easy adjustment of the light direction.
– It has a Touch control button and dimming function for 3-level brightness control.
– Ensures a non-slip, firm stand on the bottom to protect the lamp from slipping and protects your table surface from scratches.
– It comes with an additional button battery to store the display. It saves the time and date if the lamp gets disconnected from the power cord for a short time.
LapGear Essential Lap Desk
Description:
This portable Lap Desk coming with micro-bead cushion is sure to become an Essential Work From Home situation.
A smooth and flat surface area provides the laptop with a proper ventilation space.
It can also feature a stationary well for the writing utensils to keep handy.
It can also prevent your skin from coming in contact with the laptop's heat generation while using it for long.
Specification:
Colour: Aqua Sky
Material: High-Impact Polystyrene
Dimensions: 13.75 x 10 x 2 in.
Benefits:
– Comes in a compact size
– Convenient for work from home
– Dual-bolster cushion to provide the correct angle for optimal screen viewing
– Micro-bead filled cushion to conform to the lap and provide comfortable stability
The White Willow Work from Home Back Support Cushion Combo
Description:
If your work involves prolonged hours of sitting, it can be bad news for your spine, most probably.
The White Willow Work from Home Back Support Cushion Combo is a dual Layered Constructed Seat Cushion with High Resilience Furniture Grade foam with a layer of Memory foam on the top.
The seat cushion is firm, as well as soft, bringing comfort and support. Breathable Mesh Outer Cover makes sure that you won't experience heat buildup even after hours of sitting.
Specification:
Color: Black
Item Weight: 1.64 Kg
Product Dimensions: 16 x 16 x 14 cm
Primary material: Hard Foam
Number of Pieces: 2
Contains: 1 Seat Cushion 16×16 and 1 HR Foam Lumbar Backrest
Item Shape" Square
Benefits:
– Supports your back while sitting and resting.
– Multi-Purpose use for leg, back and headrest for better productivity.
– Releases discomfort and pain while working for longer hours.
– Helps in healing from the leg or spinal injury with breathable and adequate elevation support.
We hope this blog helps you take your #workfromyhome game up a notch. Feel free to share this blog with your loved ones.
If you know any other innovative products that we missed out, tell us in the comments section below!