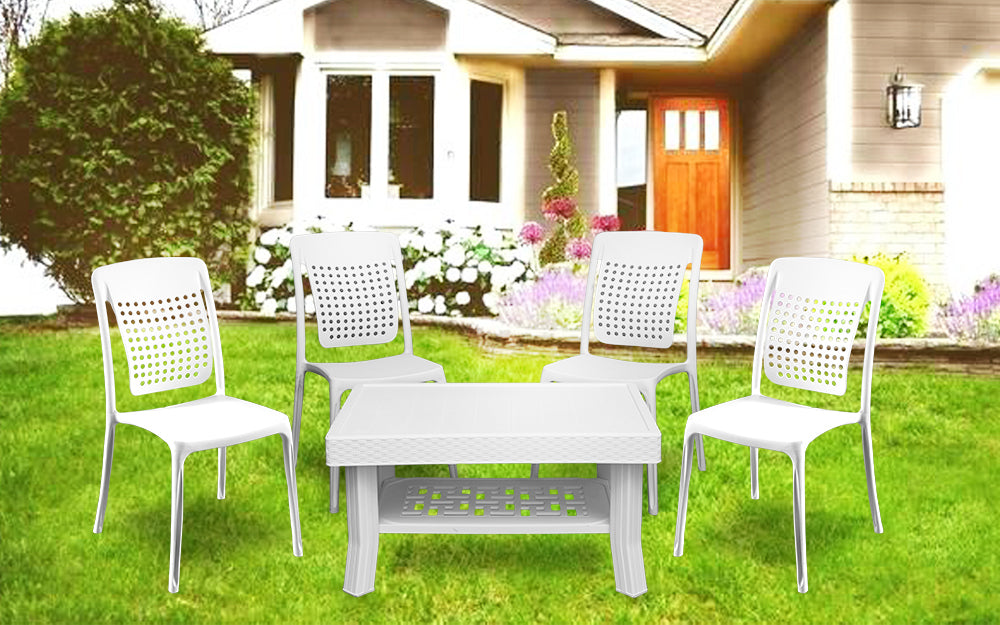 7 Cleaning Hacks to keep your Outdoor Furniture shining forever
When it comes to outdoor furniture, plastic wins hands down. There is no other material that comes close to the durability of moulded plastic. Making your garden or your patio look just the way you want to without worrying about the wear and tear caused by the outside weather is quite a relief, isn't it? All you have to do is keep that majestic plastic sun lounger by the pool, or that beautiful plastic chair and table set on your garden squeaky clean. How do you do that? Well, it's easy. Just follow these tips!
The first and basic step
Here's what you have to do to get rid of that debris of dirt, and from your plastic tables and chairs  in the garden. Remove the debris with a broom, and then wash the surface with a mix of mild soap and water. Warm water and dish washing liquid can get the job done.
But what if it isn't enough?
Sometimes, the mixture of soap and water doesn't work on the stubborn debris on your plastic furniture. This may happen if dirt accumulates on your furniture over a period of time. It's not unusual to find deposition of dirt on your outdoor furniture after returning from a vacation. In that case, here are a few sure-shot hacks that you can try.
Bleach
Mix just a quarter cup of bleach with hot water in a bucket. Then dip a scrubbing brush into the bucket but make sure you wear gloves while doing so. Now simply scrub away the dirt from your furniture. Allow the solution to settle in for a while before rinsing it off with water. It's that simple.
Vinegar
Unless your plastic furniture comes from reputed brands such as Italica, you might be unsure about using bleach on them. In that case, vinegar is the safest option. Mix a quarter vinegar in a bucket of hot water and dip a soft-bristled scrubbing brush in it. Loosen the dirt by getting the furniture wet with water. Now scrub the dirt off your favorite plastic furniture to make it look brand new.
What if bleach and vinegar both don't work?
Places where the weather is harsh and punishing, outdoor furniture tend to get covered with dirt all over. If not taken care of, the furniture will lose its lustre with time. While it's almost impossible to restore furniture made of wood or metal, it's possible to get that brand new look back in plastic furniture with the right kind of treatment. Here's what you have to do:
Tub and tile cleaner
Simply spray some tub and tile cleaner on your furniture and leave it for 5 minutes before rinsing it off with water.
Apple cider vinegar
Just spray it directly on your outdoor furniture without diluting it. Wipe and rinse off the vinegar after five minutes.
Baking soda
Take a wet sponge and dip it in some baking soda. Now all you have to do is wipe your furniture in a circular motion.