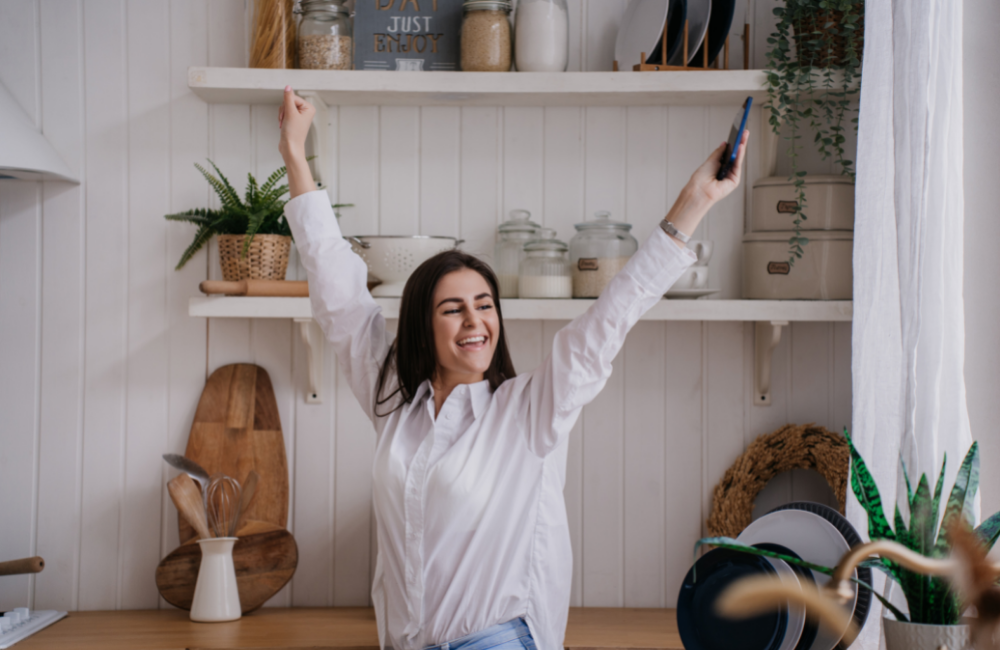 7 Budget-friendly small kitchen storage ideas (Indian homes)
'Space?'
You can't have enough of that when it comes to the small kitchen of small Indian homes.
Be it groceries or crockery, there is always something that doesn't fit in small kitchen areas and ultimately has to be displayed in an unorganised fashion.
But it's high time you make your kitchen look like a well-maintained kitchen and not some random dumping zone. And let us reassure you, it is not an impossible task.
Having a small kitchen space is fine, but the real task is to arrange or rearrange your kitchenware storage in a well-fitting and compact way.
So if you are one of those lamenting Indians with limited kitchen space, wishing to fit everything in an organised manner, this article is your total aid.
Listed below are some small kitchen storage ideas for Indian homes:
1. Italica's plastic storage cabinets:
If your kitchen space is over-occupied with kitchen wares, large utensils or even containers, you must opt for a plastic storage cabinet. Your disorganised kitchen essentials not only ruin the decorum of your space, but it might also be inconvenient for you to reach for them in times of need.
Hence, the best solution is to install high-quality plastic storage cabinets. These premium plastic storage cabinets by Italica are extremely compact in their design. And thereby, they act as an ideal storage space for every kitchen utility, be it large kitchen tools or small containers.
Available in both sizes and multiple colours, it also upgrades the look of your space by giving it a modern touch. In addition, they are highly durable, sturdy, and easy to clean. All of which come along with a pocket-friendly price of ₹2,699.00 (Inclusive of all taxes)
2. Wire Baskets:

credit- indiamart.com
Wire baskets are an innovative go-to for maximising your storage if you need extra space. These baskets are extremely well-fitting, easy to install beneath any shelves and can hold anything from pantry food and foil boxes to lightweight dishes and storage cans. 
These wire rack shelves are not only space-space but also an attractive and stylish interior to eliminate your kitchen clutter.
This small kitchen storage idea for Indian homes can be placed creatively anywhere in your kitchen to increase storage and aesthetic appeal.

credits- instagram
For instance, as seen above, these wire shelves can also be perfect behind-the-door storage, which can hold many things. These can also be installed at the sides or on the storage cabinets' insides to add a creative twist to your kitchen storage system.
Moreover, these extremely adorable and efficient wire baskets are durable, sturdy, and economical. A particular section or basket ranges from about 500  INR to 1,000 INR.
3. Open Shelves:
One of the best small kitchen storage ideas for Indian homes happens to open shelves. These prove to be extremely economical since they also cut down the economic expenses of a closed cabinet.
Besides, the most defining advantage of open shelves is that it emanates an apt illusion of your kitchen being highly spacious. Hence, it is more efficient for storing edibles with the promise of convenient access.
Moreover, you can also add a creative edge to this small kitchen storage idea by playing around with your other kitchen interior.

credits- stylebyemilyhenderson
By resorting to such ideas, you can give a twist to your standard kitchen table and make it seem like an open pantry. Likewise, when it comes to open shelves, you can always enhance the aesthetic appeal of your kitchen by getting playful with your decor and colours, establishing symmetry, creating a unit, pairing it with your tiles, etc.

However, you must be aware that one of the major cons of having open shelves is that things to tend to fall off easily when compared to closed cabinets or drawers.
4. Corner cabinets:

credits- thehomesihavemade
The greatest challenge while working around your space, especially with your small kitchen area, is optimising your existing storage space.
When it comes to the kitchen area, every ounce of space, be it in the centre or at the extreme corner, is important. And after identifying the availability of space, it is even more difficult to try stuff in your store without making it seem gaudy.
To cater to this, we have a problem-solving storage idea for you, which intends to make optimal use of your kitchen's corners: corner cabinets.
Corner cabinets are the perfect storage space for round items like bowls, round baskets, cake plates, turntables, small appliances, etc. They can be easily accessed whenever required.
Moreover, you can also install these corner cabinets with a touch of contemporary.

credits- thehomesihavemade
By modifying your cabinet with this turnaround system, you make space for your storage and increase your kitchen's accessibility and creative appeal.
5. Shelf risers

credits- pinterest
The most voguish and innovative interior you can have in your kitchen to increase your storage availability is shelf risers. 
These are specially designed so that a single shelf riser, as the name suggests, rises as a platform and makes space for separate storage beneath it. Hence, it doubles up your storage within the same space.
Shelf risers are the best for Indian homes, owing to our obsession with various spices. These spices and other edibles can be easily stored in containers, which would go well on and beneath the shelf risers. 
These shelf risers can be easily placed on your kitchen platform and fit well with any decor type of your kitchen. 
6. Hanging hooks

credits- pinterest
You've got to be hooked on this idea!
With the very modern hanging hooks, increase the storage space of your small kitchen. And the perk is that, with these hanging hooks, you also save yourself from constantly bending down and looking for things in various cabinets. 
Hence, these kitchen hooks are practical alternatives to cupboard or cabinet spaces and take care of your back pains. 
Kitchen hooks are specifically useful for utensils such as serving spoons, ladles, spatulas and numerous other essential cookery tools. 
These hanging hooks can be easily screwed into your wall. Many hanging hooks designs also allow you to secure magnets to the rails, which is perfect for holding lists and receipts. 
Therefore, from hanging check-lists to pans and other utensils, hanging hooks can make you do away with a lot of unnecessarily occupied storage. Moreover, it gives the perfect modern appeal along with your other decor. 
7. Woven Pantry Drawers/Baskets

credits- Solidwoodkitchencabinets
If you are looking for alternatives to drawers, shelves and cabinets, we have gotten the best one for you: woven baskets. This is an aesthetic piece to have in your kitchen that enhances your storage and visual appeal for a traditional country like India that has stayed true to its roots.
These storage drawers are moulded to suit your kitchen space and are designed to be installed easily. Besides, they also increase the shelf life of your edible storage since it implies open-air and ventilation.

credits- instagram
If not as drawers, you can also opt for woven baskets and store them in your cabinets. You can easily categorise your stuff, edibles, etc. and keep them organised.
Hence, these woven storage make your kitchen spacious, increasing the aesthetic appeal by giving it a voguish touch.
Thus, you need not worry now if you have a small Indian home. There are brilliant interior ideas like those mentioned above that you can incorporate into your kitchen space.
And even if you have a large home and relatively bigger kitchen area, these ideas can still be worked upon to improve its stylistic quotient and align with the very contemporary and modern.