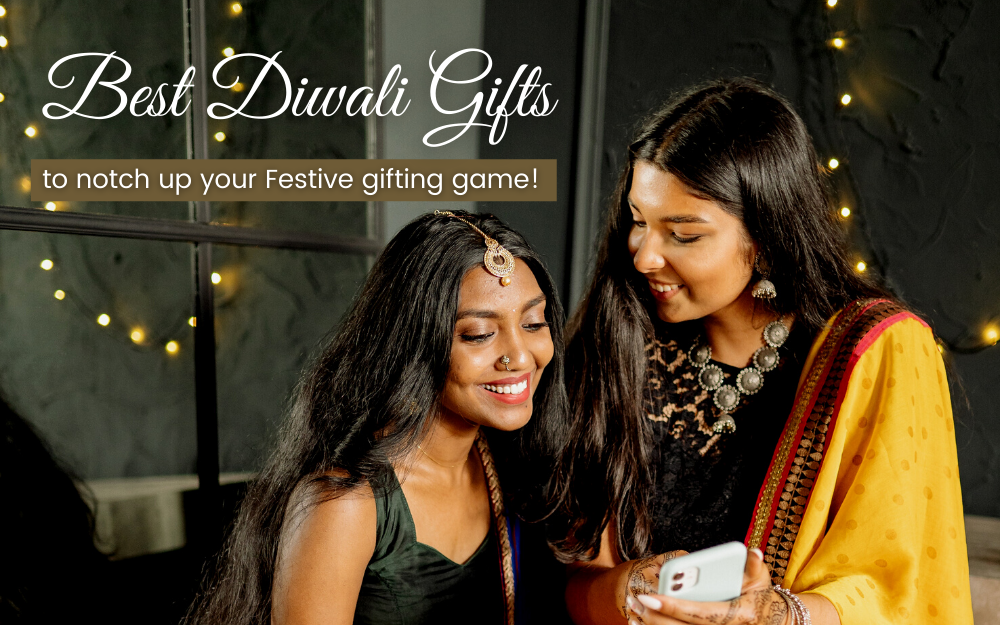 42 Best Diwali Gifts to notch up your Diwali Gifting Game!
The countdown to India's most beloved festival, Diwali, has just begun! 
This auspicious festival is widely celebrated all over and signifies the victory of good over evil and hope over despair. Diwali is all about celebration, family, tons of mithai, exciting food, firecrackers, pretty lights, rangoli – and one of the most important factors – Diwali gifts!
Buying the best Diwali gifts for the family is indeed a daunting task. While keeping the tradition intact, we are always on the lookout for some innovative and exciting gifts that help spread the festive spirit. From the oldest to the youngest family members, from friends to employees, from neighbours to loved ones, there is so much thought and time that goes into Diwali gifting. 
After a year of celebrating Diwali on video calls and limited celebrations at home amidst this pandemic, let's make this Diwali one for the books!  It's time to light up everyone's faces with unique gifts that they will cherish forever. 
We've got your back! Looking for some Luxe Diwali Hampers, some Spiritual Signature Gifts,  some Self-Indulgence Goodies,  a bit of Luxury and Stylish gifting or some fun, exciting and meaningful budget-friendly options ?. We've saved you all the hassle with this curation of 42 unique and heartwarming Diwali gift ideas to choose from for your loved ones and your corporate partners. Leaving you all the time to enjoy the festival with your loved ones in its true glory! 
1. Laxmi Ganesh Photo Frame Box with Charan Paduka
This blessed dual picture frame makes for the perfect auspicious gift this Diwali. This gift is ideal for a spiritual occasion like Diwali, complete with a picture of Goddess Lakshmi and Lord Ganesha. Goddess Lakshmi is considered the divinity of prosperity and wealth. Lord Ganesha marks the beginning of every auspicious occasion. Considered a rare and lucky charm, the Laxmi Charan Paduka symbolizes the footprints of Goddess Laxmi. If kept in your Puja Room, home or Business Premises, etc., it is believed to attract wealth. 
This auspicious Laxmi Ganesh Photo Frame Box with Charan Paduka can be energised in the name of the person gifting it to. Thus, making this a truly blessed Diwali gift. 
Buy  this Laxmi Ganesh Photo Frame Box here
2. Rose Beautiful Brass Urli 
Don't unique home decor pieces make the best Diwali gifts for the family? This Diwali, gift this gorgeous floral Urli to your loved ones and make it a memorable one. This exclusive piece is designed with canary-coloured metal and adorned with golden roses on the edges. The Urli can be filled with water and fresh flowers and floating candles to elevate one's home and can be used as a signature piece on living room centre tables, entrances, and other spaces. This will definitely be one of the best Diwali gifts your loved ones have received this festive season.
3.
Ganesha Candle Holder
This uniquely designed candle holder epitomizes today's new-age home decor with its modern design language and traditional touches. Lord Ganesha can be seen on the wall right behind the lotus candle holder. This design style creates a magical light that shines upon the Ganesha engraving. So, whether it's for home decor or your pooja room, this candle holder is bound to turn heads.
Buy this beautiful Ganesha Candle Holder here.
4. Personalized Ferrero Rocher Diwali Box
Diwali is all about good wishes for your near and dear ones. So why not make them feel extra special by personalizing a box of everyone's festival favourite chocolate – Ferrero Rocher. This customized box comes with the option to print the picture of the person you are gifting it to or any design on the outer box cover. 
This beautiful personalised packaging encloses a box of 24 Ferrero Rocher chocolates.
Buy this Special Personalized Box here.
5. Luxury Plastic Furniture Set 
Planning to surprise your spouse and do your bit with an instant home revamp this Diwali? Then this wonderful elegant furniture set is the perfect gift to surprise your spouse with this festive season. This hassle-free beautiful set can be used together or even separate in any corner of your home. This stunning luxury plastic chair set comes with a matte finish and is exclusively designed for your comfort while maintaining the aesthetics of your home. In addition, this set of elegant chairs comes with a sleek rectangular plastic table that is lightweight and easily portable— a great way to elevate your home decor this festive season. Be ready to click some amazing family portraits on these chairs!
Buy this Luxury Plastic Furniture Set here
6.
Electronic Accessories Organizer
Show the men in your life some love this festive season. It is an ideal gift for people who love being organized or even for people who usually end up fixing their knotted cables. This organizer is light in weight, portable and ideal for storing chargers, headphones, SD cards and other technical accessories all in one place, in an organised manner. Made with water-repellent Polyester, this sturdy organizer comes padded for extra protection and ensures all your electronic matter is safe and secure.
The compartments are well padded, thus offering excellent protection for electronic gadgets and accessories. Furthermore, it has mesh and elasticized pockets of varying sizes, which provides flexibility for organizing accessories. In addition, there are 7 slip-resistant elastic loops for cables, chargers, mouse etc.
 In addition, it has one well-padded IPad pocket, which will protect your 7.9'' iPad.Mini  It comes complete with a two-way zipper closure enabling easy access. This amazing organizer can also make the best gift for your dad, helping him organize all those loose wires he keeps complaining about.


 Buy this innovative Electronic Accessories Organizer here.
7. Laxmi & Ganesha Hologram Lamp
A truly auspicious addition to the best Diwali gifts for family! This extraordinary holographic lamp depicts a 3d image of Goddess Laxmi – the Goddess of wealth and prosperity along with Lord Ganesha – the God of new beginnings! Made with an acrylic finish, this beautiful Hologram casts a diffused warm yellow light all over, giving it a spiritual and beautiful feel. This unique lamp can make the best Diwali gift for clients. This holographic lamp comes complete with a 2D acrylic panel, an adapter and a wooden base—the perfect way to light up the festive season. 
Buy this Laxmi & Ganesha Hologram Lamp here.
8. Festive LED Candles
Diwali is the festival of lights! Twinkling lights tend to amplify the festive vibe within any space. This box of 24 LED candles is replacing the tedious, boring Diyas and makes for one of the many best Diwali gifts to give your near and dear ones this festive season. Save your senior relatives the hassle of nurturing diyas and illuminate your home with these child-friendly and pet-friendly candles that exude an exciting range of different hues. Energy-saving, these LED candles are perfect for indoor and outdoor use. These candles are smoke-free, flameless and drip-free and the semi-transparent plastic material base tends to radiate with the soft glow of candles. They can be used to create an ambience across your entire home and come in a pack of 24 LED candles. 
Buy these amazing LED Candles here.
9. Samai Puja Lamp
One of the best Diwali gifts for the family, Oil lamps form an integral part of every pooja ritual and yajna.  This beautiful lamp is made of thick brass and complete with intricately carved designs, this beautiful lamp is usually lit to energise and evoke spiritual energies. This beautiful brass samai has five wiks which can be lit simultaneously accompanied by a holder in the middle. This lamp is perfect to begin any auspicious ritual this festive season and one of the best Diwali gifts you can give someone. 
Buy this auspicious Samai Puja Lamp here.
10. Drift Mug Coral Tea & Coffee Mug
Almost every one of us needs our daily dose of coffee and tea to get through our hectic everyday lives. With hectic schedules dominating our lives, take a minute to appreciate this innovative Drift Coral Tea & Coffee Mug. Indeed one of the best Diwali Gifts for employees who work round the clock to make your business tick. 100% eco friendly and made of durable stainless steel, this stylish mug has a sweat-proof body and can hold 300 ml. It comes complete with a lid to help enjoy your beverage hot/ cold anytime, anywhere on the go. This mug is an excellent fit for those back-to-back meetings and hectic work from home hours.
Buy this innovative Drift Mug here.
11. Italica's Farsan and Mithai Trolley
Looking for a perfect Diwali gift that would actually add value to your loved ones home? Then how about a multi-purpose and lightweight food trolley to load all that Farsan and Mithai to go around during all those Diwali dinners and meetups. This sturdy and multipurpose trolley from Italica comes with a glossy finish and is an excellent fit in any corner of your home. Aesthetic, compact and highly portable, we're sure this elegant trolley will make one of the best Diwali gifts for the family this festive season. 
Buy this multi-purpose Italica Trolley here.
12. Royal Fest Luxury Scented Candles Fragrance Book 
Diwali is the festival of lights! Light up the lives of your loved ones with this exquisite collection of luxury scented candles from Royal Fest. One of the best Diwali gifts for family and friends, this beautifully designed Fragrance Book opens to reveal 12 heavenly luxurious scented candles. Exuding a luxurious and exclusive vibe. This Fragrance Book is a great way to ensure the fragrance of Diwali lingers on.
Buy this Luxury Scented Candle Fragrance Book here.
13. JaipurCrafts Lord Ganesh Sun Wall and Door Hanging 
Hand-crafted in metal, high-quality polyresin and enamelled with a glossy rose gold finish, this figurine is truly divine and an epitome of fine craftsmanship. Lord Ganesha marks the beginning of every auspicious occasion and thus is celebrated during Diwali. This beautiful hanging depicts Lord Ganesha's head within the sun's orbit.  If you know someone who loves elegant decor pieces, then this intricate work of art by JaipurCrafts makes for one of the best Diwali gifts for them this festive season. 
Buy this stunning Handcrafted Lord Ganesha Wall Hanging here. 
14. The Smart Voyager Bag (Bhai Dooj Gift for brother)
In today's fast-paced world, everyone needs a bag that does it all! A bag that can sync with all aspects of your everyday on-the-go lifestyle. Owing to its versatility and function, this Voyager Bag will make the best Bhai Dooj gifts for your brother, who loves to travel. With a capacity to hold over 24 litres, this stylish bag is highly durable, making it truly valuable. It comes with a padded laptop compartment and padded and adjustable shoulder strap, ensuring comfortable usage. A bag is so great, it makes the best gift for your husband as well. Complete with a USB Charging Socket with Built-in Cable, this hi-tech, multi-purpose Backpack can be used for almost anything right from the gym, business and even travel.
15. Personalised Wishing Cushion 
Why not customize Diwali this year with this ideal personalized cushion. After all, beautiful memories are one of the best Diwali gifts for the family. You can personalize this plush and durable cushion with a picture of you and your family and ensure this Diwali is one for the books! 
Buy this Personalised Cushion here.
16. Roop Handcrafted Necklace Set (Bhai Dooj Gift for sister)
This splendid and exquisite hand-crafted necklace set is an ideal Bhai Dooj gift for sisters. 
Handcrafted by artist Nidhi Rakholiya for her own jewellery line – Kalyug Art. This beautiful fusion set has a blend of vintage and modern charm brought out by the combination of pearls and colourful beads used. This set is inspired by Rajasthani art and jewellery and is made using a palette of pop colours as a signature element.  
The set comprises a long necklace with a huge statement locket and a set of gorgeous semi-circle earrings with strings of pearls that give it a dreamy look. Your sister will thank you for it.
Buy this gorgeous Handcrafted Set here.
17. Pizza Maker 
Want to give your wife something special this Diwali? Then, why not gift her something that will be a helping hand in the kitchen, saving her the hassle of hours of hard work. One of the best gift for your wife, this non-stick coated Prestige Pizza Maker is a godsend for home cooks who love experimenting but are pressed for time. It's portable and can dish out fresh pizzas in an instant. It can also be used as a table grill when it is opened to 180 degrees and as a healthy fat-free snack maker. This Pizza maker is portable, durable and non-skid and super easy to clean. Sounds like a dream, doesn't it? This is bound to become her new best friend in the kitchen. 
Buy this multi-purpose Pizza Maker here. 
18.
Dr Mady Telescope 
This Bhai Dooj shows your sibling some extra love with one of the best Bhai Dooj gifts for brothers. The Dr. Mady Telescope is the perfect gift for beginners to enhance learning and to explore Astronomy further. This great Telescope enables erect and perfect images for observing the beauty and divulging the wonders of nature.  It is quick and easy to assemble, of Galilean make, with a resolution of 29 seconds, an aperture of 40mm and a focal length of 400mm. This Telescope is ideal for stargazing, scenic and overland viewing and serves as an excellent educational tool. One of the best Diwali gifts indeed? 
Buy this functional Telescope here. 
19. Scratch off World Map Wall Decal
 Today everyone loves to travel. This Diwali, bring alive the wanderlust and get innovative with one of the best Diwali gifts for family  -Scratch World Map Wall Decal. Bound to be every traveller's delight, this Decal consists of a scratch map, fund box and a pen. This glass-coated scratch–off map works like a scratch card wherein you have to scratch off the gold for the countries and cities you have visited to unfold the map. It features not only countries but also cities on the top layer and the world map below. This will help in planning one's travel and enhance their geographical knowledge. This beautifully packaged scratch map can adorn any wall.
 Buy this traveller's Scratch off World Map Wall Decal here
20. Loop Bluetooth Waterproof Speaker
This attractive and convenient  Loop Bluetooth Waterproof Speaker can make one of the most unique and valuable Diwali gifts for employees. It is of premium quality, and has a rubberised finish and is highly portable. Complete with an output of  3W and a suction top that enables it to stick to glass and smooth surfaces, this waterproof speaker can be used in your shower areas to make it a truly immersive experience.  This speaker has a built-in mike call function and an operating range of 10 metres and features a playback time of 2-3 hours. The Bluetooth features enable it to be easily connected to your phone or music player, making it super easy to control and switch soundtracks. The speaker is highly compact and can fit into any small pocket in a backpack and can be carried around. It is a perfect entertainment solution for employees who need a break on and off as they go about their daily grind. Bathroom singing just got better!  
Buy this amazing Waterproof Bluetooth Speaker here.
21. Ellementry Aqua Ceramic Platter Set 
A perfect gift for all that festive feasting. This Diwali, gift your loved ones with something that they will truly cherish!
Made of sturdy ceramic in a rustic aqua blue shade,  this elegant platter set comes with two platters making the perfect addition to your serving table. This beautiful handmade set is ideal for serving mithai and farsan to your guests and is bound to elevate the overall elegance of your tableware. 
Gift this elegant Ceramic Platter Set here.
22. WFH Italica Spine Care Chair 
Being married to work is no fun, especially with all the damage it does to your body. Does your husband constantly complain about back pain? In that case, this gift will win you the "The Best Wife in the World" award. So this Diwali, say goodbye to backache issues and elevate the workspace with one of the best Diwali gifts for husband – Italica's all-in-one WFH wonder chair.
A one-stop solution to all the back drama your loved ones keep complaining of. Italica's ergonomic chair has a curvy, flexible back that gives you lumbar and upper back support—correcting posture and keeping backaches at bay. Made with high-grade Virgin plastic, the flexible backrest moves along with your spine so your sibling can never make the excuse of backache while you ask them for a glass of water.

Doctors too highly recommend this excellent chair. Lightweight, sturdy and a perfect fit in any corner of your home, this ergonomic chair is guaranteed to elevate any workspace and give it a stylish overhaul while ensuring your back stays protected during those endless seated hours.          
Gift Italica's wonder Spine Care Chair here.
23. Beard Grooming Set (Bhai Dooj Gift for brother)
Celebrate bonds this Diwali with one of the best Bhai Dooj gifts for brothers. The ultimate grooming set that is bound to make your brother have your back for life. This fantastic 3 in 1 Beard Grooming Set can be used for the hair, the beard and the body as a shampoo, conditioner and body wash. SLS, Paraben and alcohol-free, it does wonders for the hair by reducing split ends and penetrates the roots acting as a nourishing agent. It is an excellent cleanser for your skin too.

The power of 3 products in one single bottle makes it a perfect fit for travel. Complete with a beautiful, captivating fragrance of Pine, oak, wood and earth that lingers on for hours. This all in one set also makes for the best Diwali gifts for your husband and other men in the family.
 Buy this all-in-one Beard Grooming Set here.
24. Kaja Festive Tea Box 
Tea plays an integral role in every Indian's life. It is more of an addiction. A ritual. A start to someone's day and an end to someone's day. So what better way to kickstart this auspicious festive season than one of the best Diwali Gifts for family – The Kaja Festive Tea Box. This beautiful box depicts a hand-illustrated Kaja on the cover within a meditative zen tangle art form. Inspired by Kaja's divinity, the box contains a curated collection of 6 authentic tea's. Assam Masala Chai, Bombay Cutting Masala Chai, Caramel Spice Chai, Punjabi Masala Chai, Wayanad Cardamom Masala Chai, Kolkata Street Masala Chai and Kashmiri Kesar Gulab Chai 
This attractive box is made with high-quality, durable paperboard, making it a sustainable gift that helps you do your bit for the environment. This lovely Teabox can also make the best gift for clients.
Buy this exquisite Kaja Festive Tea Box here. 
25. Phool Diwali Gift Box
This exquisite curation of all the things that symbolize Diwali make it the best Diwali gifts for family and friends. This beautiful festive box made of recycled craft paper contains a box of hand-rolled Tea Tree fragrance sticks and an incense holder, a box of handcrafted ceramic diyas and a box of jaggery and cinnamon coated dry fruits. The ultimate Diwali gift for your loved ones to fill their house with soothing aroma and divine vibes. 
Buy this festive Phool Gift Box here.
26. Wooden Flower Dry Fruit Diwali Box
Can you imagine Diwali without the usual festive onslaught of dry fruits? Dry fruits are synonymous with Diwali, don't you agree?

We gorge on them, gift them, use them for Pujas and Yagnas, the list is endless. Thus, this Wooden Flower Dry Fruit Diwali Box is the best Diwali gift for your family. Made of wood, this beautiful box, when opened, showcases a beautifully intricate flower design on one side and an assortment of dry fruits on the other. The assortment contains 50 gms of Perry Perry Cashew, Chocolate Almonds, Afghan Raisins and Salted Pistas. Sounds delightful, doesn't it? This could work as a great corporate gift for clients as well.
Buy this beautiful Wooden Flower Dry Fruit Diwali Box here.
27. Chocovira's Customized Premium Diwali Chocolate Hamper
This Diwali spread the festive spirit with this customized Diwali chocolate hamper – the best Diwali gifts for employees/ clients.  Your clients and employees are an integral part of your business, making it important to show them your gratitude and appreciation.

Chocovira's chocolates can certainly help you with that. 30 customizable premium chocolate flavours with branding options along with a customized Diwali greeting on each box. Nothing screams HAPPY DIWALI more than a box of customized premium decadent chocolates.
Buy Chocovira's Customized Premium Diwali Hamper here.
28. Diwali Festival Box
The perfect way to make this Diwali memorable for your child. Teach your child all about the magic of Diwali with one of the best Diwali gifts you could possibly give them – A Box of Festivals that teaches them all about this beautiful time of the year.
Used as a great educational tool, the 3-in-1 Diwali gift box contains the Ramayana – The story of Diwali written by Harini Srinivasan and illustrated in Madhubani style by award-winning artist Devendra Kumar Jha; A Ravana Balloon Pop: A pretend play battle set made in MDF consisting of a 12 inch Ravana cutout, a 5 inch Rama cutout, Q & A cards and balloons for popping and a secret recipe to please Lord Ganesha and Goddess Lakshmi. A gift so innovative, you just have to get one for your child.
Buy this innovative Diwali Festival Box here
29. Diwali Goodness Box 
The best Diwali gifts for the family are the ones that make memories. So this Diwali, pamper your loved ones with this luxurious Diwali Goodness Gift Box. This beautiful Gift Box comes in Suede and is full of the best kind of surprises that can be enjoyed across all ages. The box contains a Kimirica Shower Gel, a beautifully handcrafted dry fruits potli, Goodwyn Assorted Tea, Paul & Mike Chocolates and a Brass Diya.

This wonderfully curated gift box is sure to bring your loved ones joy and spread the festive spirit and can make the best Diwali gift for your employees as well. 
Buy this exciting Diwali Goodness Box here
30. Omay Foods Diwali Treat Box
A wholesome gift for the people who add meaning to your world. This Diwali, gift your loved ones with a special treat to tantalize their taste buds. An all in one treat box that is a curation of premium Healthy Snacks, Dry-fruits, Chocolate Laddus, and Candles. It's basically Diwali in a box.

The Treat Box comprises a pack of an assortment of 4 Omay snacks,4 Chocolate Hazelnut Ladoos, 2  Scented Candles, and a pack of a Fennel Seeds Mix. One of the best Diwali gifts for the family!
Buy this delicious Diwali Treat Box here
31. Ganesh Gift Box 
This one's bound to be amongst the best corporate gifts for clients, given that every auspicious Indian festival always starts with Lord Ganesha. This lovely Ganesha Gift Box comes complete with two glass containers containing cashews and pistachios, a musical Ganesha idol in metal and a lotus-shaped candle holder. The right gift to ensure your loved ones have a blessed Diwali.
Buy this blessed Ganesh Gift Box here
32. Myra Veda Luxury Wellness Hamper 
This Diwali,  bring the goodness and glow of clean and green cracker-free brightness with Myra Veda's thoughtfully curated exclusive Limited Edition, Luxury Wellness  Gift Hamper. The best gift for your girlfriend, this exclusive curation includes 2 Handcrafted Rose Tea Light Holders, a customized handwritten Diwali Card, a signature Hawaiian Mud & Seaweed Scrub, a Mediterranean White Sage Hand & Body lotion, Greek Goddess Shea & Zinc Scrub-Mask, a  Bath Soak infused with Dead Sea Minerals and Essential Oils and a hand-crafted 24KT Gold and Coconut Milk Soap Bar. All beautifully presented in an eco-friendly rustic Jute Burlap Bag. 
Buy the Myra Veda Luxury Wellness Hamper here.
33. Natural Vibes Rose Quartz Glow Getter Set
The best Diwali gift for that sister who always has your back. Pamper your sister with this exciting, time-tested skincare regime. Aimed at helping you de-stress, unwind and radiate glow. This indulgent gift set contains a Rose Quartz Face Roller, Rose Quartz Gua Sha and Nirvana Flower Oil. These aromatic blends are carefully curated to give your skin all the TLC it deserves.
Buy the Natural Vibes Glow Getter Gift Set – Rose Quartz Edition here.
34.
Gardenia Plant Gift Card 
Mom's love plants, well, most of them do! So this Diwali, take a detour from usual gifts and show her you care with the best gift for your mom. An eco-friendly option for one of the best eco-friendly Diwali gifts for families – A unique Plant Gift Card from Gardenia Jaipur. 

This Gift Card can be used to shop all kinds of plants and aligned equipment and can be redeemed on the website only. The Gift cards are delivered by email, contain detailed instructions, have no additional processing fees and can be redeemed at checkout.
Buy this unique Plant Gift Card here.
35.  Wooden Carved Family Portrait 
Ready to make some memories of a lifetime? Indeed the best gift for your family, this Carved Wooden Family Portrait is one of those things your loved ones will cherish forever! All you need to do is provide a photo of your happy family and the Woodgeek team will engrave that photograph on wood. Making that moment one that will last forever. Etched in wood and in your hearts. There are also many customization options available.
Buy this Wooden Carved Family Portrait here.
36. Smoor Truly Gifted Artisan Hamper
It's time to strengthen those special bonds with chocolates this Diwali. Known as a 'food of the Gods' by the Mayans and Aztecs, sharing chocolates are the best gifts for your family to celebrate auspicious times. This Diwali, treat your family to this premium ' 'Smoor Truly Gifted Artisan Hamper' filled with all the fine things in life. An eclectic assortment of decadent chocolates, centre-fill cookies; quirky chocolates-on-a-stick; a pack of 5 almond sensation chocolates; chocolate buttons; a True Bar chocolate; a pouch of assorted nuts; and a nougat bar. Curated to tease and pamper your taste buds! This artisan hamper would also make great corporate gifts for clients, showering them with good wishes this festive season.
37. Handcrafted Mandala Lantern And Bamboo Speaker (Striped)
Take it up a notch this Diwali by getting your friend something unique and special. This set makes for the best Diwali gifts for friends as it comes with a beautifully handcrafted metal lantern with a mandala pattern and a handmade striped Bamboo Speaker. The perfect elements to set the Diwali vibe at home.
38. डलिया' – Diwali Gift Hamper
An innovative and sustainable Diwali gift aimed at improving the environment, this hamper is an immersive experience into sustainable living and one of the best gifts for your girlfriend. The Sustainable Diwali Hamper contains a Plantable Seed Paper Calendar that will grow into 6 different plants when sowed in the soil, a Reclaimed Wooden Frame to hold the Calendar, a jar of Organic Honey sourced directly from beehives, a vibrant shot glass candle crafted from fine glass and good quality wax, a handcrafted Khaadi Silk Diary with 100% premium recycled papers, two sets of handmade Blue Pottery Diyas, an organic soap and two Beej Patakhas that will grow into plants when sowed in the soil. An incredible initiative towards a sustainable tomorrow!
Buy this डलिया' sustainable Diwali Gift Hamper here.
39. Customized Hip Flask and Shot Glass
 

Set 
One of the best Bhai Dooj Gifts for brothers, this customized Hip Flask and Shot Glass Set are just what your brother probably always wanted! Complete with a hip flask, a measure and four shot glasses, this trendy set can be customized in terms of various designs. This could double up as the best gift for your friend this festive season. The perfect accomplice to those fun Taash parties.
Buy this Customized Hip Flask and Shot Glass Set here.
40. Uzma Dinner Table T-light Stand
This Diwali is all about aesthetics and style. The best Diwali gifts for the family, the Uzma Dinner Table T-light is the perfect Diwali gift that your loved ones will cherish for a long time. This stunning stand instantly elevates the space with its illuminated and dazzling shadow effect. Made in a rectangular shape with 40 mini tealight stands, once they are lit, it is a sight for the eyes. A must for every Diwali set-up and all those endless dinner parties. 
Buy this exquisite Dinner Table T-light Stand here.
41. Hanuman Chalisa by Devdutt Pattanaik
A great Diwali gift for Hanuman bhakts and all those religious souls. This auspicious set includes a beautiful handcrafted Hanuman Chalisa Gift Box, made in Polyresin with a Gold Tissue Cloth Gift Wrap. This sculpted box is finished in High-quality metallic colours, which is highly durable. It contains a Miniature Hanuman Chalisa Book with the complete Hanuman Chalisa both in English and Hindi. The book has beautiful illustrations by Devdutt himself and is hardbound and hand-stitched, suited for 180 degrees opening and accessibility for easy reading. It also includes a wooden book stand and can be kept in your Puja Ghar, Mandir or even office. Definitely one of the best gifts for your mom.
Buy this blessed Hanuman Chalisa here. 
42. Antique Finish Turtle Figurine
This Antique Turtle Figurine is one of the best Diwali gifts for your family. The Turtle has always played an auspicious role and is a symbol to attract longevity, tranquillity, and transformation. This figurine is bound to amplify good luck in the homes of the relatives you gift it to. It has a beautiful antique finish that adds to its vintage aesthetic appeal.
Buy this magnificent Antique Turtle Figurine here. 

With a list so diverse, we've got you covered for this festive season. Make this Diwali truly count and spread warmth and positivity by showing people they mean the world to you. Shop these exciting and festive gifts from our curation and make this #BestDiwalEver. After all, Diwali is all about spreading joy, and you are on your way to do just that! Happy Shopping and a Happy and Shubh Diwali!