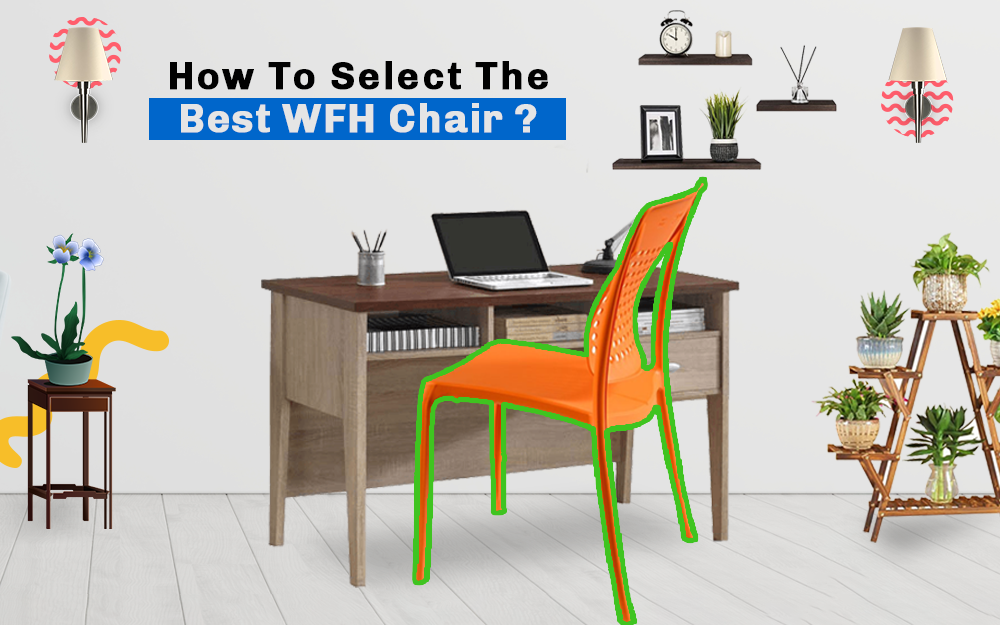 4 Steps to choose the right ergonomic chair for work from home and office
Work from home has become a new reality for everyone now.
It also means sitting for long hours working on a computer.
Therefore, it becomes even more vital that you opt for an ergonomic chair for the back support that offers excellent lumbar support, prevents fatigue happening from time to time, and can eliminate any health-related issues that may arise due to the wrong sitting posture.
It sure is an important investment. So you can not just go and pick up any chair that looks ok to sit on. You should understand the value, style and how you can select the best chair for you according to your comfort.
We have jotted down a list of factors that will help you narrow down your choices and get the right WFH chairs for you.
Factor 1: Explore the chair's adjusting capabilities
Check for the height adjustment allowed in your chair.
The height of an ergonomic chair is an important feature to explore the comfort and support to your back. It should ideally be fully adjustable to the shape of your return.
The chair's seat should be allowed to move either upwards or downwards. This adjustment will let people sit in the chair comfortably. The height adjustment should be checked before buying any chair. Generally, a seat height of 15 inches to 22 inches will allow a person between 5'0″ to 6'4″ tall to comfortably sit. But most chairs will offer a small range of adjustment. So you must check.
'How do you adjust a chair for lower back pain?'
Your feet should lay flat on the floor while your knees are bent at a 90-degree angle.
Check which parts(Seat, Back, Height etc.) of the chairs are individually adjustable.
You will be able to work from home comfortably if your chair will allow you to make a customized fit for each part of the chair. Some essential adjusting features can be the armrests, seat positioning, headrest, footrest, height, and back support. This level of customization aims to allow you to make the chair a good fit for anyone that uses it. You may prefer chairs that allow for adjustments.
Factor 2: Evaluate the Back Support that the chair is providing.
Upper and middle back support should be adequate in the chair.
A proper ergonomic chair will offer you full support for your upper and middle back. If you will be sitting for a longer period, supporting your back in its natural shape becomes important to prevent any injury or strain.
Make sure that your work from home chair has an excellent upper and middle back support before making a purchase. The backrest should be between 12" and 19" wide, support the natural curve and shape of your back, and adjust to support the contours of your return.
Always check the lower back support of the chair
If the chair is not having proper lumbar support, it might damage and flatten your lower back. The lower back has a natural inward curve. A poorly designed chair will cause this curve to straighten out.
Your chair should help you maintain your lower back's normal curvature to support your lower back for a healthy spine life. Adjusting back support is done by moving the chair's back support pad up and down.
Check for adjustments and reclining in the backrest
If you are able to adjust the backrest of your chair, it will balance out the amount of weight placed on your back. Recliners can be of great help if you plan to sit for the majority of the day as it helps to relieve pressure on your spinal discs and lower back muscles.
You should know how to adjust your chair for lower back pain with recliners and backrest. Most chairs are locked into the most comfortable reclined position. The backpressure is lowest between 110° and 130° of reclining. People with lower back injuries will benefit the most from reclining ergonomic chairs.
Factor 3: Evaluate properly for the chair's seat.
Make sure the seat is the right size for you.
If the seat is too big or too small for you, it can affect your comfort and your health when you use them for long periods. While searching for a work from home chair, you want to make sure that the size of the seat is suitable for you.
Keep a few such criteria in mind when selecting the seat size of an ergonomic chair.
–  The seat should be of about an inch wider than your hips.
–  And, the seat pan needs to be positioned just behind your knees.
Check the padding of the seat
You are most likely to spend a significant amount of time sitting in your ergonomic chair. Hence, you would want to ensure the proper and adequate padding of the chair to ensure your comfort and lower back support.
Do check for the quality of the chair's seat before making a purchase. Low-quality foam can lead to break down quickly making your chair uncomfortable. You should sit comfortably in the chair for a minimum of an hour without any issue.
Improperly padded chair seats may elevate the risk of misalignments in the hips and back issues.
Tilting the seat of the chair is a consideration.
The ability to tilt the chair's seat is often an optional aspect. You may want to have this feature included in your chair as per your preference. Tilting of the chair seat helps you maintain a proper posture while sitting in the chair.
Factor 4: Finalizing the right work from home chair to support your health.
Go ahead on a Virtual Shopping for chairs
Yes. It may sound a little tricky. But it does not have to be perplexing. All you need to know is where and what to search for. Jot down your preferred features and workstyle needs.
Look for the options that suit your needs. This will shorten the entire process. You can also learn a lot about the chairs from reading its specifications. From your shortlisted chairs as per your budget, style and needs, select the one that fits best.
Consider the details of the chair
There are so many features to consider when you look for a perfect spine supporting chair. Some aspects may get overlooked in the process. But make sure to consider the ones that are beneficial for your health and comfort.
Important aspects are :
– The casters should be moving quickly and freely.
– If there is a headrest, it should be a good fit for your body type.
–  Depending on the height and adjustments, you may need a footrest.
–  You should think about which chair cover is the best for your comfort. 
–  Cloth seat covers can allow the airflow but are more robust to keep clean.
Explore the different chair styles
Many varieties of work from home chairs are available in the market in different types and styles. These chairs differ from the traditional chairs, and each of them will have their unique benefit and purpose.
Figure out which one is a good fit for you with the features on offer.
Some options may be:
–  Kneeling chairs come with no back. It can help you to improve your posture and back health.
–  Saddle chairs are suitable for desk work. Shaped like a horse saddle, they can help your back be more energetic and healthier.
– People with back issues may find reclining chairs with footrests as the most comfortable choice.
Sometimes it may not seem like a big deal to find the right work from the home chair. But, having the right chair for your desk makes a significant difference in your health and comfort.
Extended periods of work put a lot of stress on your back and spine resulting in back problems and severe discomfort. Learning to select the proper work from home office chairs can help you avoid such health issues by making a properly informed decision.
If you are still confused about selecting the best work from home chair for your needs, let us give you our expert suggestion.
Italica's Spine Care Chair can be the best fit for your work from home and it keeps your back safe and in shape. You may explore the benefits of this chair without spending a fortune of your time, efforts, and budget. It supports the back and keeps it in shape with flexible back support. It's Light-weight and high-quality plastic make it durable, easy to maintain, and robust.
If you find this blog helpful, feel free to share it.
Any suggestions are welcome too. Feel free to share your thoughts below in the comments section.